This piece was originally published by Pollen. It is posted here with full permission.
The COVID-19 pandemic placed inequity into inescapable view, forcing more of us to ask how we can address the persistent and systemic divisions that leave too many outside of the circle of human concern. Community leaders with diverse lived experiences are quietly addressing these divisions, and while doing so, they are expanding our definition of belonging and broadening our vision of whom we deem essential.
Meet The Heroes
Every year, the McKnight Foundation and the Minnesota Council of Nonprofits honor four change agents who exemplify this critical work of building strong communities. This year's Virginia McKnight Binger Unsung Hero Award honorees work in and with their communities — helping them connect with one another, secure resources, and tell their truths.
The dominant culture in our society often builds barriers to belonging — leaving many identities and communities on the outside, looking in. The COVID-19 pandemic has deepened this unjust phenomenon, but these four honorees are finding more ways to tell more people: "you belong." Ruth, Richard, KingDemetrius, and Rawhi are all leaning into their strengths to strengthen their communities in turn. But all are quick to note that their power lies in the collective:
"None of this is even possible without everybody helping,"says Rawhi.
And even as challenges deepen, so do the opportunities for growth. This year's honorees believe, as Ruth says,"Everyone has the capacity to make change." All it takes, according to Richard, is ​"compassion, consideration, and respect."
These honorees shine a light, helping us see truth and find paths towards greater equity and justice — and they invite all of us to do the same.
"All of us have a light to shine," says KingDemetrius, "Will we turn it on?"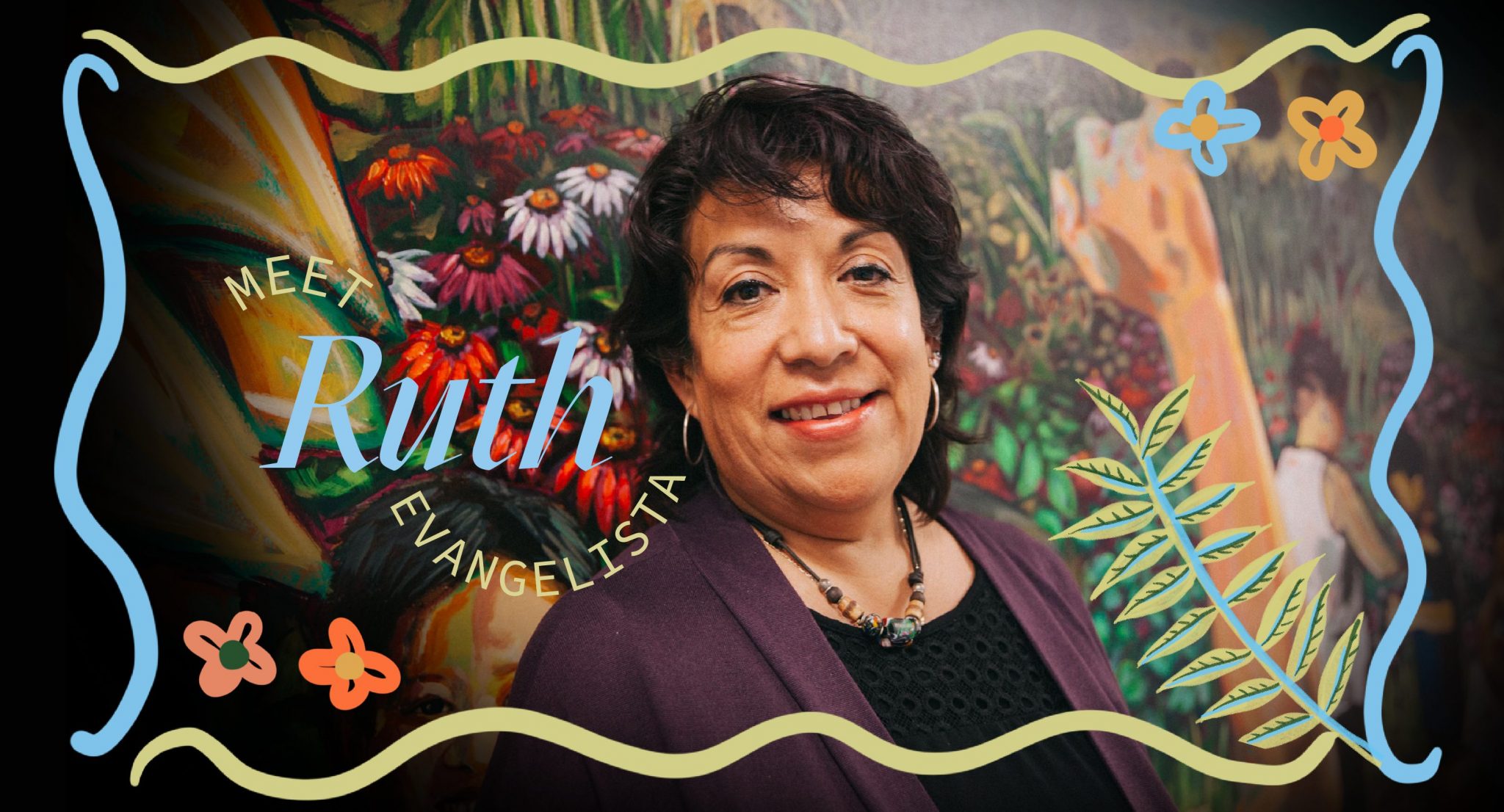 Ruth Evangelista knows the data: the benefits of early childhood education last long into adulthood. She also knows the importance of creating access to quality early childhood care and education for communities that don't receive adequate support. As a founder of La Red Latina de Educación Temprana (The Latino Early Child Care Provider Network), she has a simple vision for quality childcare: "Happy and educated children."
When parents are seeking care for their children, they often turn to their extended families and informal trusted networks — grandparents, aunties, uncles, friends, and neighbors. This decision is made for many reasons, including cost of care and a desire for the care to be rooted in the cultures of the families being served. In 2013, a mother caring for her own children, along with others from the neighborhood, approached Ruth.
"I love to take care of children, but I need resources — tools," she told Ruth. "I want to do what's best for the children."
So, Ruth started talking with the other caregivers. She worked with them to identify their needs and created La Red to find ways to meet them. Under Ruth's leadership, La Red now provides support and education for caregivers, including nutrition best practices, resources for meeting children's unique needs, cultural and linguistic trainings, and guidance on adhering to state and federal laws.
Ruth believes that anyone, with the right support, can be capable of providing quality child care, regardless of formal training.
"You can offer your kids the best when you have the necessary resources," she says.
Ruth has been a tireless advocate for community caregivers, imploring the government to recognize them as an essential part of our early childhood network. And her advocacy doesn't end there: she helped to stop the mass displacement of over 1,000 primarily low-income, immigrant and BIPOC renters in Richfield during the pandemic, and has been a powerful organizer for affordable housing policies.
Ruth sees all of this as part of the same body of work, on behalf of La Red and her community beyond it.
"If you have a healthy and educated community," she says, "everyone wins."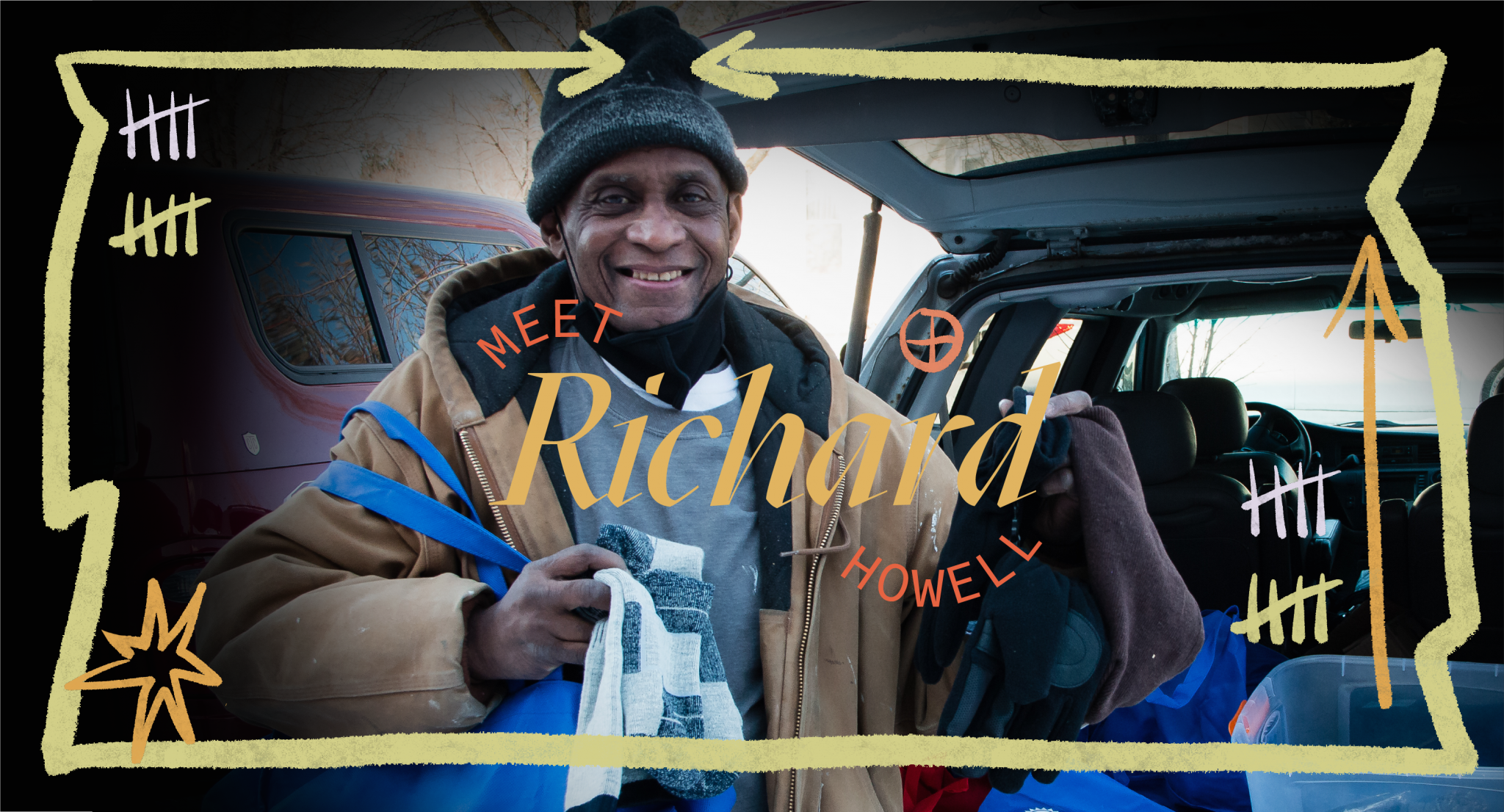 When Richard Howell was released from prison in 2009, he got turned down for housing again and again. He experienced first-hand the ways our rental and housing markets exclude returning citizens who have been impacted by the criminal justice system. "How am I supposed to be a productive citizen if I don't have the basic need of housing?" he asks. It's an urgent question for a state with around 5,000 returning citizens in a given year.
Rather than lose hope, his experience inspired Richard to work to find rental housing for people with felony backgrounds, while also helping them stabilize their lives.
"I wanted people to have a way to move forward," he says.
This is one example of many where Richard sees opportunities where others see problems. Richard sees opportunities everywhere — for connection, for change, or for new and better systems. He has launched addiction recovery programs, organized housing for people with felonies, collected resources for people to help them survive COVID-19, and now works helping young people transition from school to jobs.
Having participated in addiction recovery programs, Richard understood what had and hadn't worked for him. He created Health Realizations as an alternative to the more common ten- or twelve-step programs.
Those "took my breath away," he says. "I needed something to give me breath and give me inspiration."
Instead of messaging that can shame, Health Realizations emphasizes the importance of the journey and recognition of humanity.
"It's okay to be wrong sometimes, and it's okay to make mistakes," Richard says.
At the beginning of the pandemic, Richard teamed up with friends and colleagues, to create Surviving COVID-19, a program that raised over $30,000 to deliver support to his unhoused neighbors.
"We gave out hot meals, coats, boots, gloves, personal hygiene products, hand warmers," says Richard. "We were like a walking Walgreens with a catering service attached!"
Richard builds relationships to help share the opportunities he sees with his community. He views his work as a means to eliminate the barriers between people and resources, creating more direct lines of access to opportunity.
"When I go out on the streets, I don't dictate to people," he says. "I listen to them."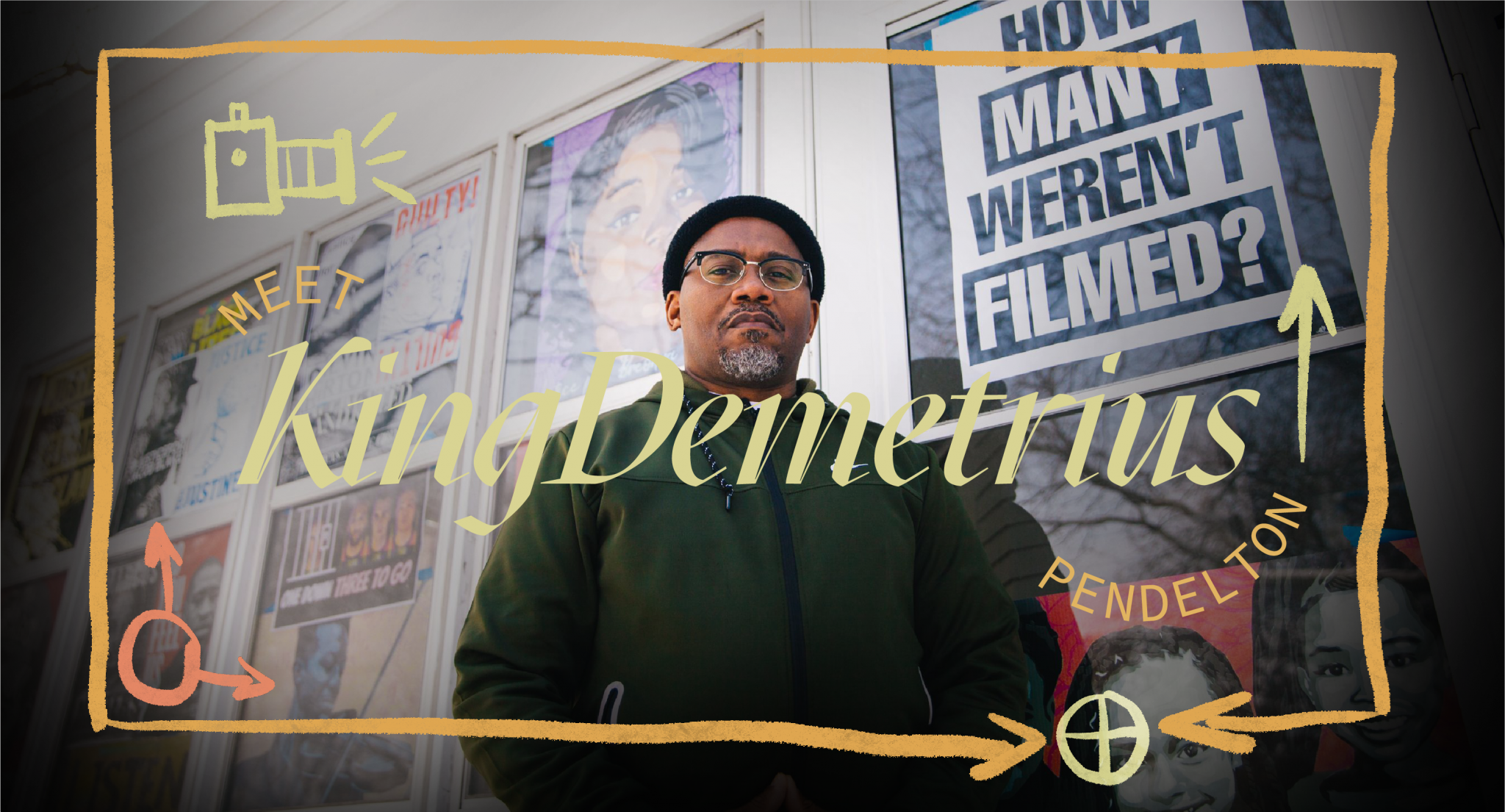 KingDemetrius Pendleton always has a camera with him.
"My camera is my weapon, my choice," he says."When you are documenting the truth, the truth deserves no apology. Once you see something, you can't deny it. And once you know the truth, you're able to act on it."A photographer and journalist, KingDemetrius understands the power and importance of stories. In 2015 when police killed Jamar Clark in North Minneapolis, KingDemetrius brought his camera out to the site. As he bore witness and spoke with others who were there, he noticed the difference between what he was seeing and hearing, and what mainstream media was portraying. He recalled the words of Malcom X:
"The media's the most powerful entity on earth. They have the power to make the innocent guilty and make the guilty innocent."
Since then he has been photographing and livestreaming events revolving mainly around racial justice.
"I wanted to change the way people narrate the world," KingDemetrius says.
He's also worked tirelessly against distracted and drunk drivers after the death of his daughter, who was tragically killed by an impaired driver. He's partnered with an array of mission-driven organizations, giving others "the opportunity, the freedom to speak, to act, to do something about their causes for justice."
As a single father of five, KingDemetrius is now raising money to purchase a home for his family. The security of home ownership is a major step in allowing him to continue his voluntary community activism and storytelling. It will allow him to "keep speaking power to truth, and keep showing up for people," he says.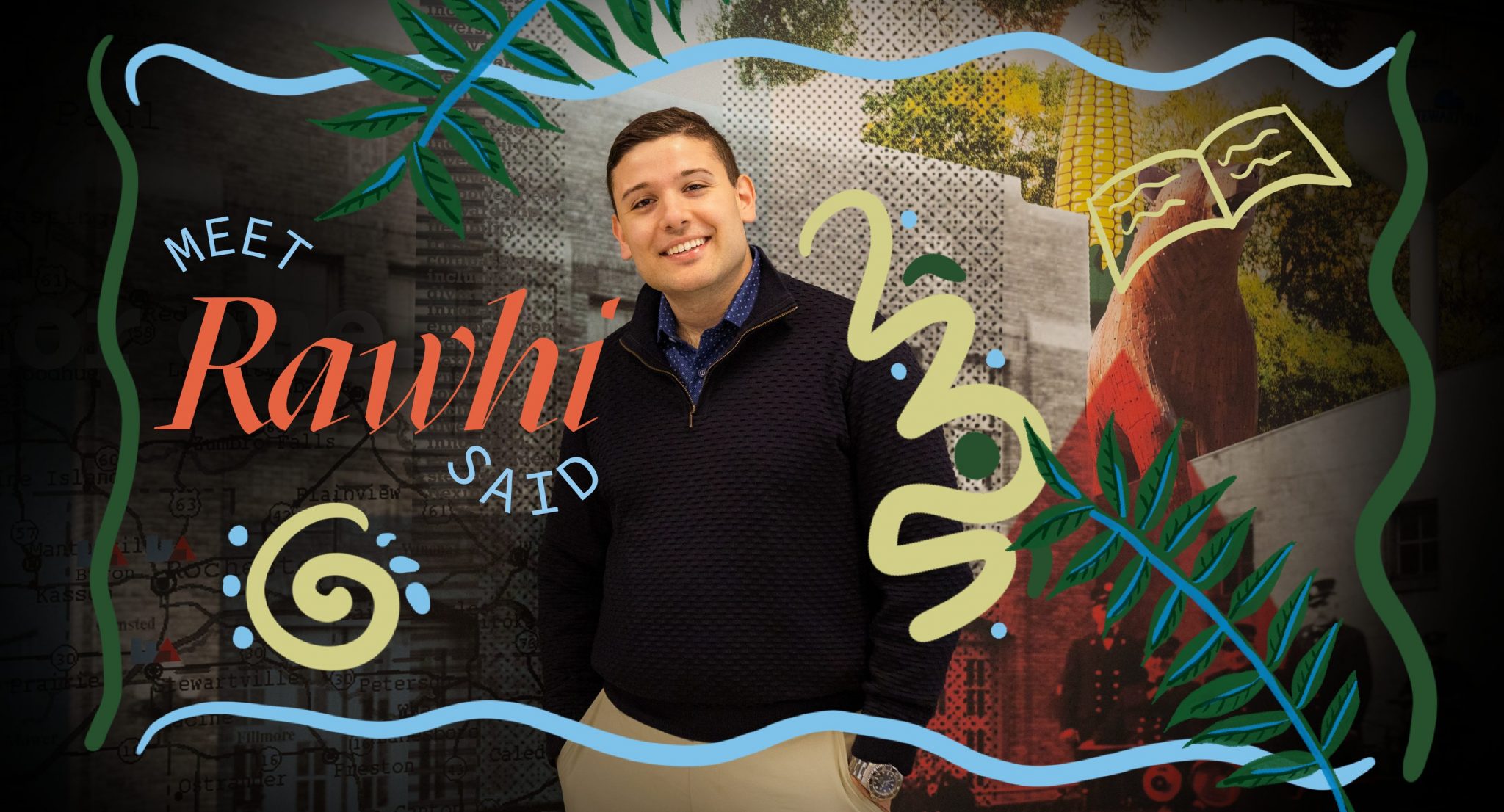 When Rawhi Said was two years old, he and his family came to Minnesota as refugees from their native Bosnia. "This state and this community have really given me and my family a lot," he says.
"So many folks helped us when we first arrived, that it only felt right that I was able to pay it forward."
In 2016 Rawhi began working as a community health worker for the Intercultural Mutual Assistance Association (IMAA), an organization that provides assistance for refugees and immigrants. Two years later, IMAA tasked Rawhi with creating a Diversity, Equity, and Inclusion program.
They wanted to take that organizational and experiential knowledge and create something that could be shared "in a way that would benefit this community and teach each other about each other."
In 2020, as the pandemic deepened, more students transitioned to online learning, and many people began working from home. This exposed the depths of the digital divide in Rawhi's community. Rawhi responded with a Whole Family Systems program, working with families to understand and navigate their digital needs.
With the help of First Alliance, one of IMAA's partners, and some funding through the state, Rawhi has been able to provide free internet for over 140 families in Olmsted and Winona Counties.
"If that's how big a need there was in rural Minnesota, can you imagine the entire state?" he asks. "We think of internet access as a luxury," says Rawhi. "As much as my water, garbage, or electricity, the internet is a utility."
Whether helping people see things from a new perspective, or working to make the internet accessible to everyone, serving as a Commissioner for the Olmsted County Human Rights Commission, Rawhi's work centers around equity.
"Providing the opportunity to have a fair and equal playing field — that's where my passion lies," he says.