The latest Intergovernmental Panel on Climate Change (IPCC) report confirms what communities around the globe, including here in the Midwest, have known for decades: climate change is affecting the lives of billions of people around the world—creating dangerous disruptions that hit under-resourced communities hardest. Too often, these same communities are left out of conversations about solutions. The key to creating an equitable and just future is making sure their voices are front and center.
In February 2022, Ben Passer at the McKnight Foundation was part of an event called "Climate Solutions in Color: Passing the Mic to Underrepresented Climate Heroes," part of The Great Northern Festival's Climate Solutions Series. The event focused on the importance of creating more diverse, equitable, inclusive, and just spaces for climate solutions.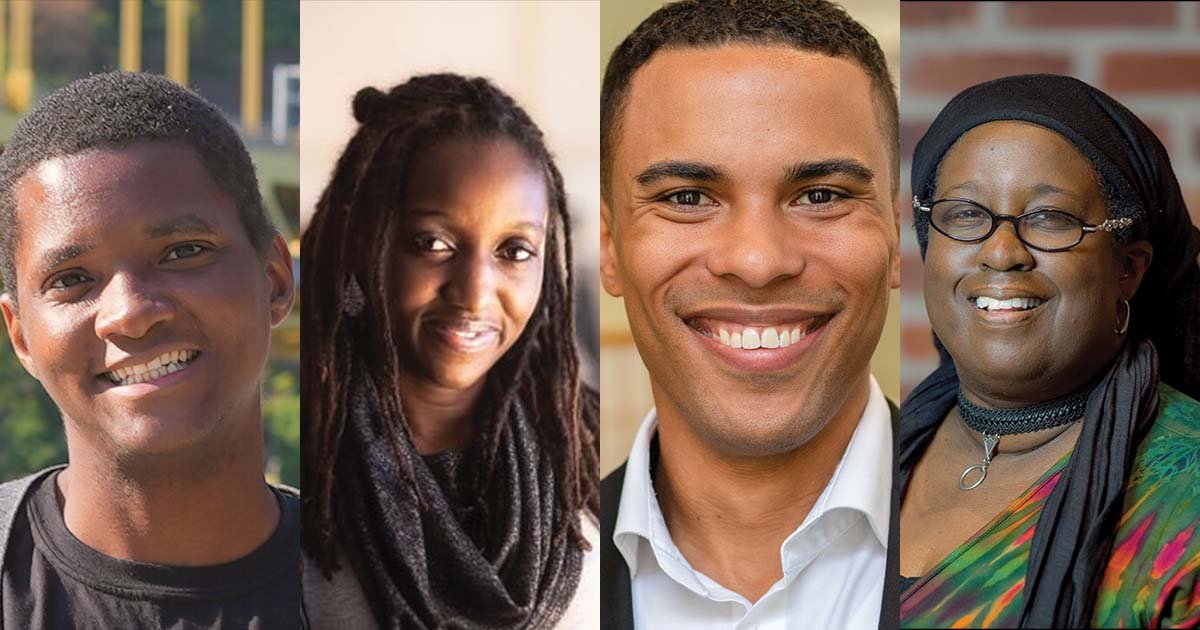 Event speakers (from left to right) included Matt Scott with Project Drawdown, Clara Kitongo with Tree Pittsburgh, Ben Passer with McKnight Foundation, and Jacqueline Patterson with Chisholm Legacy Project.
The following is an excerpt of Ben Passer's conversation with Matt Scott from Project Drawdown, edited for length and clarity. You can also watch the full event recording, which includes a dynamic exchange among all of the speakers.
What is your climate story?
My climate story is one of exposure, experimentation, and experience. As a young person, I was introduced to climate and environmental issues through exposure to things like new technologies. I remember seeing an advertisement for a hydrogen fuel cell vehicle when I was a college freshman and thinking it was the coolest thing ever. I enrolled in law school not totally knowing where I saw myself in the vocation, but the clerkships I had just happened to skew largely toward energy and environmental issues.
And then, in 2016, Philando Castile was killed just a mile from my childhood home. For the first time in my life, I felt this collision of race and place—and I knew that whatever I did with my life had to confront this. So I would say that my climate story, and what really motivated me to do the work I'm doing, is seeing the state of the world and the systems we've created, seeing that things can change, but also knowing that not everyone will benefit from those changes unless we're intentional about them.
Candidly, when I started in this work, I didn't see myself in it. The environmental and climate movement has long struggled with racial diversity and inclusion, and I felt that first-hand. As a mixed race—half Black, half white—male, I've long struggled with my own racial identity, from growing up in a mostly white suburb of the Twin Cities, to educational environments that were increasingly white as I pursued higher degrees. This was also true as I began my career in a sector that is largely driven by technocratic discussions and data-driven outcomes. Not to say that those are inherently bad or wrong, of course, but I think what was missing was a focus on people-centered solutions. How is climate change impacting communities of color differently? What can and should we do to ensure benefits truly reach those communities? Those are the conversations that I felt I needed to be part of, and without them, I didn't really feel like I belonged.
What is the role of stories more broadly?
Storytelling is really important. We have to gravitate toward the things that are going to resonate with people, and stories of people's experience that allow them to see themselves in the issues and the solutions are what will drive change. That's what is going to get us away from inaccessible data points and nuanced technology discussions to more accessible impacts and benefits for people. We just have to tell the climate stories of people, and in particular elevate the stories of those who historically have been excluded. Stories bring new people to the conversation, and that's ultimately how we're going to solve climate change. A couple of great places to find people's personal climate stories are የአየር ንብረት እና Project Drawdown.
Why does climate justice matter to you and the communities you work with?
To me, climate justice matters because the communities who stand to benefit the most from climate action are the same communities who have historically been excluded and harmed by systems, whether through a lack of intentionality to ensure that everyone's needs are met, or from malicious intent to harm or degrade certain communities and protect others.
A lack of diversity, equity, inclusion, and justice will simply perpetuate the same issues we face today. Policy choices and decisions like redlining in the housing sector, to the siting and operation of industrial facilities and waste sites, to the construction of the federal highway system, were all made at the expense of under-resourced communities and communities of color, which have lasting effects to this day. In this moment, we have not just an opportunity but an obligation to actively stop that cycle, and to start to reverse our historical practices to advance a more vibrant future for everyone.
How are you working to end climate change?
At McKnight I am glad to support the work of so many organizations across the Midwest who are working to transform systems and dramatically reduce carbon pollution in our region by 2030. We've committed to an annual grantmaking goal of $32 million per year, as of this year. You can read more about our Climate program on our website, but our four main strategies are transforming the power sector, electrifying buildings and transportation, sequestering carbon on working lands, and strengthening democratic participation, a shared goal with our Vibrant and Equitable Communities program. We often talk about our two main organizational "throughlines" at McKnight: sustainability and equity. We really work to advance these in all of our work, and all of the work that we support.
"We have the opportunity to create the first equitable and just transition in our history."—BEN PASSER, SENIOR PROGRAM OFFICER, MIDWEST CLIMATE & ENERGY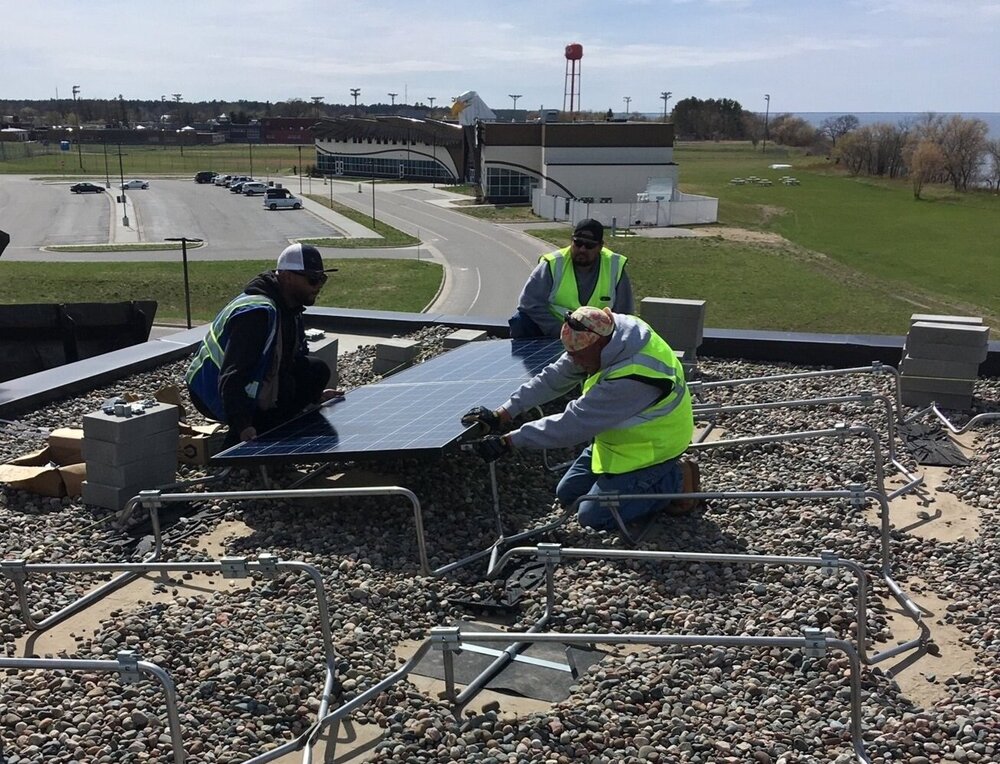 Native Sun Community Power Development crew installs solar atop Red Lake Nation Government Center. Photo Credit: Robert Blake
What are some of the opportunities you see?
With climate change, we have the opportunity to create the first equitable and just transition of its kind. We unfortunately have many examples of folks being excluded during times of transformational change—but we don't have examples of a truly equitable transition in our history. We have an opportunity to change that.
Getting more specific, there are a lot of opportunities in energy and climate that I'm excited about. Electrifying buildings can help reduce indoor air pollution, reducing negative health outcomes like asthma which disproportionately affects children of color. Transforming our energy system can help communities invest in renewable energy and move away from dirtier forms of energy generation. And making sure that folks have access to different forms of electrified transportation, whether their own electric vehicles or electric public transit buses, can improve air quality and help save money in the long run.
To me, it really comes down to intentionality. In order to ensure equity and justice in climate solutions, we have to be intentional about including under-resourced communities, communities of color, and other historically excluded folks in both the process and the outcome. Giving folks a seat at the table is an important start, but it can't end there. It's important to make sure that their voices are included in whatever decisions are being made, and that they ultimately see the benefits. Similarly, in order to make sure that the outcomes actually do benefit everyone, it's important to include folks from the start, not later in the process or as an afterthought.
What role can others to play in advancing climate justice?
Get involved, whatever form that takes: volunteer, donate, talk with your peers, friends, and family. But also, in the theme of our conversation today, listen and be intentional. Commit to ensuring that underrepresented voices are part of, and leading, the conversation. If you're in spaces where folks have been excluded or aren't being heard, speak up. And dedicate yourself to learning, or relearning, how climate, race, and so many other issues are intertwined, and the role we can all play in creating a more just and equitable world where everyone can thrive.