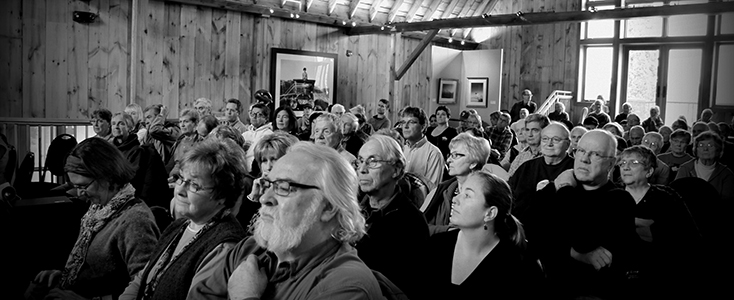 Through its unique artist residency program and community outreach events, the Anderson Center at Tower View in Red Wing is a one-of-a-kind research and development lab for the arts — the only center of its kind in the five-state area dedicated solely to the creation of new art and ideas. The Anderson Center receives general operating support through McKnight's Arts program due to the Center's support of working artists, with capacity and systems in place to develop and share their work.
The Anderson Center recently hosted a community-wide forum on the growing crisis of global warming. Titled Climate Solutions for Red Wing and Beyond, the day-long conference took place in the Center's newly restored historic barn. Guest speakers included Will Steger, acclaimed polar explorer and founder of the Will Steger Foundation; J. Drake Hamilton, science policy director of Fresh Energy, a nonprofit organization advocating practical policies about climate change; Julia Nerbonne, executive director of the Minnesota chapter of Interfaith Power and Light, a coalition of faith communities encouraging a religious response to global warming; and James Lenfestey, former member of the editorial board of the Minneapolis Star Tribune, who has reported on climate science since 1988. The event was attended by more than 120 concerned citizens from Red Wing and its surrounding rural communities in southeastern Minnesota and western Wisconsin.
Since it opened in 1995, and this year celebrating its 20th anniversary, the Center has been committed to the principle that the arts play an integral and vital role in the composition of a community.
Thus far, the Anderson Center has hosted more than 750 artists, writers, and scholars representing 40 different disciplines. They have ventured to the Center from 40 states and 35 foreign countries to create or complete works already in progress. While in residence, they have shared their passions and expertise with Red Wing and its surrounding rural communities, offering classes, workshops, and other presentations. More than 50,000 people, from primary school children to senior citizens, have benefited over the years from these public programs.