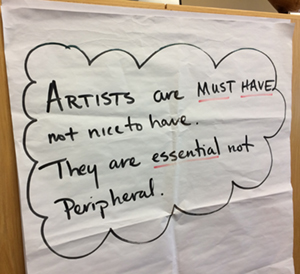 In my office, I've hung a quote on poster paper that reads: "Artists are MUST HAVE, not nice to have. They are essential, not peripheral." It's a conviction our board and staff share as McKnight's arts program places working artists at the core of our focus.
Millions of Americans agree that artists and the arts are essential. But once again, the public good derived from the arts in communities all across the country has come in question with the potential elimination of the National Endowment for the Arts (NEA), along with the National Endowment for the Humanities, the Institute of Museum and Library Services, and the Corporation for Public Broadcasting.
I've seen the fierce battles over these arts and cultural agencies play out before. I had a front row seat during my tenure as a program specialist at the NEA in the late 1980s and early 1990s. The critical difference is that the arts sector is in a better position now than it has ever been before in its ability to explain the value of these agencies and the work they support. Because of intentional strategies to support independent, large-scale research, the arts sector has far-reaching and deep data that we didn't have twenty-five years ago.  Organizations such as Americans for the Arts provides arts statistics for all 435 U.S. congressional districts across our country. Because of their work, we can now point to the fact that more than 700,000 businesses were involved in the creation or distribution of the arts, and they employ 2.9 million people, representing 3.9 percent of all U.S. businesses.
In addition, the NEA's longstanding arts education program supports arts learning as a driver for transforming individual students, schools, and communities and has nurtured innovative and best practices in arts for youth. Arts experiences help children increase skills in creativity, confidence, problem solving, perseverance, focus, non-verbal communication, collaboration, dedication, and accountability — all essential qualities for success in any endeavor. These facts and countless others show in irrefutable terms how the arts add value to every dimension of our lives.
And the NEA, it turns out, remains a strong example of a successful government agency. For a relatively small investment, $147.9 million in 2016 or a mere .0004% of the federal budget, it leverages and spurs millions of additional private, corporate, and foundation investment across all of the United States. McKnight's arts program and our growing community of artists benefit from creative placemaking initiatives developed by the NEA, including ArtPlace and Our Town.  These efforts recognize and support artists' valuable contributions in community, housing, transportation development, and other economic and social change benefits in Minnesota and beyond. The NEA is one of America's greatest assets — and the data underscores this.
Before any decisions are made about the future of the NEA, it's important to recall that bipartisan congressional leaders, including Minnesota's own Senator Hubert Humphrey, helped establish the agency. These bipartisan partnerships created a platform to nurture American creativity and to elevate, sustain, and preserve this country's diverse cultures and artistic traditions.
It's a point underscored by many leaders across party lines, including President Ronald Reagan. "We honor the arts not because we want monuments to our own civilization but because we are a free people," Reagan once said. "The arts are among our nation's finest creations and the reflection of freedom's light." The NEA continues to illuminate the power of the arts, and our communities are better off because of their work.