The Missouri Coalition for the Environment (MCE) is an independent, citizens' environmental organization for clean water, clean air, clean energy, and a healthy environment.
MCE works with the Mississippi River Collaborative to protect and restore wetlands. The state of Missouri contained about 4.8 million acres of wetlands prior to European settlement. By the 1980s about 87 percent, or 4.18 million acres, of the original wetlands had been lost to other land uses. Along with their partners in the Collaborative, they have been exploring and analyzing methods for restoring lost wetlands, which will improve water quality, habitat, and increased resiliency to climate and flooding in the Mississippi River Basin.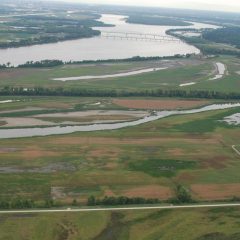 In 2014, MCE organized other environmental and conservation groups in the region to oppose a retail development in the floodplain of the Meramec River, one of the largest undammed rivers flowing into the Mississippi River. The developer withdrew the proposal.
MCE also reviewed permits issued by the Army Corps of Engineers for wetlands destruction and the specific requirements for wetlands mitigation projects — projects to compensate for wetlands lost to destruction and development. They sent a team of scientists, law students, and their own Clean Water Director to some of these mitigation sites to see if the permittees had following through on their obligations and if the wetlands they created or restored were functioning as intended. In some cases, the wetlands were meeting the guidelines, but in many the projects failed to restore a functioning wetland to the watershed. MCE is continuing to facilitate interagency collaboration to develop plans for to ensure the resources and expertise are in place to manage the mitigation sites.