New report reviews three decades of strengthening food security
Since the early 1980s, The McKnight Foundation has funded agricultural research around the globe with the goal to help farmers feed their families and communities. A recently completed history of the Collaborative Crop Research Program (CCRP) delves into the origins of the program from the early 1990s to the present. The Foundation's commitments to innovation, sustainability and collaboration are clear themes that emerge from  the report.  The CCRP seeks innovations in both the "what" and the "how" of agricultural research. The "what" focuses on generating agricultural knowledge, concepts, and technology that farmers can use on the ground and that promote economic, environmental, and social sustainability. The "how" of the program has grown and matured over time yet one key ingredient includes crossing boundaries of all kinds, including by discipline, geography, and sector. This kind of cross-boundary collaboration is recognized as an essential element of innovation, and it is at the heart of the program.'
Developing the next generation of leaders
From its inception, the board was concerned about building the systems and capacity for agricultural research to stand on its own in targeted geographies. This meant people as well as physical infrastructure. One critical lesson worth pointing out is the significance of maintaining long-term funding relationships and developing the next generation of leaders. For example, the Foundation has been able to support post-secondary degrees in agriculture, mostly Masters of Science (MSc), and Ph.D's in agricultural disciplines. Between 2008 and 2013 alone, we supported 242 students through our CCRP grants.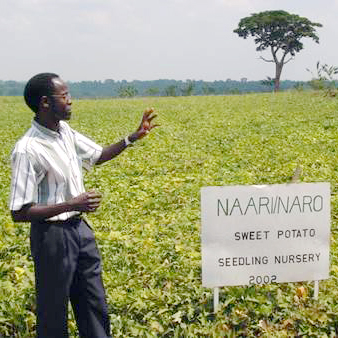 These students are the leaders of tomorrow, and increasingly today.  Several of the students we supported in their doctoral training, are now leaders in their home country or regions, such as Dr. Robert Mwanga and Paul Kusolwa, both highlighted in the history. After completing his studies at North Carolina State University, Dr. Mwanga returned to his native Uganda and rebuilt the country's national breeding program. Since 1995, Dr. Mwanga  and his team of researchers have released over 20 varieties of sweet potatoes. After CCRP funded his research into pest-resistant beans, Dr. Kusolwa of Tanzania has formed a team of research associates and created a bean-breeding lab which has received funding from the USAID Innovation Lab.
Board vision, past and future
The history chronicles the inspiration of the program by Mac and Pat Binger, both board members at the time the program started, and fondly referred to as the "parents" of the CCRP by grantees. It is their vision that can be seen lived out in both the CCRP history and the way our program operates today. We share this history in the hopes that others can benefit from our experiences on the ground in two continents and a span of over three decades. Together, we can continue learning, innovating, and collaborating to improve the livelihoods of shareholder farmers and build sustainable solutions.