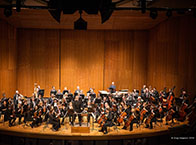 The Minnesota Orchestra, now in its second century and led by Music Director Osmo Vänskä, ranks among America's top symphonic ensembles, with a distinguished history of acclaimed performances in its home state and around the world. The ensemble presents nearly 200 programs each year, primarily at Orchestra Hall in downtown Minneapolis, and its concerts are heard by live audiences of 350,000 annually.
As part of the McKnight Arts program's strategy to fund targeted initiatives of large arts organizations, McKnight supported the Minnesota Orchestra's Common Chords Project. As the Orchestra looked to the future, they began to ask themselves how they could connect with people outside the Minneapolis-St. Paul metro area. The Common Chords Project emerged as a strategy to answer this question. The project set up shop in Grand Rapids, and later Willmar, and began planning a week-long residency for October 2011. More than 30 community events were planned, including a musical exchange between Orchestra musicians and the local Ojibwe community, presentations in every public school in Grand Rapids, and four concerts by the full Minnesota Orchestra. Not wanting to limit the excitement to just one week, the Common Chords committee in Grand Rapids created a "First Friday" event, a monthly celebration of the arts in downtown Grand Rapids.
Common Chords builds on the Minnesota Orchestra's long legacy of performing for audiences across the state. The fledgling Minnesota Orchestra embarked on its first state-wide tour in 1907, taking the train to Moorhead, Grand Forks, and Duluth. Since then, the ensemble has played 680 concerts in nearly 60 Minnesota cities — from International Falls to Worthington — performing in school gyms, churches, community auditoriums, theaters and the great outdoors.