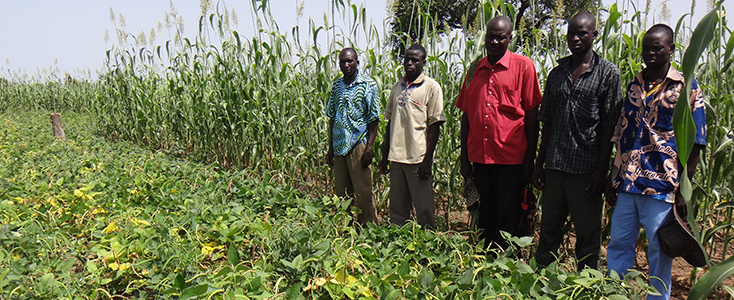 In the West African country of Burkina Faso, smallholder farmers routinely face severe drought and erratic rainfalls. With soil fertility declining along with the production of staple crops of sorghum and millet, food shortages are common.
In Gayéri, Burkina Faso, a 30-year-old farmer and animal breeder named Issouf Odago was determined to stave off hunger in his family. Odago saw how his neighbor had increased yields using ecological farming techniques and approached him to learn more about how he was managing his land, ultimately deciding to experiment on part of his own land. He attended trainings and secured gardening tools through an equipment loan from his village.
Mr. Odago benefitted from a project called the "Farmer-led Innovation in Agroecology as a Means of Enhancing Nutrient Management and Water Retention in Soils to Improve Food Security," a collaboration of Groundswell and the Burkinabe NGO Association Nourrir Sans Détruire (ANSD), which is supported by The McKnight Foundation. Both organizations are working with farmers in Burkina Faso to integrate agroecological farming practices and help local farmers transition to a more sustainable and resilient food system.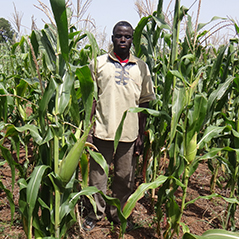 Mr. Odago's farm is just over five hectares. Before implementing these techniques, he was producing 2,625 kg of sorghum on 3.75 ha, 300 kg of corn on 0.5 ha, and 200 kg of sesame on 1.125 ha. At the end of the 2014 crop year, he saw an increase in sorghum production by 100%, over 900% increase in corn, and a 50% increase in sesame.
The production increases not only allowed Odago to provide for his family; he was also able to sell crops and seeds. He generated additional income by selling sesame plants for CFA F 60,000 (or about US $120), which gave him the means to pay school tuition fees for his children and community water fees. He was also able to expand his breeding business and purchase a motorbike to increase his family's mobility.
Since then, neighbors from surrounding villages have come to tour his farm to see the incredible results of his ecological farming techniques, and some have asked for his support in implementing similar techniques on their own farms. "The results have exceeded my expectations," said Odago. "I can hardly believe that I can produce so much grain and corn on lateritic soil."
The Odago family's success is just one example of what's possible when organizations empower people to work together and learn from one another.