This week, SRI International releases "Improving Early Literacy in PreK-3: Lessons Learned," a case study commissioned by The McKnight Foundation that chronicles efforts to improve PreK-3rd literacy proficiency in six schools across the Minneapolis-St. Paul metro area. We're pleased to feature this reflection from Kristie Kauerz, Ed.D., Director of the National P-3 Center at the University of Washington and a longtime member of McKnight's Education & Learning National Advisory Committee. In her blog post, Dr. Kauerz connects her knowledge of our local effort with her broader, national perspective to offer key takeaways for philanthropists, policymakers, and school district leaders.
Four Takeaways from the Pathway Schools Report
As someone who's been deeply involved in the Pathway Schools initiative since its inception, I am encouraged and excited that McKnight and SRI are helping us, as a field, get smarter about the kinds of investments and supports needed to support the educational success and joy of young children in preschool and elementary school. These findings add important weight and credibility to our knowledge base about both the implementation and evaluation of P-3 approaches. I have four takeaways.
Takeaway #1: Collaboration requires intentionality and explicit strategies.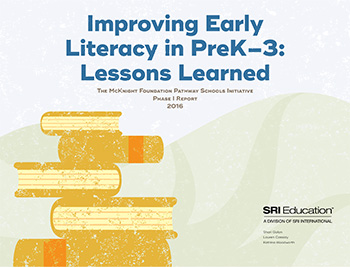 P-3 approaches depend on effective collaboration and trust-based relationships at every level. Teachers need to work effectively not only with young children, but also with other teachers – both within their own grade level and across grade levels. Collaboration needs to occur between teachers and school principals, principals and central office staff, central office staff and district superintendents. Across all levels, there must be explicit and meaningful collaboration with families. Further, school districts, funding entities, and intermediary organizations need to collaborate.
The complexity of the Pathway Schools Initiative clearly emphasizes the need to deeply understand and consistently and explicitly name, structure, support, and measure meaningful collaboration at every level.
Takeaway #2: Stability matters.
One of the most important findings of this report is short and sweet: "Progress on STEP was better for stable teachers and students." Let's start with the adults in that sentence. Teachers who stay in the same school; engaged in consistent instructional approaches (in this case, literacy-focused); building their own knowledge, skill, and competence year after year do better.
Creating stability in the workforce – in both birth-to-five and K-12; and in both the ranks of teacher and administrator – is a tough nut to crack. Comparatively, it's easy to align standards, assessments, and curriculum – those are paper-based exercises that can live on shelves.
Tackling workforce stability requires engaging in the complexities of people's lives and confronting policy barriers at federal, state, and local levels. Tackling stability of an effective workforce is also difficult. Teachers and leaders need consistent, on-going supports to improve their skillsets and bolster their willingness to engage in complex system change. We need patience with the pace of change required for adults to embrace and embed new ways of doing things. We also need to be unrelenting about finding ways to retain and reward teachers and leaders who commit to a mindset of continuous improvement.
Takeaway #3: The "Pathway" for children needs to be wider and stabilized.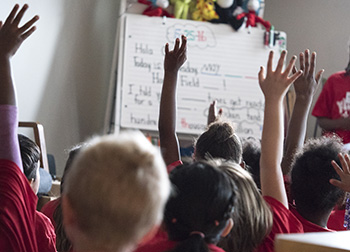 As corollary to the above, children who matriculate from grade to grade within the same school, with teachers engaged in consistent instructional approaches, also build their knowledge, skills, and competence and do better. Whether called stability, dosage, or continuity, the concept appears simple, yet is perhaps the hardest thing to tackle in P-3.
Many children, especially those living in our most vulnerable communities, face circumstances that necessitate families move often. While this highlights the need for attention to housing, parental employment and income supports, health care, safe neighborhoods, and more, it also underscores the need to ensure more children get a high-quality PreK experience no matter where it is delivered. That first "dose" of high quality learning is invaluable.
Then, we need to bolster children's stability across the K-3 grades, striving to reduce mobility and improve transitions from grade to grade. Within the K-3 grades, we must support teachers and sustain environments that nurture children's need for experiential and rigorous learning. Finally, we need to bring public schools into collaborative partnership with the mixed-delivery system in PreK. This can be done.
Takeaway #4: Improving young children's success requires strategic perseverance throughout the entire system.
To fairly ascribe evaluative perspectives to any P-3 effort, there must first be a breadth and depth of planning that provides specificity about the desired changes not only in child outcomes, but also in adult behaviors, organizational operations, and other intermediate outcomes. We must be clear that changes will be both additive (e.g., embedding a new literacy assessment tool) and subtractive (e.g., ending the use of other assessment tools and processes).
There must be visible and invested leadership that extends from the classroom level to the superintendent's office. We must engage families as advocates for their children and for these reforms. We must continually recalibrate our efforts to ensure the appropriate type and amount of inputs, resources, and technical assistance are provided to realistically instigate the desired outcomes. Not the least, we must be tirelessly creative, optimistic, and collaborative to ensure that a meaningful proportion of children actually experience high-quality learning, year after year.
This work is not for the faint of heart. I offer a hearty and heartfelt cheer of gratitude for the contributions made by the Pathway Schools Initiative.