Here you will find information and updates with regard to McKnight's response to the novel coronavirus/Covid-19. We will continue to update this page as we have related news to share. 
Please Note: Due to the impact of the coronavirus, McKnight has implemented an automatic three-month extension on all scheduled grant reports. In addition, during this unprecedented situation, grantees can speak to their program contact to request other potential adjustments to their grant agreements, such as the grant purpose or time frame.
---
May 13, 2020: More Covid-19 Response Grants and a New Video Highlighting Bright Spots
Recognizing that Covid-19 has a disparate impact on specific communities, we announce additional grants to the following organizations:
Headwaters Foundation for Justice—$100,000 in support of its Communities First Fund, to support Black, Indigenous, and people of color (BIPOC) who are absorbing heightened social, political, and economic disparities due to the pandemic. Funds will also go to organizations that support Asian American and Pacific Islander communities and those working to combat increased xenophobia toward Asian Americans.
Saint Paul & Minnesota Foundation—$50,000 to the Minnesota Homeless Fund, with the understanding that we are all only as safe as those who are most at risk. Funds will help to increase shelter space and critical resources for people experiencing homelessness and housing insecurity.
West Central Initiative—$40,000 to support the Transforming Minnesota's Early Childhood Workforce, a multi-sector, statewide coalition focused on increasing compensation, training, and resources for early childhood educators. Funds will help advance policy solutions to support Minnesota's childcare professionals—essential workers who find themselves on the frontlines of the pandemic, while earning less than livable wages.
These grants follow announcements of contributions we have made for the Minnesota Disaster Recovery Fund, Springboard for the Arts Personal Emergency Relief Fund, and the Intercultural Leadership Group. We will continue to monitor the impact of Covid-19 and will announce additional response efforts as we have more to share.
This virus shows us that across differences of race and ethnicity, culture, place, and class, we are all one people, and if we come together with hope and courage, we can overcome the most daunting challenges. We continue to be immensely grateful for the good work of our community partners during these uncertain times. We are proud to share some of their stories in a new video we produced as part of our #BrightSpot campaign.
One final note: Our staff continues to work remotely. We will let you know when our offices reopen.
---
April 17, 2020: An Open Letter to the Arts Community
Here is a letter we sent to our Arts grantees, partners, and community.
---
April 13, 2020: New #BrightSpot Campaign Celebrates Grantees Adapting to Covid-19
In uncertain times, it becomes even more important to look for bright spots. At McKnight, we see bright spots in our remarkable partners who work doggedly to advance a more just, creative, and abundant future. Under the daunting circumstances of this pandemic, they continue to find the most inventive and impactful ways to serve our communities. These bursts of creativity and acts of human solidarity inspire us.
We celebrate the many grantee organizations adapting to Covid-19 in a social media series we're calling #BrightSpot. Follow us on Facebook, Twitter, and LinkedIn, and join us in sharing any bright spots you discover. As we adjust to the new normal, we all need a little more hope streaming in our news feeds.
---
April 8, 2020: A Statement of Support for Asian Americans, the CARES Act, and More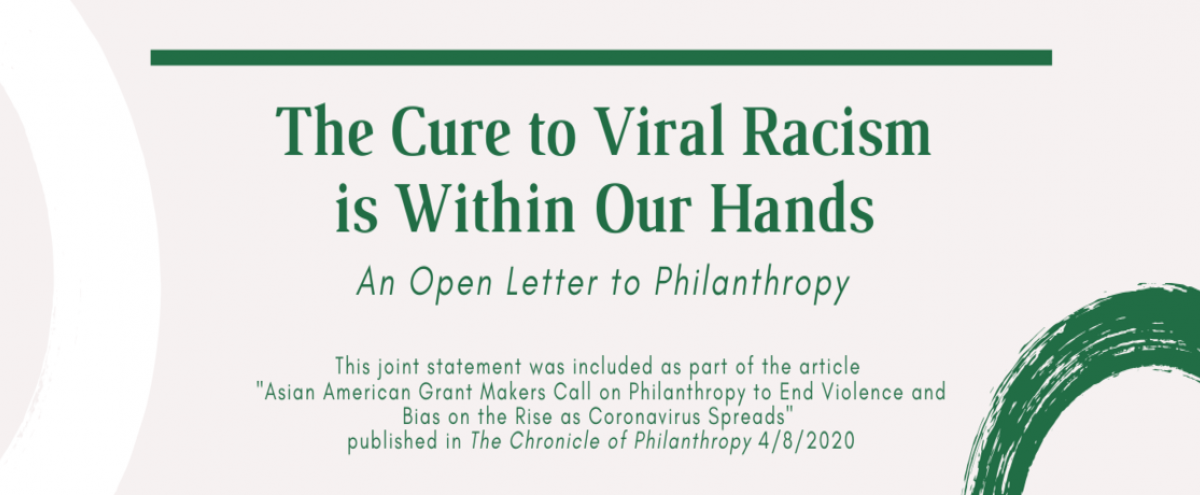 The McKnight Foundation, with more than 130 of our peer funders, recently signed an open letter from Asian Americans/Pacific Islanders in Philanthropy (AAPIP) in response to increased xenophobia against Asian American communities due to Covid-19. We reject any attempts to stereotype or scapegoat Asian Americans. As the statement reads, "In this pandemic, it is abundantly clear that we are one people with a shared destiny." United, we are all safer, stronger, and healthier. AAPIP has provided this form for those who wish to sign the letter as an individual or on behalf of their organizations.
In our ongoing response to Covid-19, we will continue to curate helpful resources for our grantee partners. The following efforts have recently come to our attention.
The CARES Act 
The Minnesota Council of Nonprofits provides a helpful overview of how the Coronavirus Aid, Relief, and Economic Security Act (CARES Act) affects nonprofits. For example, nonprofits might be able to obtain small-business loans, reimbursements for employee benefits, payroll tax credits, and other supports. The $2 trillion CARES Act, signed into law on March 27, 2020, provides funding to support individuals and businesses impacted by Covid-19 and the resulting economic downturn.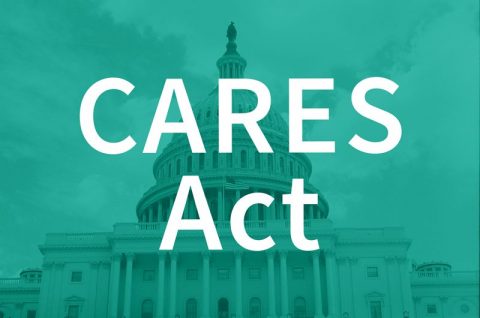 We were pleased to learn that the National Endowment for the Arts (NEA) will distribute $75 million in relief aid provided by the CARES Act to arts organizations nationwide. Details regarding timing and applications will be announced on the NEA website in the coming days. Learn more about the proposed aid and the impact Covid-19 has had on the arts community via this podcast with Mary Anne Carter, NEA chair.
Additionally, the U.S. Small Business Administration announced the Paycheck Protection Program. This program provides potentially forgivable loans for nonprofits at 2.5 times their average monthly payroll for up to $10 million. Organizations can apply through their banks.
More Philanthropic Responses 
Medtronic Foundation and the U.S. Bank Foundation recently announced significant response funds. Medtronic Foundation announced $10 million—in addition to the $1.2 million committed by Medtronic and its foundation in February—to global relief efforts, which also include funding local health, economic, and food assistance for vulnerable populations. The U.S. Bank Foundation committed $30 million to immediate and long-term community relief efforts, which will support local and national nonprofits and implement a market impact fund to address unmet needs in local markets nationwide.
Finally, Minnesota's Governor Tim Walz has extended school and nonessential business closures until at least May 4. McKnight will follow this lead—our staff will work remotely until May 4. We will rely on direction from state officials to guide any decisions beyond that date.
---
March 23, 2020: Our Pledge, and Resources from our Partners and Peers
Last week, the McKnight Foundation joined our peer funders and other leaders in the philanthropic sector in signing the Council on Foundation's pledge of action in response to Covid-19. As of this writing, 227 organizations signed the pledge to provide urgent support to our grantees and partners. Actions include: easing or eliminating restrictions on current grants, postponing reporting requirements and other unnecessary demands on grantees' time, and contributing to community-based emergency response funds.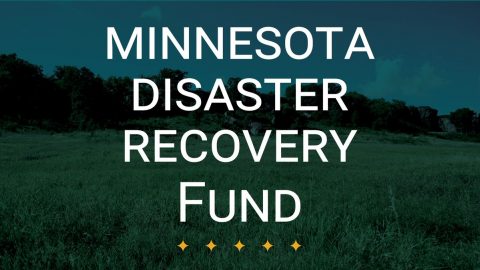 In addition, McKnight committed $100,000 to the Minnesota Disaster Recovery Fund administered by the Saint Paul and Minnesota Foundation. Our funding will be distributed to the Minnesota Initiative Foundations and used to support the direct needs of individuals, families, and small businesses due to the impact of coronavirus. We encourage you to join us. Both individuals and philanthropic entities can contribute to the fund and provide immediate aid to those people and communities hardest hit.
We have been heartened by the response of so many of our colleagues in the nonprofit and philanthropic sectors, including long-standing community partners as well as funding peers, that have sprung into action to assist local residents and nonprofit organizations. Learn more about some local and regional efforts: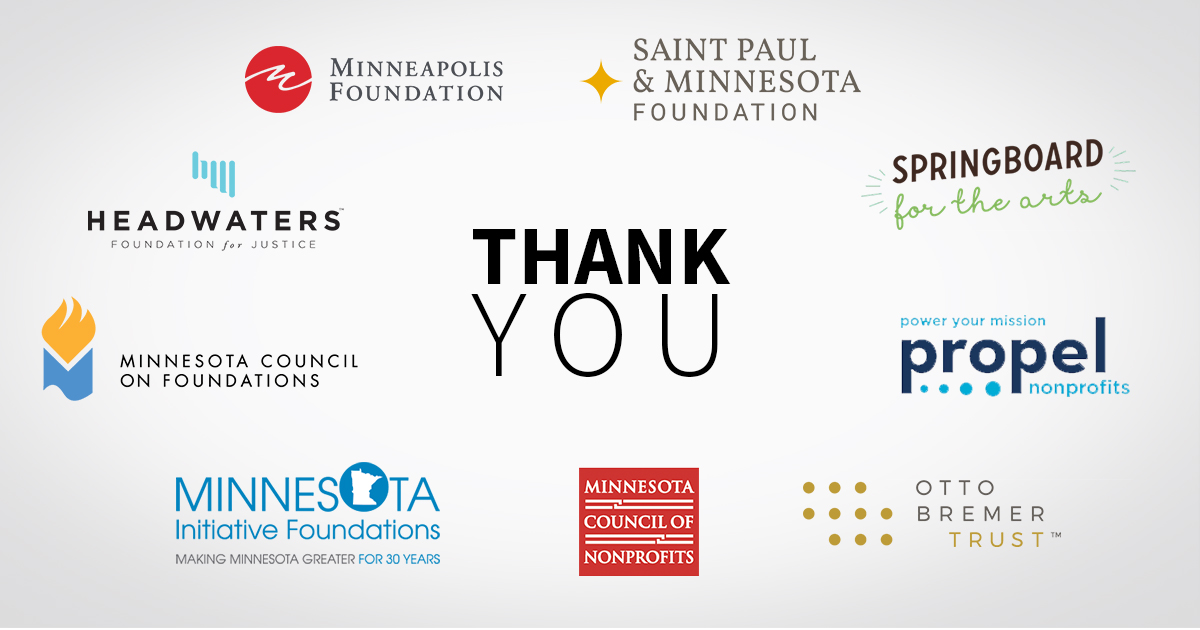 We are grateful to have the leadership of these organizations—alongside the leadership of our public officials, local businesses, and so many other friends and partners—even as they manage the pandemic's effect on the well-being of their own staff and internal operations. It is yet another reminder that we are all in this together.
---
March 19, 2020: Automatic Extension on Grant Reports
Due to the impact of the coronavirus, McKnight has implemented an automatic three-month extension on all scheduled grant reports. In addition, during this unprecedented situation, grantees can speak to their program contact to request other potential adjustments to their grant agreements, such as the grant purpose or time frame.
We are mindful that organizations are facing enormous challenges brought on by the pandemic, and we aim to ease some of the burden on grantees. We value your insight and ideas—please reach out to your primary Foundation contact or send us a message through our Contact Us web page.
---
March 18, 2020: A Letter to Our International Partners
Here is a letter we sent to our Collaborative Crop Research Program grantees and partners.
---
March 15, 2020: Minnesota School Closures
Given school closures and other disruptions due to the pandemic, we appreciate your understanding that many McKnight staff members are balancing personal and professional responsibilities as well as we can, even as we remain committed to continued operations.
---
March 14, 2020: McKnight's Response to the Novel Coronavirus
As we continue to monitor developments related to the novel coronavirus, the McKnight Foundation prioritizes the well-being of our staff, our grantees and other partners, and our local and global community. We are committed to doing our part to slow down the spread of the virus. A pandemic of this scale calls for an abundance of caution, as well as an abundance of grace and empathy.
Here is what that means for McKnight:
Starting Monday, March 16, our staff will work remotely through April 13. Business operations will continue. Even as we need to modify how we do our work, we remain committed to responding to grantees and other partners in a timely manner. While site visits and in-person meetings will be put on pause, staff will be available by email and phone and can arrange video or telephone conferences.
Our offices are closed to members of the public, and we will discontinue the use of our meeting spaces for all outside guests. We regret any hardship or inconvenience this places on organizations with upcoming reservations.
We will consider the impact of coronavirus on your organization's progress toward your grant agreement. We recognize the pandemic presents many challenges for nonprofits, from canceled events to market declines to business continuity pressures. If the coronavirus has prevented you from moving forward with a conference or other gathering, or slowed down other services or plans, please know we support you in making prudent decisions that balance public health and safety concerns. Contact your program officer if you may need potential adjustments to the terms of your grant agreement.
We stand with our grantees and our communities. This pandemic will have many social and economic implications, some of which we are only beginning to understand. As we learn more, we will be reviewing our response options. If you have specific ideas, please be in touch with your primary Foundation contact or send us a message through this monitored Contact Us web page.
This is what we know as of today. Like everyone, we will continue to monitor this dynamic situation and adapt accordingly.
The sudden rise of a pandemic starkly reminds us of what we hold dear. At McKnight, we value scientific integrity and the work of researchers, public health officials, and medical responders. We value equity, mindful that the disruptions will hit some communities harder than others. And we value inclusion, which means we reject any efforts to use this public health challenge to sow divisiveness or discriminate.
This is a time to come together, to recognize our profound interdependence, and to care for one another. Thank you for your understanding as, together, we navigate this unprecedented situation.