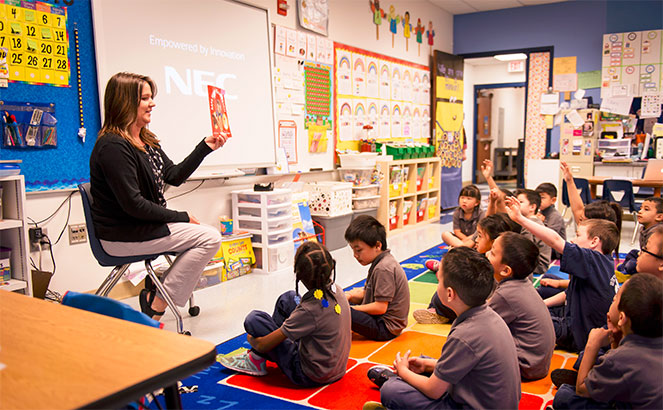 In 2011, McKnight adopted an ambitious goal — to dramatically increase the percentage of third grade readers in the Twin Cities. Since then, the Foundation has partnered with a select group of district and charter schools in the Twin Cities, the University of Chicago's Urban Education Institute, and an independent evaluator, SRI International, to meet this goal by aligning and improving the quality of school leadership and literacy instruction from PreK-3rd grade. We dubbed this effort the Pathway Schools Initiative, and after careful consideration, McKnight's board of directors has made the difficult decision to sunset the initiative at the conclusion of our partners' current grant periods — the 2017-18 school year for most.
Shared Goals, Shared Learning
By the time it concludes, the Pathway Schools Initiative will mark a seven-year collaboration between McKnight and its partners. The Foundation is proud of the initiative's many accomplishments and remains grateful for the dedication displayed by our colleagues in the Pathway Schools, at UEI, and at SRI. The Pathway Schools Initiative increased student retention from PreK to Kindergarten, improved the use of data to inform instruction, enhanced connections between PreK and K-3 programs, and strengthened leadership capacity in participating schools.
At the same time, McKnight acknowledges the initiative made only marginal progress toward its ultimate goal: increased literacy growth and proficiency for students. We are disappointed, but not discouraged, by this fact. As it draws to a close, the initiative provides opportunities to reflect on what we've learned, and to use those lessons to inform McKnight's future work.
School improvement requires committed, stable leadership and coherent policies. School improvement is possible, as numerous examples demonstrate. However, most of these examples remain isolated to single school sites and seem to occur not because of prevailing district and/or state conditions, but in spite of them. Over the course of the initiative, we too frequently saw teachers and leaders in our Pathway Schools struggling to balance the demands of the initiative with competing, often conflicting, mandates from district and state policymakers. Central office leadership turnover, and resultant shifts in district priorities, increased this incoherence. High attrition among teachers and leaders in Pathway schools — an all too common feature of urban schools — also diminished the initiative's effectiveness.
The Twin Cities is growing increasingly diverse — and that's a good thing. Over fifty percent of students in participating Pathway Schools speak a language other than English at home. As increasingly diverse cultures choose to make the Minneapolis-St. Paul area their home, our communities stand to benefit in myriad ways from their social and economic contributions. For example, we know that bilingual children demonstrate stronger executive function skills, such as the ability to pay attention and manage tasks, than monolingual children, and recent studies suggest that bilingual students eventually outpace their monolingual peers in reading comprehension (Kamenetz, 2016).
These children are vital members of Minnesota's future workforce, and we would see even more benefits if young language learners were much better served in our schools. Classroom teachers and school leaders must be equipped with the skills they need to support these children's academic and linguistic development, in both English and their home languages. Investing in Minnesota's growing populations of language learners will help ensure that the state remains economically and socially vibrant well into the next decades.
Transformative change requires local ownership. We've used the Pathway Schools Initiative evaluation as an opportunity to hold a mirror up to philanthropy and confront the limits of McKnight's influence over the day-to-day realities of schools. If our community wants to move beyond incrementalism to truly transform learning and teaching in our schools, then reform cannot be undertaken as a series of initiatives championed by funders and external partners. Instead, educators, families, and communities must be empowered to advance and implement coherent visions for student success. External partners can catalyze momentum and provide critical capacity building supports, but lasting change must be led at the ground level.
Looking to the Future
So, what's next for McKnight? We'll focus first on ensuring a smooth transition out of the Pathway Schools Initiative. McKnight staff will also continue to reflect on our experiences with the initiative, to survey the educational landscape, and — most importantly — to listen carefully to our partners across the community.
We'll be listening to better understand where there are opportunities to accelerate meaningful progress, where there are gaps that need to be filled, and where smart thinking and shared commitment could transform the systems that serve our children.