After McKnight made the decision to end the Pathway Schools Initiative last November, we understood that the data and research gathered from the experience presented a powerful learning opportunity for the Foundation and our partners in the field. We committed to combing through the initiative's data and stories in search of insights that could inform our future work and benefit others who want to improve teaching and learning across our state. We tapped Bellwether Education Partners to generate a series of lessons from the initiative and create an online resource to share them with other funders, educators, and policymakers.
At the launch of this new site, we share an excerpt of Bellwether's findings on our blog. For a full synopsis of lessons learned to date, we encourage you to visit and share the new site Supporting Minnesota Educators. Bellwether will update content on the site throughout the year.
Educator Training
Teachers in the Pathway Schools Initiative received coaching and training focused on language and literacy instruction. The Initiative asked teachers to take a new approach to lesson planning, standards, reading instruction, and using data. Teachers reported learning useful things in these trainings, but they sometimes struggled to put that knowledge consistently into practice. Classroom observations also showed little improvement in the quality of instruction over the course of the Initiative. There were many potential reasons for this, such as misalignment between curricula and assessments and concerns about the relevance of some forms of professional development. Another underlying factor, not covered in SRI International's evaluation of the Initiative, could be teachers' pre-service preparation.
Nationally, research suggests that too many teacher preparation institutions fail to adequately prepare teachers to support young children's language and literacy development, or to meet the needs of dual language learners (DLLs). Bellwether's interviews with the Initiative's professional development providers pointed to a need for stronger, more consistent preparation for teachers in some key areas. Professional development and coaching needed to cover the basics of data-driven instruction and literacy in early grades, including such fundamental early literacy strategies as small-group guided reading time. Professional development partners hypothesized that if teachers had had a stronger base of knowledge on these topics when entering the classroom, training and coaching might have been able to progress more quickly to more sophisticated skills.
As Minnesota schools become more diverse, teachers may need additional skills to serve students from varying backgrounds. More than half of students in Pathway Schools were DLLs. Only 14 percent of these students met their grade-level K-3 reading goals, compared to 27 percent of non-DLL students. DLLs respond well to many teaching strategies from which all young children could benefit, such as vocabulary-building activities, a high-quality and well-rounded curriculum, and differentiated and data-driven instruction. Even if teachers do not speak a child's home language, they should understand these strategies and be able to support learning in culturally and linguistically responsive ways.
Percent students and teachers of color in Minnesota, 2015-16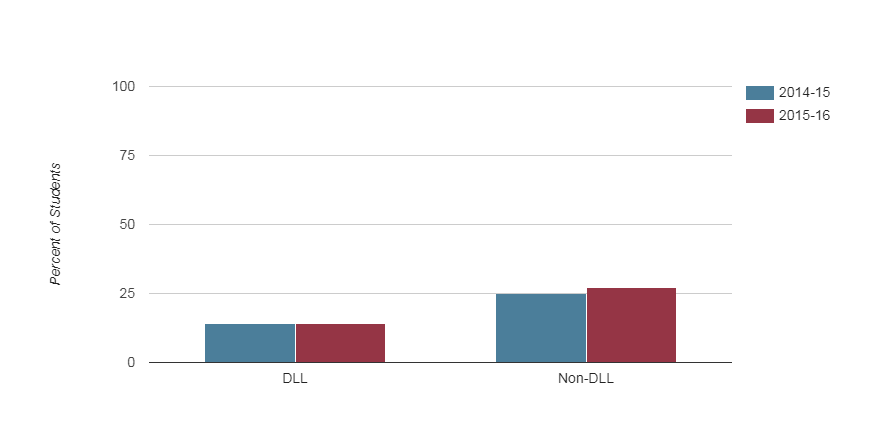 As measured by the STEP assessment. Data and analysis by SRI International, 2016 Pathway Schools Initiative annual report.
Next Steps
Teacher preparation programs, district leaders, and policymakers must ensure that new teachers are prepared to meet the needs of young learners, especially dual language learners.
Minnesota law provides a strong architecture for supporting English learners in the LEAPs Act, but fully implementing its promise will require additional changes in teacher preparation. All Minnesota teachers should be prepared to work with English learners in their classrooms, and the state needs more teachers with a dedicated focus on English learner instruction.
Preparation programs and policymakers must also work to recruit and prepare a more diverse teacher workforce: More than 30 percent of Minnesota students are from communities of color, versus less than 4 percent of Minnesota teachers.
Percent students and teachers of color in Minnesota, 2015-16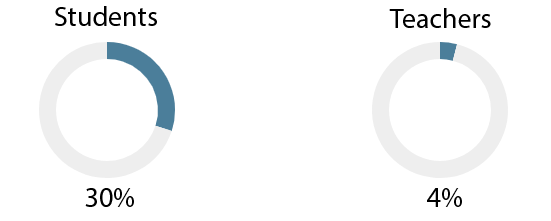 Districts should communicate with teacher preparation programs on what is needed and how their graduates are performing — districts such as Minneapolis Public Schools have already begun to do this. Improving the experience teachers have in classrooms during training can also be beneficial. Student teaching and teacher residency programs should ensure teachers-in-training are exposed to strong teaching in diverse classrooms.
State policymakers must ensure that standards for teacher preparation programs align with the needs of Minnesota students, and encourage innovation and excellence in teacher preparation. Implementation of 2017's overhaul of the state teacher licensing system offers an opportunity to put some of these lessons into action. For example, new regulations could create more pathways to the classroom for diverse educators and encourage innovation in practice-based teacher preparation.