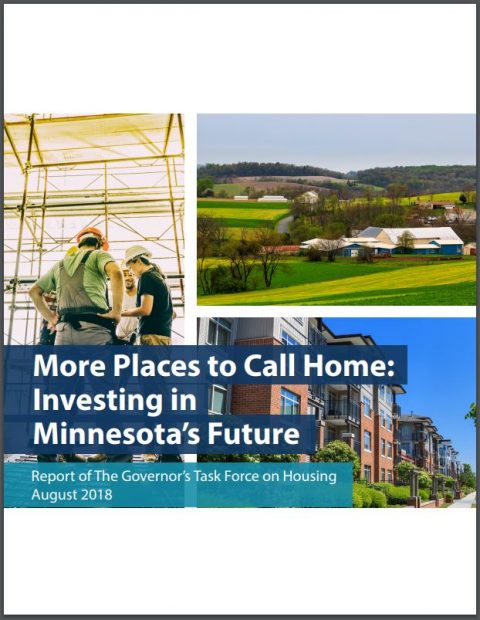 Report from Minnesota's Housing Task Force – Executive Summary
Where we live matters; it is connected with every aspect of our lives.
Success in life starts at home for all ages and all people. When we have safe, secure places to live, parents earn more, kids learn better, health and well-being improve, communities prosper, and we all thrive.
We all thrive when families have a decent place to lay their heads at night—whether they are renters or homeowners. A stable home anchors the ladder for future
We all thrive when we can live near our place of work, reducing the time and expense of commuting and leaving more time for community, health and
We all thrive when our children have a secure Research indicates that kids are more likely to succeed in school and have better job prospects in the future when they don't suffer the stress of wondering where they will sleep.
We all thrive when those of us who need health care resources can be supported where we live. People with secure homes can more consistently access the care they
We all thrive when Minnesotans have strong pathways to building wealth through homeownership. Homeowners can build and pass on wealth, which can help break a cycle of poverty and generate resources to invest throughout the
We all thrive when we ensure our seniors are integrated into our local communities and can choose a place to live that meets their physical, cognitive and social
The smartest investment we can make in our state's future is securing a foundation of strong communities and stable homes for all Minnesotans.
In Minnesota, we enjoy vibrant communities and a dynamic economy—built on livability and affordability—that give us a strong competitive advantage, nationally and internationally. Our local businesses attract dedicated employees, our colleges and universities recruit high-caliber talent, and our towns and neighborhoods boast strong and welcoming communities.
Our homes are the foundation of our flourishing communities; they fuel the engine of our economy. No one thrives if we price out young adults who have the talent and skills to strengthen our businesses. No one thrives if businesses leave the state because they can't attract and retain a workforce. No one thrives if families struggle to put a roof over their heads. The more Minnesotans who succeed, the more Minnesota will thrive—and we have proven that we have the will, the creativity, and the solutions to do so.