Below is the foreword from the McKnight-commissioned report "Still Thriving: The Changing Face of Southwest and South Central Minnesota," written by Jay Walljasper. The report explores opportunities and challenges in Albert Lea, Morris, and other small communities in the southern half of Minnesota.
The regional treatment center in Willmar was shuttered more than a decade ago, but the death knell we've come to expect when a small community loses a big employer never sounded. Instead, Willmar redeployed one of its best community assets, converting the 1912 state hospital's historic lakeshore campus into a bustling business incubator now home to more than 30 companies employing nearly 570 workers—nearly as many as the hospital had in its heyday. In fact, as Jay Walljasper reports from his recent visit, Willmar's creative co-working space showcases the low-cost quality of life and dot-com credibility that are helping to lure growing numbers of millennials and Gen Xers back to Minnesota's small towns.
The success of the MinnWest Technology Campus is just one of many signs of rural resilience in south central and southwest Minnesota illuminated in this yearlong Food for Thought series commissioned by The McKnight Foundation. In this fourth and final installment, Walljasper, an authority on urban planning and community development, visits Milan, where a surprising influx of Micronesian immigrants is keeping the tiny town of 370 residents humming, and an innovative clean-energy greenhouse could help local farmers extend the growing season. In the Lower Sioux Community, he finds that an indigenous language revival and the game of lacrosse are helping to give tribal youth deeper roots in the region. In Luverne, he meets local business leaders who restored the town's historic Palace Theater, proving the value of public-private partnerships. In Albert Lea — one of the Blue Zone communities remodeled by Minnesotan Dan Buettner's longevity campaign — he finds wider sidewalks and other pedestrian-friendly fixes that have not only helped residents there drop extra pounds but also raised downtown property values by 25 percent.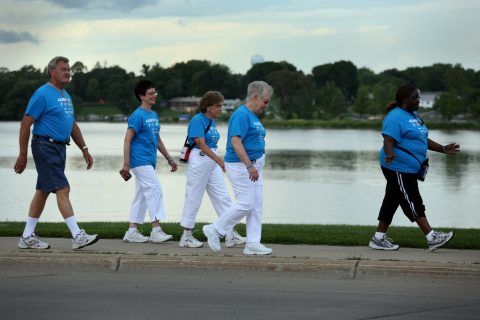 Although there are still many challenges ahead for Minnesota's small towns, this Food for Thought series reminds us that well beyond the metro area lies a dynamic landscape where the collective action of a few can make a powerful difference on Main Street. As one resident says about the surge of businesses, many of them women-owned, bringing new life to New London, "Three people meet for dinner, and things start to happen."
That's the kind of engaged community action The McKnight Foundation has been proud to support through the work of the Minnesota Initiative Foundations, six separate regional entities designed to reflect the values and vision of the distinct communities they serve. Forged in the wake of the farm crisis 30 years ago, "the MIF model" has since allowed the Foundation to invest more than $290 million in the state's rural communities, a continuing commitment that has helped to leverage an additional $270 million to foster good ideas and grassroots efforts across Greater Minnesota.
We hope these snapshots of south central and southwest Minnesota can begin to dispel the myth that our small towns are dying. As Walljasper's reporting makes clear, new immigration, new ideas, and new business models are helping many rural communities "reframe the rural narrative" for a much brighter future.