Implementing Change for Real Results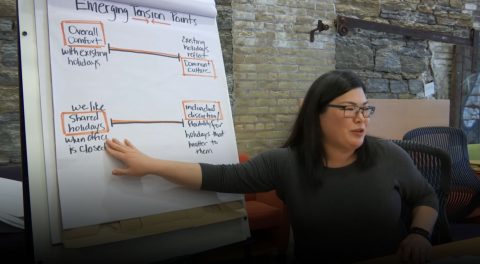 Soon, McKnight was ready to start putting what they learned into practice. The next step was to form what's called Action Learning Teams, small groups tasked with bringing organizational change using the new intercultural competency mindset. Nearly half of all Foun­dation employees participated in an Action Learning Team. After staff identified key areas where they recommended seeing changes to pol­icies and procedures, McKnight settled on three focus areas for the Action Learning Teams: deeper learning, grantmaking, and employee leave policies on bereavement and holidays. Each team was charged with collecting feedback from their colleagues, developing a plan and making specific recommendations.
"The simplest one was Human Resources," Christiansen says. "One of the outcomes was the decision to change from having 11 assigned holidays to having 12 non-assigned holidays that people choose for themselves and then observe." Even a seemingly simple change like this wasn't so simple. "The switch has ramifications for facilities, for reception, for operations, and for the people in HR," she says. In the end, the group was able to implement the change.
In the summer of 2017, the group held an all-staff retreat that marked a capstone to all these months of learning and testing new ideas. The facilitators revealed the results of a recent reassessment the staff had taken. Everyone wondered if the time, money and effort that McKnight employees invested over the 18 months resulted in increased effectiveness in Intercultural Development. IDI trainers say the shift from Minimization to Acceptance, the next orientation on the developmental continuum, is one of the most difficult; most organiza­tions do not shift immediately. When it was revealed that McKnight's intercultural development had indeed shifted to Acceptance, the room broke into applause and there was a collective "Whoop!" at the news of the developmental shift.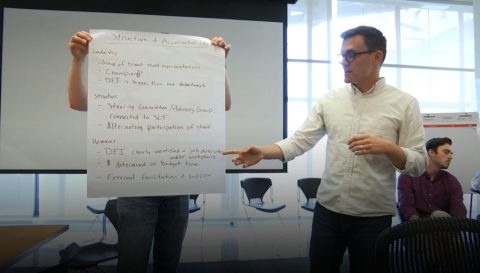 At the staff retreat, Wolford made it clear that the Foundation's commitment to diversity, equity and inclusion didn't end with the IDI staff trainings. "We see it as mission-critical to have our staff be better equipped to engage across differences, and the IDI was one tool to help us increase organizational capacity and effectiveness," she says. "The next step is continuing this development while increasing our area of focus to advance diversity, equity and inclusion through our policies, practices and behaviors. We have identified some next steps including deeper learning on implicit bias and structural racism to inform our strategy and approach. Using what we have learned through this initial phase of work we will consider how we approach our external role as a funder, an employer, economic entity, institution­al investor, convenor and thought leader."
Institution-Wide Changes for the Better
McKnight has implemented a number of changes as a direct result of the IDI work. A program administrator in the International team is now devoting 40 percent of her time to supporting the DEI work. A DEI advisory committee – consisting of Wolford, Christiansen, and Kara Carlisle, the vice president of programs, along with the three staff leads of the original learning teams – has formed to guide staff-related work on DEI. In January of this year, McKnight released a