Celebrating the lifelong achievement of Minnesota artists and culture bearers
The McKnight Foundation is thrilled to announce we are deepening our investment in artists and culture bearers who have contributed significantly to Minnesota communities. The Distinguished Artist Award is now open for nominations, with an increased award of $100,000. This increase emphasizes our commitment to our program goal—to catalyze the creativity, power, and leadership of Minnesota working artists and culture bearers.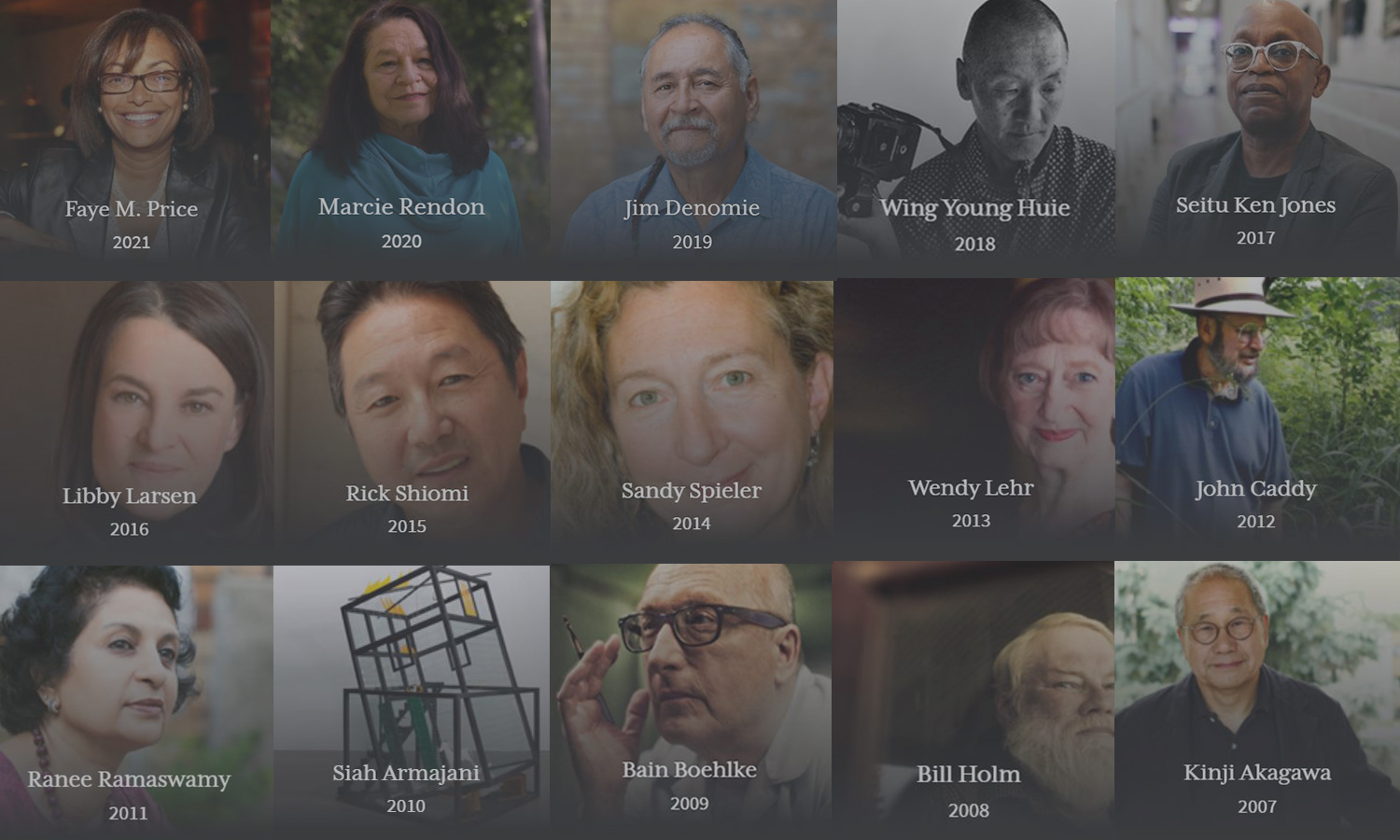 Artists and culture bearers are leading us in this moment. The ongoing pandemic has been especially hard on the arts sector and yet, artists and culture bearers show us a way forward—through their voices, their creativity, and their ability to connect us all in shared humanity.
It's time. This year's increase to $100,000 came in response to requests from our esteemed panel of artists, educators, and arts organization professionals, who have been advocating additional support for working artists. The increased investment aligns with the Arts & Culture program goal, which aims to make bolder, more impactful, right-sized grants across its portfolio.
For 40 years, McKnight's arts grantmaking has invested in working artists and the long-term creative ecosystem in Minnesota. The Distinguished Artist Award, which recognizes the lifetime achievement of artists in Minnesota, began in 1998 with a $40,000 award per year, which soon after increased to $50,000. Since that time, the program has granted more than $1 million to 24 distinguished artists in Minnesota.
Adapting and valuing. Across philanthropy, foundations and other trusted partners are recognizing the increased role that artists and creatives have in enriching our communities. It's our hope that this increased investment will build upon local efforts already underway and model to other funders the critical need to value artists and cultural bearers.
"At McKnight, we believe supporting artists and culture bearers means investing in the future world we want to live in."
At McKnight, we believe supporting artists and culture bearers means investing in the future world we want to live in. It is time that we grow our recognition of and investment in working artists and culture bearers—giving artists the support they deserve to make a living and a life, and for our communities to thrive through their contributions.
About the Distinguished Artist Award
Recognizing the artists who have made significant lifelong contributions to Minnesota, enriching our communities. The annual $100,000 McKnight Distinguished Artist Award recognizes artists who have made a lifelong commitment to creating art that is locally, regionally, and/or nationally significant. These artists have chosen to make their lives and careers in Minnesota, thereby making our state a more culturally rich place. First and foremost, they have produced creatively incisive art reflecting their particular and extraordinary point of view. McKnight Distinguished Artists have also inspired other artists, earned acclaim from audiences, patrons, critics, and other arts professionals, and some have founded and strengthened arts organizations.
Do you know an artist with an enduring and exceptional career in Minnesota? *No self-nominations. The awardee is impactful to their community and therefore requires a nominator.
Nominations close April 25, 2022.
If you would like to see a sample of the nomination questions before you start the process, please click here.
Note: Applications are only accepted online. Please do not send any DAA-related materials to the McKnight office as the staff is currently working remotely. If you any questions about the nomination process, please email Maria Salas.