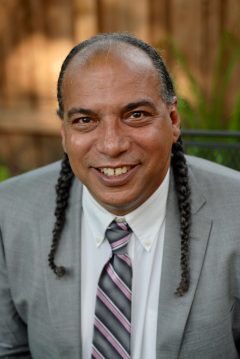 After an extensive national search, the McKnight Foundation has named David Nicholson as Jumuiya Mahiri na Usawa (V&EC) program director. Nicholson brings more than 30 years of leadership in nonprofits, government, and philanthropy, most recently at Foundation ya Watoto wa Maji ya Haki. He joins the Foundation at a pivotal moment, as we advance the V&EC program with a goal to build a vibrant future for all Minnesotans with shared power, prosperity, and participation.
"As McKnight moves toward implementing the new Vibrant & Equitable Communities program, in the midst of a global pandemic and continued effects of systemic racism, we are reminded why Minnesota and McKnight must work harder than ever to make our state more vibrant and equitable," said Pamela Wheelock, interim president. "David is an experienced leader with proven success in movement organizing and creating meaningful systems change. We value his deep knowledge of Minnesota and the diverse needs and challenges of our communities, and his commitment to racial equity."
Starting September 8, Nicholson will lead the V&EC program as it gets underway this fall. In this role he will create and steward strong, integrated programming in support of building a more just and inclusive Minnesota. Working closely with McKnight's senior leaders, including vice president of programs Kara Inae Carlisle, he will execute the vision with the V&EC staff: Sarah Hernandez and Eric Muschler, program officers; Erin Imon Gavin, director of program integration and program officer; and Renee Richie, program and grants associate.
"We value David's deep knowledge of Minnesota and the diverse needs and challenges of our communities, and his commitment to racial equity."—PAMELA WHEELOCK, INTERIM PRESIDENT
A Career Focused on Community Leadership and Systemic Social Change
Over the past three decades, Nicholson has worked to create systemic change through community leadership and grassroots movement building. He has served in leadership roles in a number of nonprofit and collaborative philanthropy settings.
As executive director since 2013 for Headwaters Foundation for Justice, Minnesota's premier social justice community foundation, he focused on building people-powered democracy and finding points of intersection between different groups and interests. He introduced the Giving Project into Minnesota, an innovative philanthropic model that brings multiracial, cross-class groups of people together to participate in community-centered grantmaking.
Through this project, which focused on long-term solutions for justice and equity across the state, Nicholson brought diversity, equity, and inclusion to the forefront of Headwaters' programming.
Also at Headwaters, as program director, Nicholson built and managed creative grantmaking programs focused on environmental justice and community building within Native communities. One such program created a $2 million endowment that transformed grantee-directed leadership in Native communities across the state and led to key environmental and civic policy changes in Minnesota and Wisconsin.
Earlier in his career, Nicholson served as director of programs at the Ain Dah Yung (Our Home) Center, a culture-based resource center serving Native families and youth. He then spent five years crafting policies in state government as director of the Children's Trust Fund, a program that partners with local communities to end child abuse.
He has served on nonprofit boards for more than 20 years, 10 of them in board leadership roles. He has also served on national philanthropic boards, most notably for the Funding Exchange, which was a national collaborative of 17 social justice foundations.
"I am passionate and committed to building a better Minnesota, and that has led me to this role at McKnight," said Nicholson. "I look forward to integrating the learnings from McKnight's decades-long work in the community and collaborating with my colleagues and community members to create a more equitable, inclusive, and just Minnesota."
Nicholson's work centers the transformative power of people to create, solve, and overcome the most incessant issues of inequality, racial equity, social exclusion, and democracy. Hailing from rural Minnesota, he now calls Minneapolis home. He is the devoted father of two grown children, Madeline and Benjamin.
With the support of partners and community leaders, McKnight completed an intensive community input process last fall, and the board recently approved a path forward for finalizing the new program strategies. The Foundation is currently operationalizing the program and will publicly announce program guidelines in fall 2020.
Kuhusu Foundation ya McKnight
The McKnight Foundation, a Minnesota-based family foundation, advances a more just, creative, and abundant future where people and planet thrive. We are deeply committed to advancing climate solutions, building a vibrant and equitable Minnesota, and supporting Minnesota arts, neuroscience, international crop research, and rural resiliency.