More than 23 million immigrants in the United States are eligible to vote in this year's presidential election, according to the Pew Research Center. This record high makes up roughly 10 percent of the nation's overall electorate. The question is how many of these naturalized citizens will vote this fall. Immigrants face significant barriers to voting such as language differences, fear of authorities, voting logistics, and lack of trusted information on the candidates and issues.
Across the political spectrum, a growing number of people agree that a healthy democracy depends on the full participation of all Americans. In its third-quarter grantmaking, the McKnight Foundation awarded 42 grants totaling $4.3 million. Of that sum, $150,000 will go to CAPI USA, headquartered in Brooklyn Center, Minnesota, for general operating support to empower new immigrants and refugees and increase civic engagement. To view the full list of approved third-quarter grants, visit our database ya misaada.
"We are pleased to support CAPI USA in its efforts to empower all Minnesotans to engage in the democratic process, access civic information, and feel confident making informed decisions on the issues that matter to them." -DEBBY LANDESMAN, MKAZI WA MKAZI WA MCKNIGHT
In 2018, CAPI USA established the Ignite Minnesota Asian Power (IMAP) coalition in partnership with the Asian American Organizing Project. The coalition aims to inspire Asian and Pacific Islander communities and other immigrant populations in Minnesota to engage in the democratic process, with a 2020 focus on voting and census participation.
"Voting and census participation are two critical ways to make one's voice heard," said McKnight board chair Debby Landesman. "We are pleased to support CAPI USA in its efforts to empower all Minnesotans to engage in the democratic process, access civic information, and feel confident making informed decisions on the issues that matter to them."
A Multilingual Coordinated Voter Mobilization Effort
The Ignite Minnesota Asian Power coalition includes 13 organizations:
Bhutanese Community Organization of Minnesota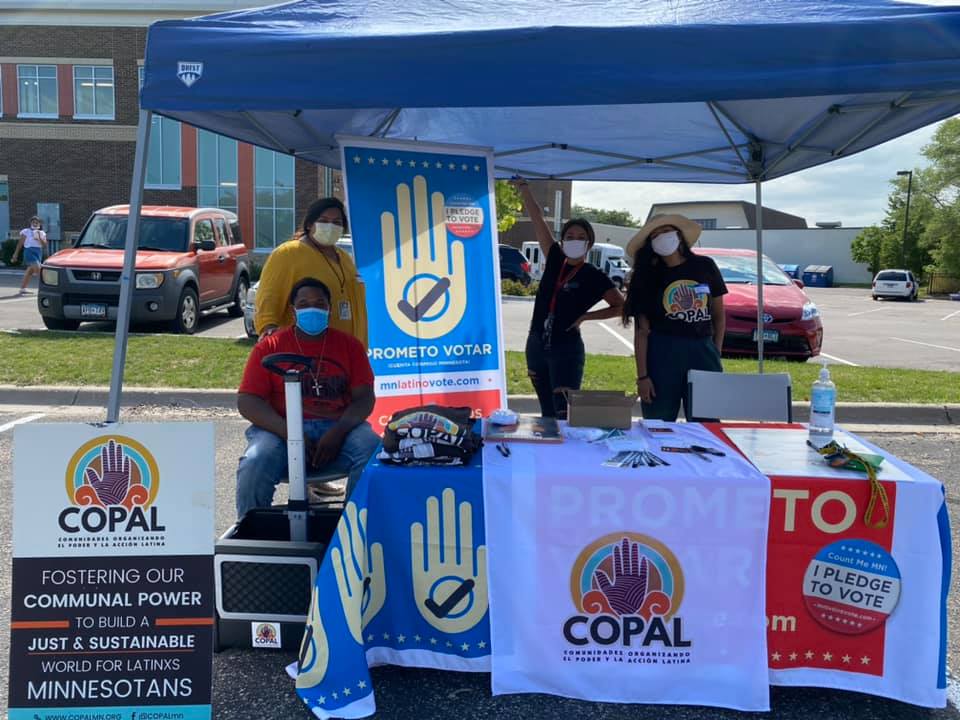 COPAL staff members at a "COPAL en la Comunidad" event to engage Latinx voters. The group is hosting 24 of the events across the state in the lead up to the election. Photo credit: COPAL USA
Over the summer, these organizations led a multilingual coordinated effort to promote voter education, registration, and mobilization in their communities prior to the August 2020 primary election. They provided resources and information about voter eligibility, polling locations, and voting options in view of the Covid-19 pandemic. They also presented background information on the candidates and their stances on important issues, including immigration, equity, education, jobs, and health care.
IMAP will engage 6,000–9,000 new Minnesotans from all over the world ahead of the November 2020 election—doubling its primary election efforts to increase voter turnout in immigrant communities. Beyond the election, CAPI USA plans to create strategies for year-round advocacy, policy, and systems-change work to advance equity and inclusion for Minnesota's diverse immigrant populations.
"We are pleased to help further connect and build power among these community-based organizations, strengthening their collective civic engagement efforts beyond the fall elections," said Kara Inae Carlisle, McKnight vice president of programs. "We envision a state and country in which all residents have a voice in determining our shared future."
Supporting an Inclusive, Accurate 2020 Census
In addition to encouraging voter participation, CAPI USA has actively promoted the 2020 Census. It has helped disseminate accurate information about the purpose and benefit of filling out the census and made it easily accessible to immigrant communities.
The census, which determines the distribution of funding and resources to local communities and the number of seats each state has in the US House of Representatives, is critically important and often misunderstood. Many people cite data privacy concerns and distrust of the government when opting out of the census.
The census has historically undercounted communities of color. Groups like CAPI USA have expressed concern that the Covid-19 pandemic and policy changes by the US Census Bureau this year could further hamper an accurate count.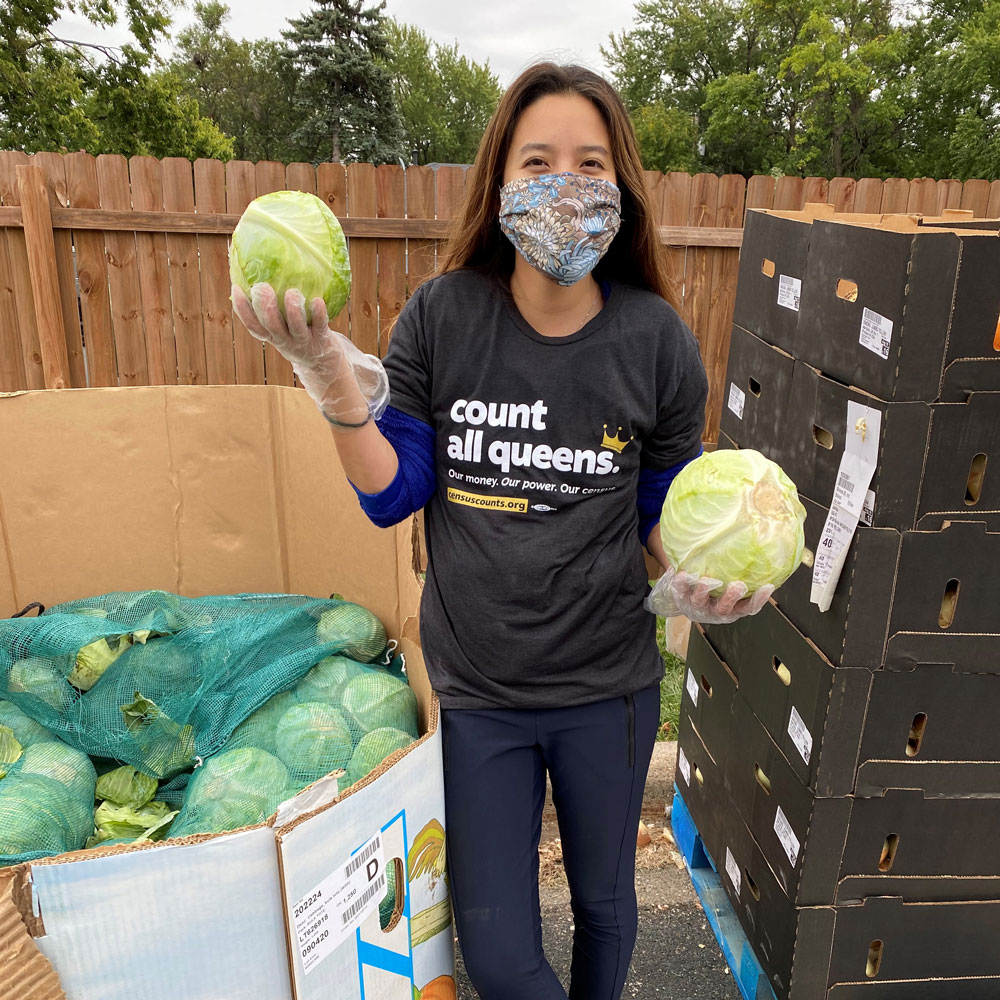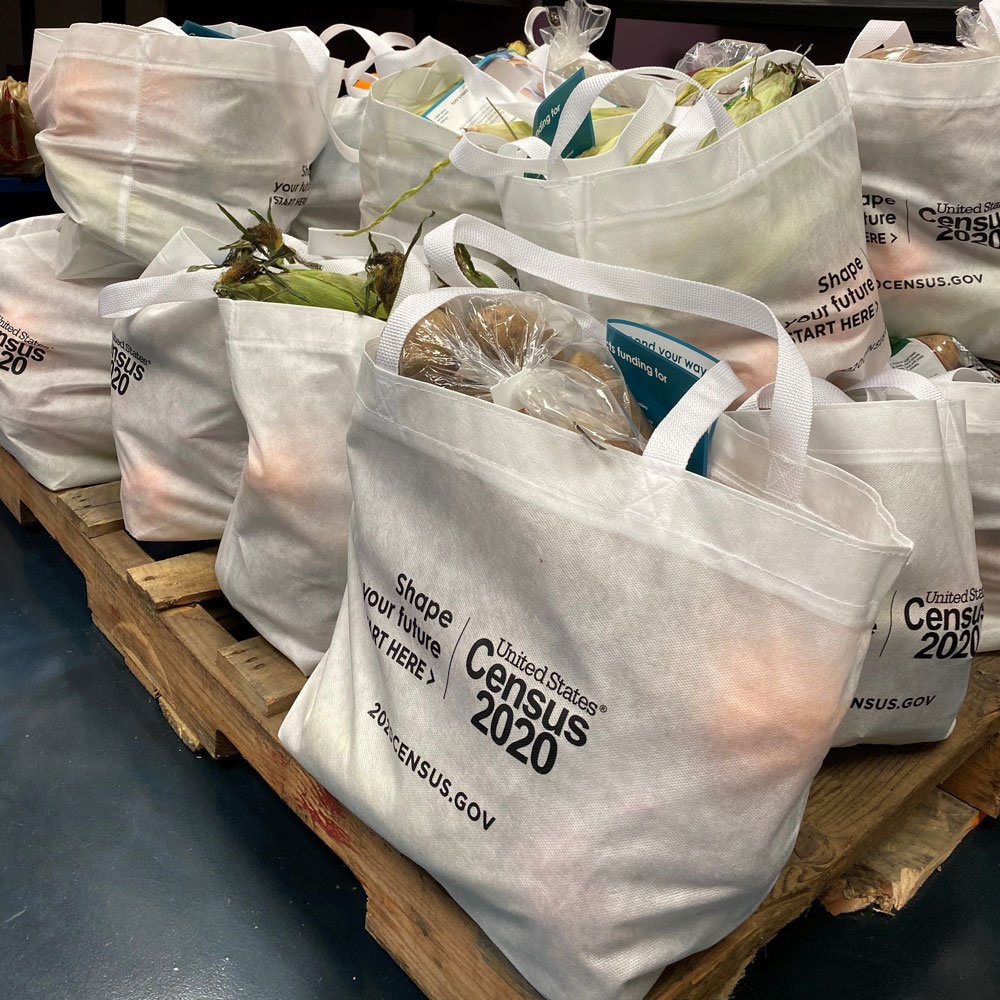 2020 Census promotion at CAPI USA's food shelf. Photos Credit: CAPI USA
The 2020 Census has faced complex operational challenges: first it was delayed by Covid-19, then came the US Census Bureau's decision to conclude all counting efforts by the end of September—a month sooner than it had previously stated.
In August, McKnight, along with 506 other philanthropic institutions, joined the Funders' Committee for Civic Participation in urging the US Census Bureau not to rush the process, as doing so could negatively impact a diverse range of rural and urban communities by leaving them significantly underrepresented.
Through the Minnesota Council on Foundations, McKnight is also a member of the Minnesota Census Mobilization Partnership, supporting its mission to "advocate for policies and resources and engage Minnesotans to achieve the goal of fully inclusive, honest, and accurate 2020 Census in Minnesota."
Strengthening democratic participation is a newer area of work for McKnight—a strategy shared by our new Vibrant & Equitable Communities (V&EC) and expanded Midwest Climate & Energy programs. Through these programs and across the Foundation, we aim to increase statewide infrastructure and capacity to build power, engage diverse people in advancing our shared prosperity, and create platforms for broader participation in movements and decisions that determine our collective future. The first V&EC initial inquiry period opens October 1 and runs through October 15.