It all began with an audacious idea, said Paul Schroeder, CEO of HOURCAR, a Minnesota car-sharing nonprofit.
"The Big Idea," as Schroeder called it in 2017, involved an all-electric car-sharing service and a network of electric charging hubs to be located in historically underinvested communities across the Twin Cities. Just four years later, this idea is becoming a reality—the EV Spot Network. A collaboration between HOURCAR, Xcel Energy, and the cities of St. Paul and Minneapolis, the initiative will launch a fleet of 150 shared electric vehicles (EVs) and install 70 EV charging stations on city streets this spring.
In 2018, the McKnight Foundation provided a $25,000 grant to HOURCAR to develop a business plan for the project. Brendon Slotterback, Midwest Climate & Energy program officer, was initially skeptical. "I remember thinking it was intriguing but carried a high risk of failure," said Slotterback. "Ultimately, we decided to take a chance and plant the seed. We are thrilled to see it bear such incredible fruit today."
As the project advanced from a long shot to a sure thing, McKnight provided additional funding for the buildout and launch. Most recently, in its first-quarter 2021 grantmaking, the Midwest Climate & Energy team, which had been reflecting on the importance of taking a chance on big ideas, awarded HOURCAR $500,000 in general operating support over two years.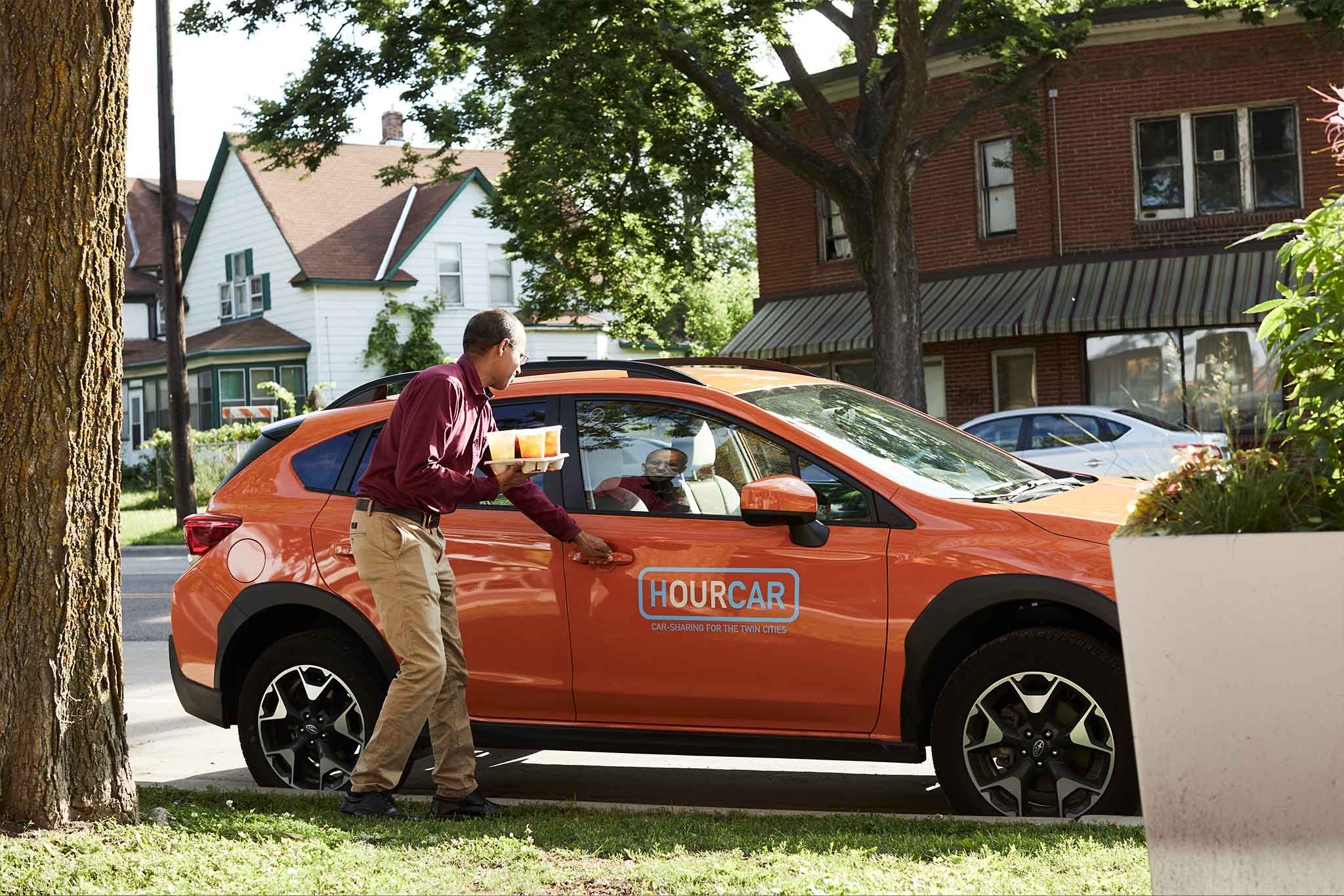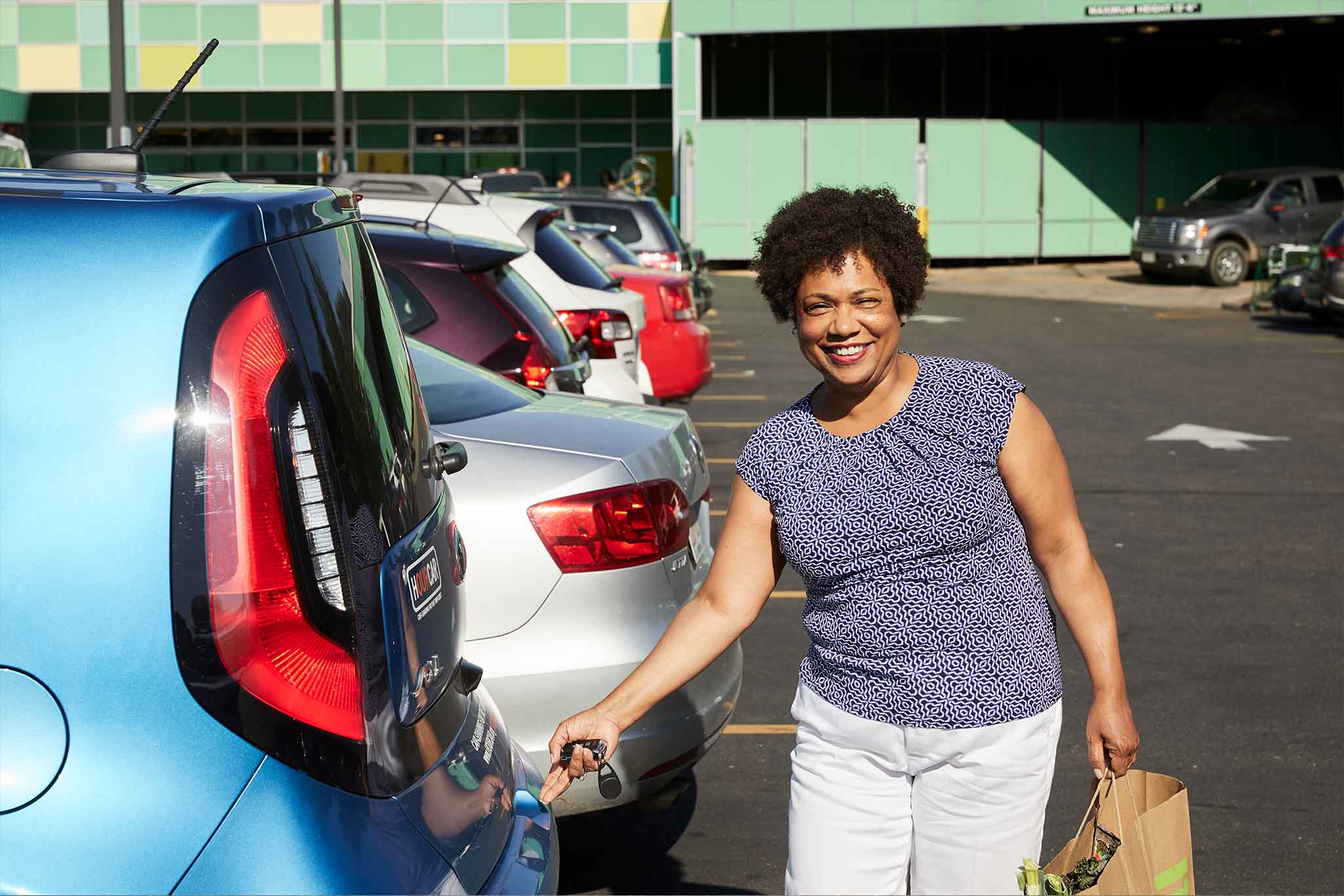 HOURCAR connects people to their communities with convenient, equitable, and sustainable multimodal transportation. Photo Credit: HOURCAR
Timing Is Everything
Since 2012, HOURCAR has been the only Twin Cities car-sharing service with hubs in low-income neighborhoods, including Phillips in Minneapolis, and Frogtown and Midway-Hamline in St. Paul. HOURCAR's staff forged relationships with community leaders, social service providers, and local organizations to design inclusive and accessible membership structures and fee schedules.
The idea to build an all-electric car-sharing network in underserved areas aligned HOURCAR's commitment to equitable transportation access with its foundation in the environmental sector. It leveraged staff members' deep relationships with community partners and got lucky with a sudden societal tilt toward EVs.
"Timing is everything," said Schroeder. "Our proposal came into view the moment EVs went from seeming like glorified golf carts to Teslas. There was a sudden sense the EV takeover was right around the corner."
Communities Take the Lead
Xcel Energy had the same impression. In 2017, the utility company was embarking on conversations with regulators to expand EV access throughout the region. It awarded $25,000 to HOURCAR to develop a proposal, a sum that McKnight later matched.
HOURCAR used the initial funds to develop a comprehensive plan for the EV network, encompassing infrastructure, technology, financing, operations, and social impact. It hired Shannon Crabtree as community outreach coordinator to engage community members in the design process.
"We asked communities to take the lead," she said. "We provided support and funding to local grassroots organizations—from the district councils to neighborhood bike shops—to develop means of engagement with their residents. We didn't want to prescribe the process. We wanted it to align with the needs and values of each community."
The EV Spot Network, an all-electric car-sharing service and a network of electric charging hubs, will be available in underinvested communities across the Twin Cities this spring—making transportation more accessible and equitable.
St. Paul neighborhoods included the West Side, the North End, Frogtown, and Dayton's Bluff. Minneapolis neighborhoods included North, Powderhorn, Phillips, and Cedar-Riverside. While every process was different, similar themes emerged.
People wanted a flexible and fast sign-up and approval process, affordable pricing, translation of materials into multiple languages, and a ride-share program to connect those already driving with those who need a ride.
"There are systemic barriers to access," said Crabtree. "For example, some people don't have a driver's license or lost their right to one, and affordability is subjective. We can't solve all of the barriers, but now we know what they are—we're not guessing. And there's a lot we can do operationally as we get off the ground."
HOURCAR upgraded its system to approve the majority of new users within 24 hours, reduce membership costs by 40 percent, and provide language translations. A community ride-share program is in development.
"It's a simple idea, with huge technological challenges," said Crabtree. "If we can problem solve around the tech, however, it would significantly advance equity. You wouldn't necessarily need a driver's license to use the service, as someone else could drive, and people could share the cost."
More EVs on the Streets
Investing in a comprehensive, community-driven planning process paid off. The cities came on board, as well as the Metropolitan Council and the U.S. Department of Energy. The $50,000 in seed funding from Xcel and McKnight led to $12 million in private capital and public investment—which will soon be visible by a fleet of EVs on Twin Cities streets.
"It demonstrates the power of investing in a long shot," said Schroeder. "We had a good idea at the right time, and we had incredible partners, from Xcel and McKnight to St. Paul and Minneapolis and community members. Everyone met us with curiosity, flexibility, and a willingness to experiment. Together we moved it from high risk to high reward."