Kategorie:Ankündigung6 min lesen
McKnight Names
Dipankar Mukherjee
2023 Distinguished Artist
Longtime theater leader has been a force of creativity, healing, and justice for the region
The McKnight Foundation today announced the selection of Dipankar Mukherjee as its 2023 Distinguished Artist, an award given annually to a Minnesota artist or culture bearer who has made significant contributions to the state's cultural life.  
"We are delighted to celebrate Dipankar, whose powerful vision has contributed to the cultural soul of Minnesota for more than 30 years," said Tonya Allen, president of McKnight Foundation. "He is a person who walks his talk and whose remarkable art and deep humanity have been a source of healing and inspiration for our state." 
"In addition to being a superb, internationeinlly renowned director, Dipankar is a tenacious community–based Veränderer, mobilizer, und healer."—DEANNA CUMMINGS, ARTS & CULTURE PROGRAM DIRECTOR
A driving force in the theater field, Mukherjee has earned a reputation as a director committed to social justice, equity, and de-colonized practices in theater-making. Since co-founding Pangea World Theater in 1995 with his partner Meena Natarajan, he has embraced the stories of many cultures, building bridges and inspiring artists and community members to address urgent social concerns through art. 
"In addition to being a superb, internationally renowned director, Dipankar is a tenacious community-based-changemaker, mobilizer, and healer," said DeAnna Cummings, Arts program director at McKnight Foundation. "He continues to search for justice through art and push for change in the theater sector and in the world through work that is unique and daring."   
The McKnight Distinguished Artist honor carries a $100,000 award. 
Mukherjee's experience as an immigrant from Kolkata, India has influenced his unwavering advocacy for underrepresented communities. This advocacy has significantly impacted the landscape of theater in Minnesota and the careers of dozens of theater-makers. As a director, he has worked in India, England, Canada, and the United States. He was resident director at the Guthrie Theater in the 1990s and has directed works commissioned by Amnesty International, Centro Legale, and The Advocates for Human Rights. His many honors include a Bush Fellowship, Humphrey Institute Fellowship to Salzburg, and Ford Foundation delegate to India and Lebanon. 
"Dipankar searches for justice through an artistic process that is, for lack of a better word, truly spiritual," said Sharon Day, who was one of the people who nominated Mukherjee for the McKnight award. "He believes the beauty of the artistic process with its dissonances and its creative energy can heal our outer world and our spirits. He has touched so many lives, encouraged so many artists, and always speaks truth to power." 
"

He believes the beauty of the artistic process with its dissonances and its creative energy can heal our outer world and our spirits. He has touched so many lives, encouraged so many artist

s

, and always speaks truth to power.

"
- Sharon Day
Mukherjee also was one of the founders of Longfellow Rising, a coalition involved in rebuilding the area with justice and equity after the destruction of property following the murder of George Floyd. He worked with Holy Trinity Lutheran Church to commission artist Angela Two Stars to create a community healing piece opposite the Third Police Precinct in Minneapolis.  
Together with his Pangea colleagues, Mukherjee now is working to build a new theater and outdoor community space in the neighborhood most impacted by the uprising following George Floyd's murder. 
Mukherjee was selected by a panel of community members with broad perspectives and knowledge about the region's diverse arts and cultural landscape. The panel included Marcus Young, theater artist and educator; Michele Anderson, rural director for Springboard for the Arts; Lana Barkawi, executive director of Mizna; and Daniel Bergin, filmmaker and senior producer and partnership manager for Twin Cities Public Television. Carlton Turner, lead artist and co-director of Sipp Culture, participated in the panel but recused himself from any discussions or voting regarding Dipankar, due to his personal and professional connections with the artist.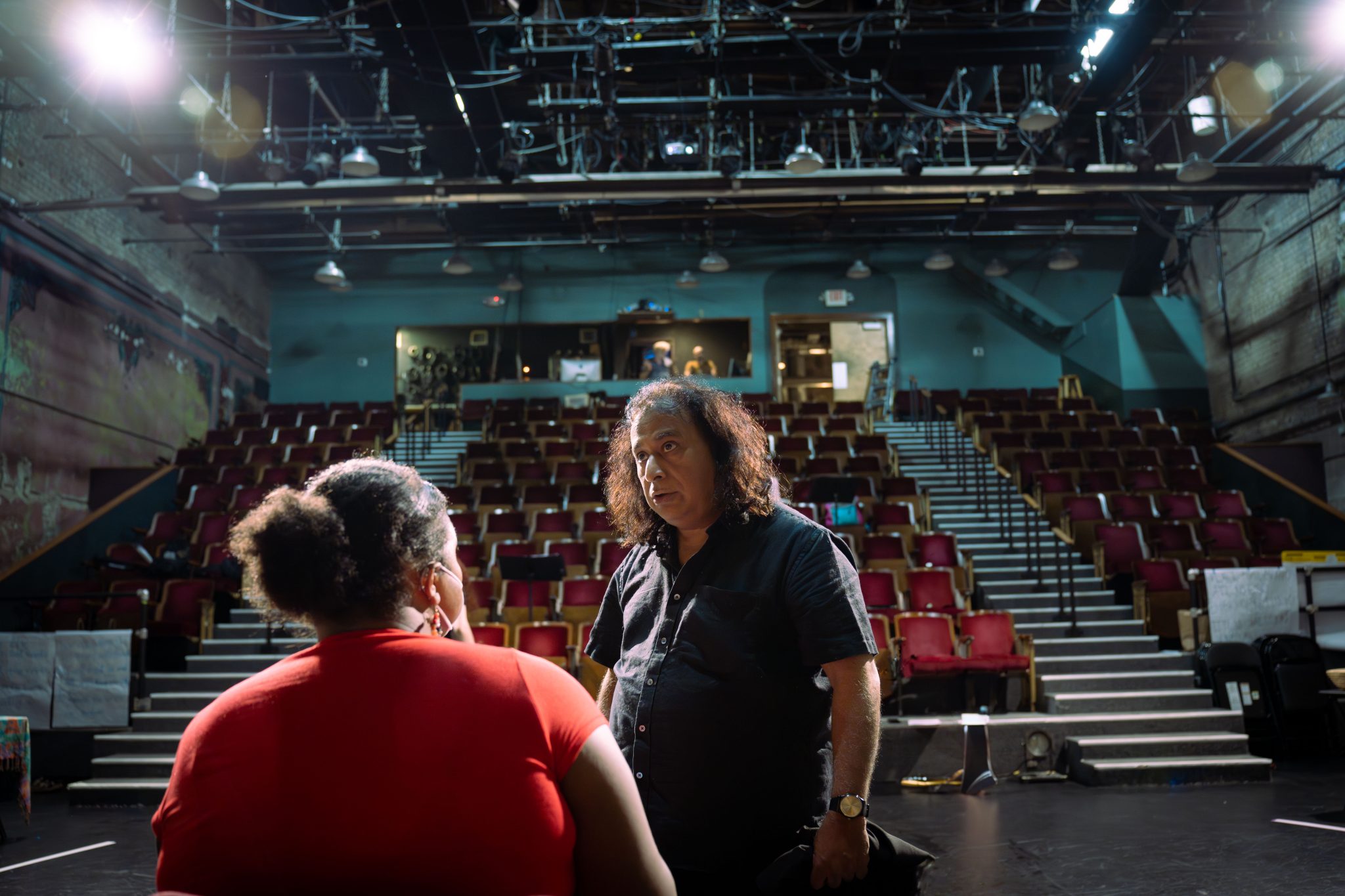 ÜBER DEN McKNIGHT DISTINGUISHED ARTIST AWARD
Das McKnight Distinguished Artist Award recognizes artists and culture bearers who have made significant lifelong contributions to Minnesota, enriching our communities. The annual $100,000 award honors artists who have made an enduring commitment to creating art that is locally, regionally, and/or nationally significant. These artists have chosen to center their lives and careers in Minnesota, thereby making our state a more culturally rich place. First and foremost, they have produced creatively incisive art reflecting their particular and extraordinary point of view. McKnight Distinguished Artists have also inspired other artists, earned acclaim from audiences, patrons, critics, and other arts professionals, and some have founded and strengthened arts organizations. Since 1998, McKnight has recognized 26 artists with a Distinguished Artist Award, awarding more than $1.4 million to artists across the state.  
ÜBER DIE McKNIGHT FOUNDATION
Das McKnight Foundation, a Minnesota-based family foundation, advances a more just, creative, and abundant future where people and planet thrive. Established in 1953, the McKnight Foundation is deeply committed to advancing climate solutions in the Midwest; building an equitable and inclusive Minnesota; and supporting the arts in Minnesota, neuroscience, and international crop research.