The climate crisis has announced itself, loudly and with a vengeance. Drought, floods, and fires are already upending our economy and daily life, and scientists across the globe are telling us this is just a prelude of catastrophe to come.
At no moment too soon, the U.S. Congress is locked in tense negotiations over a budget package that includes robust climate policies that will help our nation, our states, and companies of all sizes meet the challenge head-on. The plan may be our last, best chance to confront this crisis before it's too late.
Tonya Allen, president of the McKnight Foundation, and Anne Kelly, vice president of government relations at Ceres, were pleased to moderate a virtual event on Sept. 17 for Midwest business leaders, giving them an opportunity to hear directly from three of the key clean energy champions working for lasting change.
U.S. Energy Secretary Jennifer Granholm, U.S. Senator Tina Smith of Minnesota, and Minnesota Pollution Control Agency Commissioner Peter Tester spoke of the important role businesses play both in reducing emissions and guiding state and federal policies that will ensure a clean, just, and sustainable economy.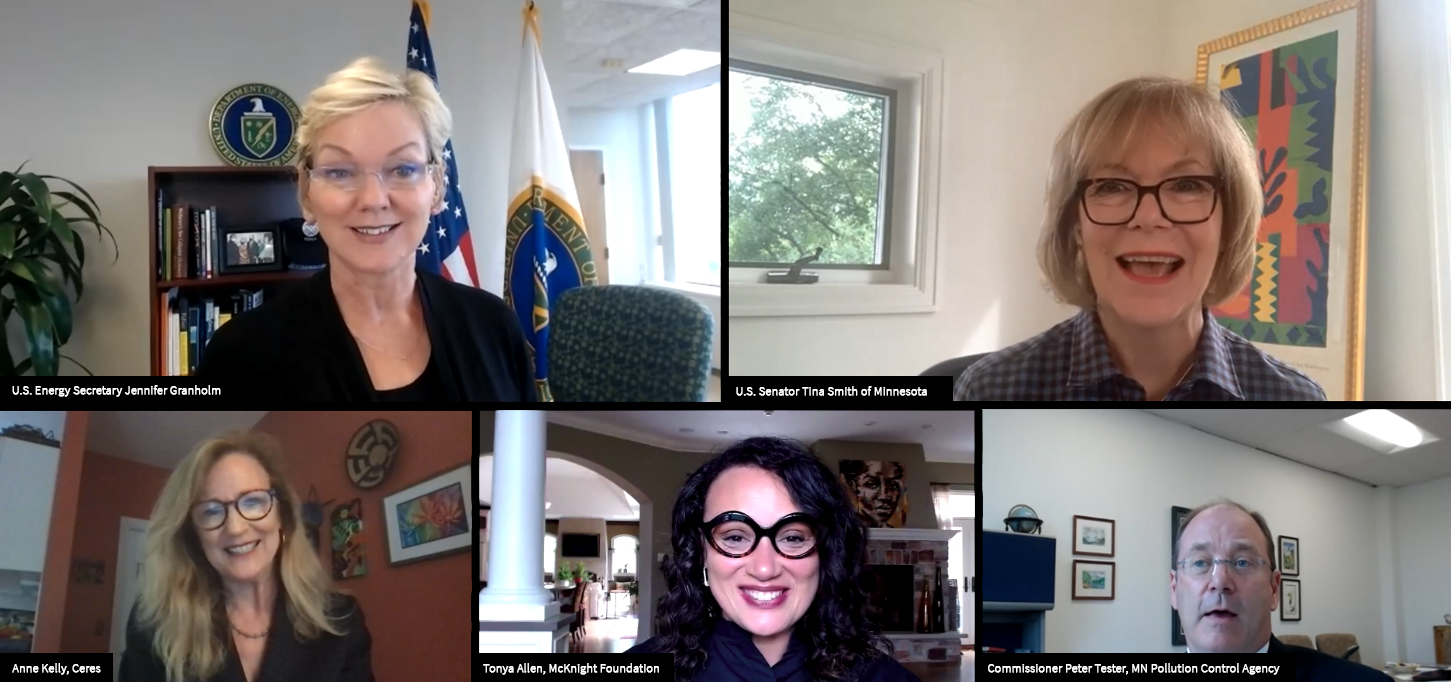 Leading businesses have become some of the most important advocates for robust climate policy. They know that climate catastrophe will be ruinous for the economy, and that transitioning to a clean energy future presents a massive opportunity—with significant benefits for businesses and the communities in which they work.
Granholm, Smith, and Tester emphasized that the climate measures in the budget package—including a Clean Electricity Performance Program to rapidly expand clean power generation nationwide, incentives for clean energy and electric vehicles, and other policies to advance environmental justice and create good new jobs across the country—are critical to unlocking these opportunities. Here are some of the key messages they delivered:
"We just cannot do this alone"
"The federal government, we just cannot do this alone," Granholm said. "We need to work together with the private sector, with philanthropy, to achieve these big, hairy, audacious goals."
A former Michigan governor, Granholm also noted the important role state governments play in passing innovative policies that set an example nationwide. Tester, meanwhile, noted that state governments benefit from ambitious federal policies and funding that will help businesses and communities transition to clean energy.
Tester also called on both companies and governments to do a better job of highlighting corporate climate action, which, he said, "many in Minnesota don't realize" businesses are already embracing.
"A disconnect that people notice"
Smith, who is championing the Clean Energy Performance Program on Capitol Hill, said lawmakers need leading companies' vocal support amid the ongoing negotiations. While many companies are already committed to climate action, Smith noted, they must make that clear to lawmakers—including through lobbying.
Lawmakers at both the federal and state level "know the difference between a really great press release and businesses that are out there actively engaging and lobbying on issues like taking action on climate," Smith said. "I would love to see a Minnesota business come in and talk to me with the same level of commitment to getting action on climate as I hear on … revising the tax code, or the regulatory issue that affects your business."
Smith commended companies that have already taken public stances in support of the budget package and its climate policies. However, businesses who consider themselves climate leaders, Smith urged, must distinguish themselves from the positions of their trade associations, many of which—including the U.S. Chamber of Commerce—oppose the plan.
Member companies should find ways to counter that message with one of their own. For example, Salesforce recently published a statement emphasizing its support for the climate policies in the budget package. "It's easy to focus on the cost of climate action, but the increasing severity and frequency of unprecedented, deadly and costly extreme weather events make it crystal clear that the cost of inaction is far higher," Salesforce said.
Senator Smith said it best: "Ask yourself: if you feel taking action is the right thing to do for your business and the right thing to do for your community, what does it mean if you're a member of the U.S. Chamber of Commerce, which is actively lobbying against the things you're for? That is a disconnect that people notice."
"It is go time"
The speakers were in agreement: Companies must make their positions loud and clear, soon. The debate in Congress represents a narrow and closing window to take necessary climate action.
"You need to do this right now, because members [of Congress] are trying to assess how important this is and your voices are so strong," Smith said.
Granholm emphasized that the best way to meet national emission reduction goals and build a competitive clean energy economy is to pass the provisions in the budget package.
"There has never been a more important time for us to go all in," Granholm said. "When we get this done together, it will be the oxygen that creates enormous economic and job growth across the country. And it will create incredible new opportunities for business. We are going to have taken the biggest step in U.S. history to tackle the climate crisis."
"It is go time," she said.