Wanted: 21st-Century Working Artists
Must have skills and experience in activating beauty and wonder; increasing empathy and awareness of issues; making and communicating meaning; catalyzing social cohesion; provoking and holding space for inquiry and dialogue; and engaging and mobilizing people.
The McKnight Foundation supports working artists because they craft the context for democracy and deepen the dimension and quality of our lives. As Minnesota's arts ecosystem continues to grow, we recognize an increasing need to support midcareer working artists in maturing disciplines. On the basis of a comprehensive multi-year evaluation of the McKnight Artist Fellowships program that concluded in 2017, the McKnight Foundation will add fellowships in five new artistic disciplines and residency opportunities for McKnight Artist Fellows in all disciplines over the next three years. 
The McKnight Artist Fellowships program currently supports midcareer creatives working in 10 artistic disciplines. In the next two years, it will add fellowships for printmakers, textile artists, book artists, social/community-based practice artists, and traditional artists. In 2020, in acknowledgment that artists are living and working in national and global contexts, the program will also begin providing residencies for McKnight Artist Fellows across all artistic disciplines.
"Fellowships for working artists are vital mechanisms for increasing the economic stability and productive capacity of artists."

—ARLETA LITTLE, ARTS PROGRAM OFFICER AND DIRECTOR OF ARTIST FELLOWSHIPS
A New Partner Joins the Program: Printmakers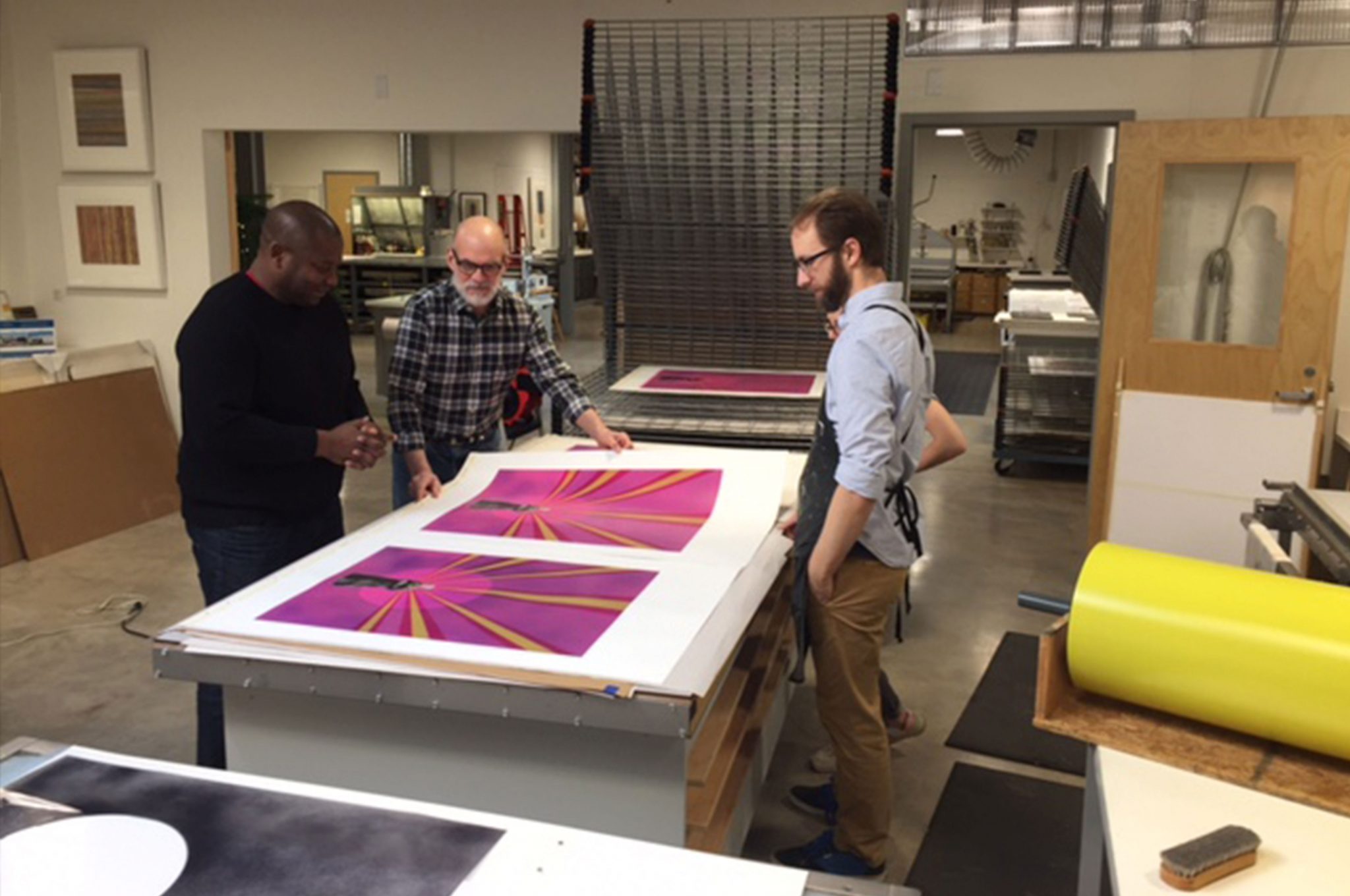 In the fall of 2018, Highpoint Center for Printmaking will become the newest McKnight Artist Fellowships program partner and will offer two new fellowships for midcareer printmakers living in Minnesota. The McKnight Fellowships for Printmakers will each include $25,000 and opportunities for artistic and professional development. Applications for these fellowships will go live at Highpoint Center for Printmaking in fall 2018, and the new McKnight Printmaking Fellows will be announced in early 2019.
Fellowships as Strategic Support for Working Artists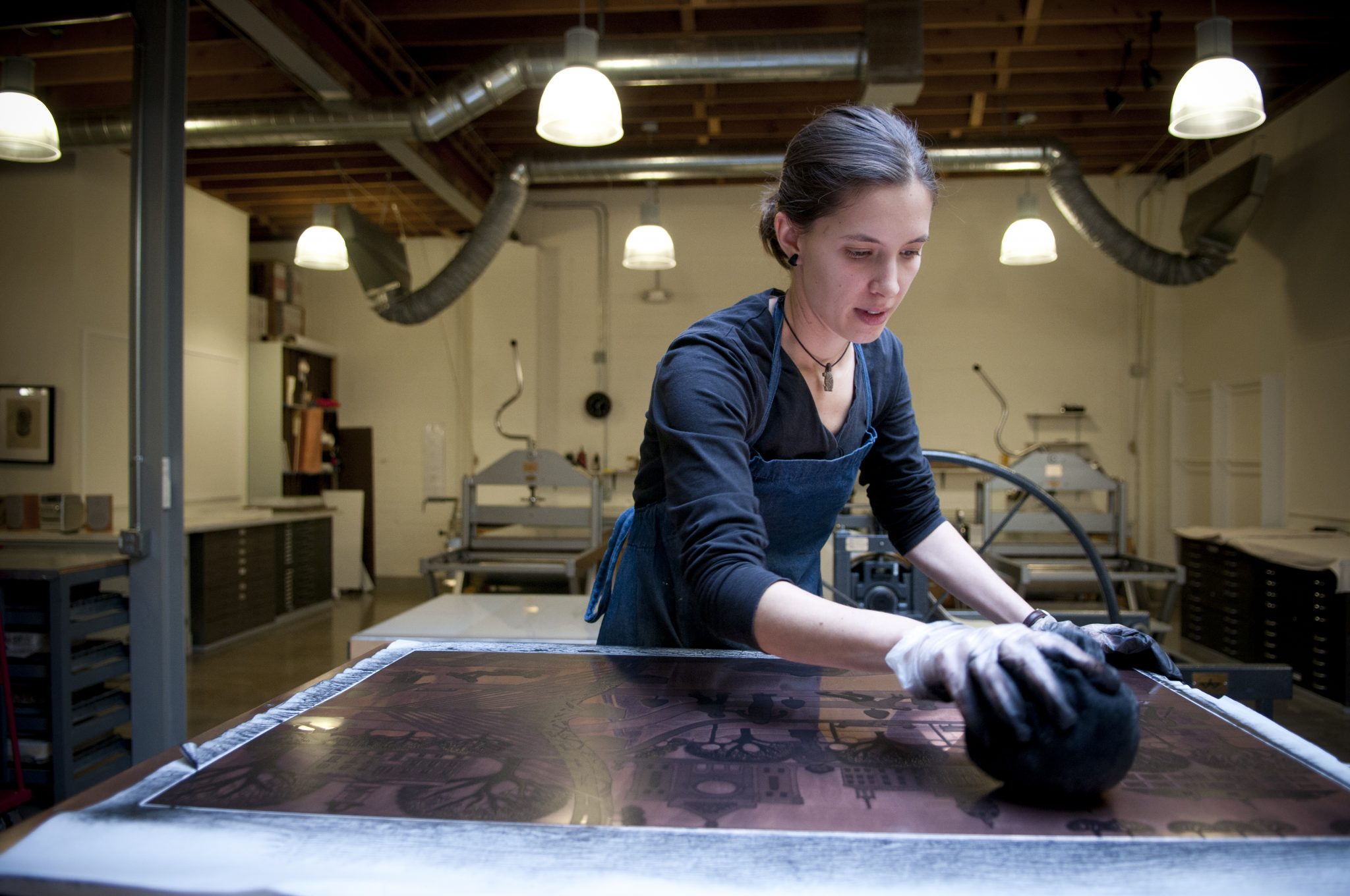 It's true that fellowships help artists to advance new work by providing the financial footing for focused creative time to engage in study, reflection, experimentation, and exploration. More specifically and more strategically, fellowships for working artists are vital mechanisms for increasing the economic stability and productive capacity of artists. The learnings from our recent program evaluation align closely with the findings around addressing workforce income insecurity, debt and asset building, and training as presented in Creativity Connects: Trends and Conditions Affecting U.S. Artists by the Center for Cultural Innovation and the National Endowment for the Arts.
For McKnight Artist Fellows, the $25,000 award increases economic stability and predictability by enabling a respite from an often piecemeal and unpredictable livelihood. Fellows often use their award to address immediate financial stressors (e.g., health concerns, childcare, or debt) or to achieve longer-term financial stability (e.g., mortgage payments, financial advising, business capital investment, or savings). In addition, McKnight Artist Fellowships often elevate the profile of artists within the state and beyond, and serve as an informal vetting or stepping stone to additional, even national awards.
McKnight Artist Fellows also regularly report that they leverage the fellowship experience to increase their productive capacity by deepening their practice; advancing existing projects; experimenting with new techniques or directions; or engaging collaborators. Along with access to artist support services through the program's partners, the McKnight Artist Fellowships provide discipline-specific opportunities for artistic and professional development.
Adapting in a Maturing Arts Ecosystem
The McKnight Foundation has funded more than 1,700 artist fellowships since beginning its support for artists in 1982. This expansion over the next three years will increase our support for the McKnight Artist Fellowships program to nearly $3 million annually, which will cover the fellowship awards, artistic and professional development opportunities for fellows, and administrative costs. As Minnesota's artists and arts ecosystem continues to grow, mature, and diversify, we will continue to strengthen and adapt our philanthropic work in the McKnight Artist Fellowships program to provide strategic and relevant support for 21st-century working artists.
Artistic & Professional Development Opportunities for McKnight Artist Fellows
retreats
exhibitions
travel and national residencies
artist books and catalogues
solo and collaborative performances
recording studio time
rehearsal and performance space
studio visits and convenings with national critics and leaders
workshops, classes, and mentoring
professional photo shoots
participation in conferences and festivals
project development monies
professional consultation and technical assistance
Expanded List of Fellowships for 15 Artistic Disciplines
book artists (starting in 2020)
ceramic artists
choreographers
community-based/social practice artists (starting in 2020)
composers
dancers
media artists
musicians
playwrights
printmakers (starting in 2019)
textile artists (starting in 2020)
theater artists
traditional artists (starting in 2020)
visual artists
writers