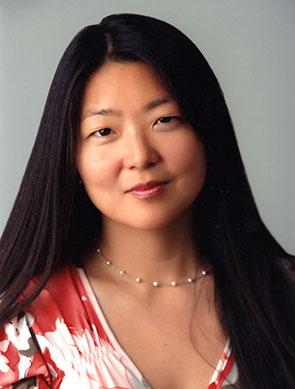 Following a national search, The McKnight Foundation has named Kara Inae Carlisle as its next vice president of programs. She is currently director of New Mexico programs at the W.K. Kellogg Foundation in Battle Creek, Michigan.
Carlisle becomes the third vice president overseeing McKnight's program areas since 1975, when the Foundation began hiring staff. In this position, she will provide leadership, management, and oversight for all grant program–related activities of the Foundation. She will work closely with the McKnight board, president Kate Wolford, and other senior staff to pursue the organization's mission of improving the quality of life for present and future generations. She begins at McKnight on January 9, 2017.
"I am thrilled Kara will be joining us as our new vice president of programs," said Kate Wolford. "She brings deep experience working nationally and in place-based philanthropy. Throughout her career, she has demonstrated great strengths in collaboration, community engagement, and thoughtful analysis. In addition, I value her versatility with the wide range of tools McKnight uses to create social impact."
A Career Dedicated to Strengthening Communities
Kara Carlisle has worked at the W.K. Kellogg Foundation for eight years. As director of the New Mexico Program team, Carlisle is responsible for overall strategic direction and management of Kellogg's over-$85 million portfolio of active investments into the state. She directs the conceptualization and implementation of a place-based strategy, leadership development, partnership cultivation, capacity building, policy, communications, evaluation, and knowledge development. Under her leadership, the program achieved some key outcomes:
Developed an ecosystem to support dual language and culture-based education spanning early education through university programs serving tribes, pueblos, and diverse populations across the state of New Mexico.
Investments since 2012 established seven "baby-friendly certified" birthing centers, which optimizes infant feeding and increases maternal bonding, where there had previously been none. Now 30 percent of all births in New Mexico are in baby-friendly facilities.
A joint grant/program-related investment is on track to support up to 400 low-income entrepreneurs of color as they launch, operate, or expand their businesses.
Prior to her promotion to program director, she was a program officer in the Community and Philanthropic Engagement Team. In that role, she developed Kellogg's first manual to inform the foundation's approach to place-based grantmaking. She also conceptualized and implemented convenings and strategic communications.
Before joining Kellogg, she was associate director at Zócalo Public Square and a development consultant. Earlier, while at Korean American Coalition-Los Angeles, she designed, organized, and implemented inter-group dialogues and mediation between a variety of ethnic groups and served as the lead for developing youth programs.
An active participant in civic life, Carlisle served as president of the City of Los Angeles' Human Relations Commission in 2007 and 2008, as a resident at the Los Angeles Eco-Village Intentional Community, and as past chair of the Empowerment Congress serving the County of Los Angeles. She is also a former board member for the National Association for Community Mediation in Washington, DC.
Carlisle holds an MBA from Northwestern's Kellogg School of Management, as well as an MDiv in Urban Studies and Education from Claremont School of Theology. She earned her BA at Anderson University in Anderson, Indiana.
"I am honored and delighted to join The McKnight Foundation in service to communities across Minnesota and beyond," said Carlisle. "This is a unique opportunity to work alongside colleagues and partners to build upon incredible work while offering what I've learned from more than 15 years working in diverse communities on a wide range of complex challenges."
Long-time Vice President Neal Cuthbert Steps Down
Carlisle takes over the office from Neal Cuthbert, who retires at the end of the year after serving more than 25 years at McKnight. During his decade-long tenure as vice president of program, Cuthbert wrote the Foundation's first evaluation framework; developed and nurtured new intermediary funders, including Youthprise and the Southeast Asia Development Program; and directly managed McKnight's grantmaking to the Minnesota Initiative Foundations. Cuthbert joined McKnight in 1991 as its first arts program officer.
About The McKnight Foundation
The McKnight Foundation, a Minnesota-based family foundation, seeks to improve the quality of life for present and future generations. Program interests include regional economic and community development, Minnesota's arts and artists, early literacy, youth development, Midwest climate and energy, Mississippi River water quality, neuroscience research, international crop research, and rural livelihoods. Founded in 1953 and independently endowed by William and Maude McKnight, the Foundation had assets of approximately $2.2 billion and granted about $88 million in 2015.