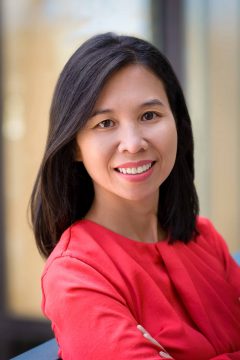 Following a national search, The McKnight Foundation has named Na Eng as communications director. She will join the Foundation on May 4.
Na Eng is an award-winning storyteller and global communications executive with experience as a strategic communications lead at nonprofits such as the American Refugee Committee, the Minnesota Council on Foundations, and Mercy Corps. In each of those positions, she oversaw a wide range of communications initiatives, led successful media relations and public engagement campaigns, and offered executive counsel on broad strategic direction. She has nearly 15 years of experience as a news and documentary producer, and she began her television career as a researcher at NBC Nightly News, then anchored by Tom Brokaw.
"Na joins McKnight's staff at a time when our communications vision and strategies are evolving and adapting to a rapidly shifting environment," said McKnight president Kate Wolford. "Her breadth of experience advancing the narratives of the social, nonprofit, and philanthropic sectors will help to guide this evolution to further support our mission."
Eng built a distinguished journalism career in New York City, including four years in the documentary unit at CNBC and seven years at a weekly public affairs show called NOW on PBS. Her reporting took her all over the globe — from the fields of cotton farmers in Burkina Faso to the homes of political dissidents in Bahrain. She received numerous honors for her coverage of complex public policy topics such as renewable energy, predatory lending, and childhood obesity. She won an Emmy Award for a story on the lives of the working poor in Alabama and an Edward R. Murrow Award for an investigation into the growth of private prisons.
Additional honors include the Fulbright Scholarship, the International Reporting Project Fellowship, and the Paul and Daisy Soros Fellowship for New Americans. She is a board member of Round Earth Media and a member of Asian Americans/Pacific Islanders in Philanthropy (AAPIP). She is a proud supporter of the Devata Giving Circle, a philanthropy group that seeks to advance and empower Cambodian American girls and women.
Eng has a bachelor's degree in history and sociology from Columbia University and a master's degree in international media and communications from Columbia's Graduate School of International and Public Affairs. She has solid roots in Minnesota. Her family fled war-torn Cambodia and resettled in St. Paul when she was five years old. With her husband, a fellow Minnesotan, she recently returned home to raise their young son closer to family.
About the McKnight Foundation
The McKnight Foundation, a Minnesota-based family foundation, seeks to improve the quality of life for present and future generations. Founded in 1953 and independently endowed by William and Maude McKnight, the foundation had assets of approximately $2.2 billion and granted about $88 million in 2014.