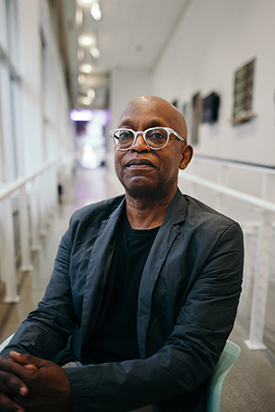 The McKnight Foundation has selected visual artist Seitu Ken Jones to receive the 2017 McKnight Distinguished Artist Award. The annual honor, now marking its 20th year, provides $50,000 cash to an individual Minnesota artist who has made a significant contribution to the state's cultural life.
"With grand-scale designs that have been built into the foundation of Minneapolis's Nicollet Mall and St. Paul's Green Line transit system, Seitu Jones' artistic vision has become an indelible part of Minnesota's cultural landscape," said Kate Wolford, president of McKnight. "Over the course of a wide-ranging career in painting, sculpture, theater arts, public works, and environmental design, Seitu Jones has demonstrated what's possible when an artist with a hopeful vision and a generous spirit sets down deep roots in his community. As we celebrate the 20th anniversary of this award, it's especially exciting to be honoring an artist like Seitu, who has contributed so much to our sense of place here in Minnesota."
Born in north Minneapolis in 1951, Seitu Jones was deeply influenced by the Black Arts Movement and its central belief that artists have an obligation to leave their communities "more beautiful than they found it." In his five-decade career, Jones served as the first-ever artist-in-residence in the City of Minneapolis, transported audiences with set designs as an original company member of Penumbra Theatre and other stages, and recently set the table for a diverse cast of 2,000 guests at "CREATE: The Community Table," a half-mile-long public art installation designed to spark conversation about access to healthy food.
A fixture in St. Paul's Frogtown neighborhood for more than 20 years, Jones has also been a guiding force behind five-acre Frogtown Farm and other urban "greenlining" initiatives. He has sought to raise awareness of environmental justice and to improve access to greenspace in one of the Twin Cities' most culturally diverse neighborhoods. Part of a network of green activists working to plant 1,000 trees in Frogtown, Jones is a master gardener who has also helped cultivate new intersections between nature, art, and civic infrastructure. He is currently serving his third term on the Capitol Region Watershed District board. He is also one of the founders of Urban Boatbuilders, a nonprofit youth development program that teaches woodworking and other skills.
Nationally recognized as a dynamic collaborator and a creative force for civic engagement, Jones has been honored with numerous awards and fellowships, including a Minnesota State Arts Board Fellowship, a McKnight Visual Artist Fellowship, a Bush Artist Fellowship, a Bush Leadership Fellowship, a National Endowment for the Arts/Theatre Communications Group Designer Fellowship, and a Loeb Fellowship at the Harvard Graduate School of Design. Jones recently retired from the faculty of the Interdisciplinary Arts MFA program at Goddard College in Port Townsend, Washington. He lives and works in St. Paul with his wife, Soyini Guyton, a poet and fellow master gardener.
Jones was selected by a panel of community members with broad perspective and knowledge about the region's diverse arts and cultural landscape, including Lori Pourier, president, First Peoples Fund; Sandra Agustin, choreographer and arts consultant; Eleanor Savage, artist and program director, Jerome Foundation; Rohan Preston, performing arts critic, Star Tribune; Brian Frink, Artist and Chair, Department of Art, Minnesota State University, Mankato.
ABOUT THE McKNIGHT DISTINGUISHED ARTIST AWARD
The McKnight Distinguished Artist Award recognizes artists who have chosen to make their lives and careers in Minnesota, thereby making our state a more culturally rich place. Although they have the talent and the opportunity to pursue their work elsewhere, these artists have chosen to stay — and by staying, they have made a difference. They have founded and strengthened arts organizations, inspired younger artists, and attracted audiences and patrons. Best of all, they have made wonderful, thought-provoking art. The goal of McKnight's arts funding is to support working artists who create and contribute to vibrant communities. The program is grounded on the belief that Minnesota thrives when its artists thrive. The McKnight Distinguished Artist Award, which comes with $50,000, goes to one Minnesota artist each year.
ABOUT THE McKNIGHT FOUNDATION
The McKnight Foundation seeks to improve the quality of life for present and future generations. Founded in 1953 and independently endowed by William and Maude McKnight, the Minnesota-based Foundation had assets of approximately $2.2 billion and granted about $87 million in 2016. Of that total, about $9 million went to support working artists to create and contribute to vibrant communities.
MEDIA CONTACT
Na Eng, Communications Director, (612) 333-4220