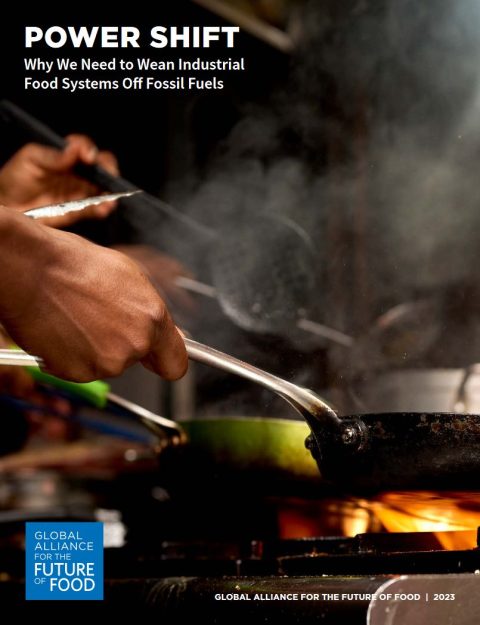 New research from Global Alliance for the Future of Food and Dalberg Advisors shows that food production, transport, and storage drives as many emissions as all EU countries and Russia combined. That's at least 15% of all fossil fuel emissions every year. To achieve net-zero by 2050 and limit global warming to 1.5°C (2.7°F), we must urgently wean our food systems off fossil fuels.
They comprehensively assesses the critical link between food and energy systems with two new reports: the briefing paper, Power Shift: Why we need to wean industrial food systems off fossil fuels, and the companion Discussion Paper, Toward Fossil Fuel–Free Food: Why collaboration between food and energy systems players is key. The brief is a call to action for all stakeholders in the food and energy sectors. It highlights that we must work together to transition away from fossil fuels and toward a sustainable future in line with the objectives of the Paris Agreement. The report summarizes the new research in our accompanying Discussion Paper. The Discussion Paper explores the interconnectedness between food and energy systems, emphasizing the role of fossil fuels. This paper delves into the trade-offs, synergies, gaps, and opportunities that arise within this nexus. It highlights opportunities for enhanced collaboration among policymakers, funders, and advocates working across the food–energy nexus to reduce fossil fuel usage in food systems.
As funders, we have the opportunity to come together with farmers, researchers, advocates, policymakers, and the private sector to collaborate more effectively across food and energy issues and invest in fossil-free, resilient food systems that work for people and the planet.MCKNIGHT FOUNDATION
These resources are designed to encourage collaboration between the food and energy sectors. Their aim is to support the swift transition of our industrialized food system away from fossil fuels, and towards renewable energy, and regenerative and agroecological farming.