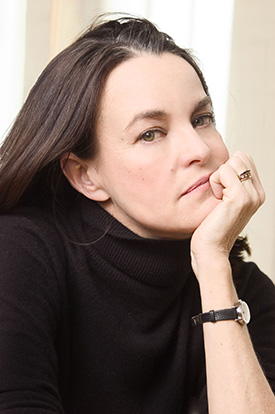 The McKnight Foundation has named award-winning Minnesota composer and recording artist Libby Larsen as the 2016 McKnight Distinguished Artist. Now in its 19th year, the annual honor includes a $50,000 cash award and recognizes individual Minnesota artists who have made significant contributions to the quality of the state's cultural life.
"Over the course of a ground-breaking career, Libby Larsen has been a virtuosic creator of new music and an articulate advocate for the next generation of composers," said McKnight president Kate Wolford. "Larsen is recognized around the world for infusing fresh life into concert repertory, and audiences closer to home know that her artistic vision is also matched by a generous spirit. As a co-founder of the American Composers Forum, she helped make Minnesota a national center for innovative and culturally relevant new music."
At ease in nearly every musical genre, Larsen, 65, has composed more than 500 major works, from massive technical operas and orchestral work, to intimate vocal and chamber music pieces. The first female composer in residence with a major orchestra, Larsen trained at the University of Minnesota under the guidance of composer Dominick Argento, McKnight's very first Distinguished Artist in 1998. She premiered her first symphony Water Music (1985) with the Minnesota Orchestra under the direction of Sir Neville Marriner. Across a wide-ranging, four-decade career, Larsen has built an adventurous and inventive collection of music unmistakably her own, yet with harmonic contours and eclectic references inspired by everything from American folksongs, to Mary Shelley's Frankenstein, to Lionel Hampton's marimba. Widely sought on the international stage for new commissions and world premieres, Larsen is also known for fruitful collaborations with such artists as James Dunham, Frederica von Stade, The King's Singers, and the Apollo Chamber Players.
A true trailblazer in the male-dominated world of repertory composition, Larsen also opened doors for a new generation of diverse composers with the Minnesota Composers Forum, which she co-founded with the late Stephen Paulus in 1973. Now known as the American Composers Forum, the organization has grown from an innovative regional initiative into one of the nation's premier composer service organizations, with programming that supports and connects composers and communities in all 50 states. "It has always been amazing to observe in Libby, a totally supportive and collaborative spirit," says choral conductor Dale Warland, a 2001 McKnight Distinguished Artist who served on the selection panel. "In spite of her world-wide stature, and whether presenting a speech or in a teaching role, her focus is always on other composers and their work."
As a girl growing up in Minneapolis, Elizabeth Brown "Libby" Larsen (b. December 24, 1950) was immersed in a variety of musical influences, from the boogie-woogie records her mother played on the family's turntable, to the Dixieland jazz favored by her clarinet-playing father, to the Gregorian chant she learned from the nuns at Christ the King School. Counting Hector Berlioz, James Brown, Big Mama Thornton, and J.S. Bach among her many influences, Larsen has said she composes without bar lines, committing to a common meter only after she's discovered the natural flow of a musical line. With a broad collection of choral and vocal works inspired by texts from James Joyce to Calamity Jane to Katherine of Aragon, USA Today has called her "the only English-speaking composer since Benjamin Britten who matches great verse with fine music so intelligently and expressively.''
Winner of a 1993 Grammy Award, with more than 50 CDs of her recorded work, Larsen has been praised as "a composer who has made the art of symphonic writing very much her own" (Gramophone) with "clear textures, easily absorbed rhythms and appealing melodic contours" (Philadelphia Inquirer). Larsen is the recipient of numerous national arts awards and honorary degrees including a George Peabody Medal for Outstanding Contributions to Music in America (2010), Eugene McDermott Award in the Arts from the Massachusetts Institute of Technology (2003), and a Lifetime Achievement Award from the American Academy of Arts and Letters. Larsen also served as the Harissios Papamarkou Chair in Education at the Library of Congress (2003-2004), was awarded Chorus America's Michael Korn Founders Award for Development of the Professional Choral Art (2005), and was inducted into the Minnesota Music Hall of Fame (2007). Currently the artistic director of the Virginia Arts Festival's John Duffy Institute for New Opera, Larsen lives in Minneapolis with her husband, James Reece.
ABOUT THE McKNIGHT DISTINGUISHED ARTIST AWARD
The Distinguished Artist Award recognizes artists who have chosen to make their lives and careers in Minnesota, thereby making our state a more culturally rich place. Although they have the talent and the opportunity to pursue their work elsewhere, these artists have chosen to stay — and by staying, they have made a difference. They have founded and strengthened arts organizations, inspired younger artists, and attracted audiences and patrons. Best of all, they have made wonderful, thought-provoking art. The goal of McKnight's arts funding is to support working artists who create and contribute to vibrant communities. The program is founded on the belief that Minnesota thrives when its artists thrive. The Distinguished Artist award, which comes with $50,000, goes to one Minnesota artist each year.
ABOUT THE McKNIGHT FOUNDATION
The McKnight Foundation seeks to improve the quality of life for present and future generations. Founded in 1953 and independently endowed by William and Maude McKnight, the Minnesota-based Foundation had assets of approximately $2.2 billion and granted about $88 million in 2015. Of that total, over $9 million went to support working artists to create and contribute to vibrant communities.
MEDIA CONTACT
Na Eng, Communications Director, (612) 333-4220