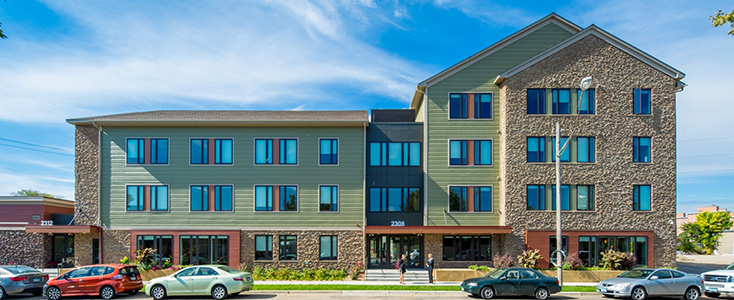 The Rising Cedar Apartment complex isn't just a beautiful building — it makes a difference in the lives of those who live with mental illness. Rising Cedar was developed by Project for Pride in Living (PPL) with support from McKnight's Region & Communities program and in collaboration with Touchstone Mental Health, a nonprofit that works with more than 800 individuals annually. The building provides 24-hour onsite services and permanent housing for Touchstone participants with serious and persistent mental illness. To complement the services provided, Rising Cedar's design incorporated the latest research to create a physical environment that promotes the health and wellness of its residents.
"We received input from Touchstone clients and mental health professionals and utilized research to create a unique environment that promotes sustained health and wellness," said PPL's Mary Novak, PPL's project manager on Rising Cedar. "It's incredibly fulfilling to see the building have a positive impact on the well-being of the residents."
"This is my home. I'm back in the community I know, and I'm in control of my own life." —RAY, RISING CEDAR APARTMENT RESIDENT
Residents benefit from the thoughtful building features. Since exposure to sunlight has been shown to help decrease anxiety and regulate sleep cycles, Rising Cedar's design allows for abundant natural light, especially in areas where most residents begin their day. Research also indicates a connection to nature brings mental health benefits, so a healing garden and courtyard area at Rising Cedar are integrated into individual services. Other design features promote the comfort level of residents, including a calming floor-specific color scheme, open hallways, and common areas where residents connect socially. Together, the details help give residents a sense of belonging.
"This is my home," said Ray, a Rising Cedar Apartments resident. "I'm back in the community I know, and I'm in control of my own life."
The location of Rising Cedar is also a critical element to the building's success. Residents, most without their own vehicles, have an abundance of transportation options nearby, including a bike trail, bus stops, and a light-rail station. The transit-friendly location allows residents to get to volunteer activities, school, or other appointments easily, and helps Health and Wellness Center clients reach the facility.