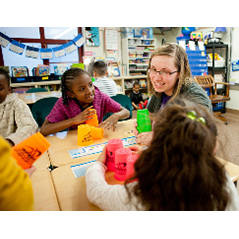 Working along a developmental continuum from pre-kindergarten to grade 3, McKnight seeks to increase the percentage of successful third grade readers in the Twin Cities. With related project support from McKnight, Brooklyn Center Independent School District #286 is creating a new literacy framework, within its comprehensive system of literacy education.
Brooklyn Center's framework will include aligned approaches to teaching reading strategies and skills; improving transitions between classrooms and grade levels; and assessments for use PreK-6, as well as reporting systems to share progress with parents. "Great things happen when great people combine their wealth — talents, skills, and money — and work together to make a difference for young people," says Brooklyn Center superintendent Keith Lester. "The generosity of The McKnight Foundation with the expertise and guidance of the Urban Education Institute combined with the enthusiasm, skills, and commitment of the Earle Brown staff will assure that great things will happen for our children, Pre-Kindergarten and beyond."
Developed jointly by literacy specialists, researchers, and teachers within the school, the framework will align all components of the district's system of literacy education, which encompasses all the interrelated elements of school and community working together to successfully have students reading by grade three. McKnight's funding will focus on the district's one PreK-6 elementary school. Earle Brown serves 1,132 students, including the school's PreK system.