Think Small is dedicated to advancing quality care and education of children in their crucial early years. By focusing on the adults in children's lives – parents, early childhood professionals, and policymakers – Think Small provides experiences that help children thrive. The McKnight Foundation's Education & Learning program focuses on early literacy and increasing the percentage of students reading at grade level by third grade. Through funding from McKnight, Think Small has been able to partner with Reading Corp to bring their successful literacy program into family child care.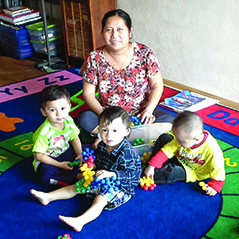 Think Small coaches have strong, personal relationships with family child care providers. These relationships are the cornerstone of the partnership between The Minnesota Reading Corps and Think Small, and have opened the door for providers located in Minneapolis' Northside Achievement Zone and the Saint Paul Promise Neighborhood to join the pilot. Reading Corps members now visit the family child care programs two to three times a week, leading read-aloud and conducting small interventions that increase pre-literacy skills. As providers observe, they learn and begin incorporating these same activities into daily practice. Think Small coaches complete the circle of support, reinforcing the techniques providers have learned. The goal is for providers to be fully capable and confident in pre-literacy instruction after two years. Now in its second year, Think Small has added a new cohort and doubled the number of providers involved.
In just the first year children in this program are thriving. Some programs previously had 80% to 100% of four- and five-year-olds considered "far from the target" on rhyming and alliteration benchmarks. Through the Think Small and Reading Corp partnership those numbers are now flipped, with 80% to 100% either "close to the target" or "at or above" the reading level target. These children are now on track to be prepared for kindergarten.