The McKnight Foundation has selected visual artist Jim Denomie to receive the 2019 Distinguished Artist Award, a $50,000 gift created to honor a Minnesota artist who has made significant contributions to the state's cultural life. Denomie, a member of the Lac Courte Oreilles Band of Ojibwe, combines vivid hues and disarming humor in powerful narrative paintings that invite new perspectives on historical and contemporary events in Indigenous and American life.
"Minnesota is Jim Denomie's home, and its history has inspired many of his most powerful paintings," says Kate Wolford, president of the McKnight Foundation. "Today, his impact and artistic vision extend far beyond our region. We're thrilled to recognize an artist who is rooted in the Anishinaabe tradition of storytelling art and so deeply engaged in documenting the present day. His story is a reminder that creativity and self-expression can change the arc of our lives."
Denomie is the first Native American artist to be chosen for the Distinguished Artist Award since its inception in 1996.
He is a prolific painter who once committed to creating a new canvas every day after work as a drywall finisher. Denomie has earned an international reputation for monumental narrative paintings that explore the collisions between Indigenous cultures and European colonizers. With bold brushstrokes and a color palette that seems to vibrate, Denomie's paintings are teeming with sly humor, gut-punching narrative details, animal imagery, pop culture allusions, and recognizable characters and archetypes. Denomie describes his work as "metaphorical surrealism," and his style has drawn comparisons to the storytelling tradition of Native American ledger books and such painters as Hieronymus Bosch and Pieter Bruegel.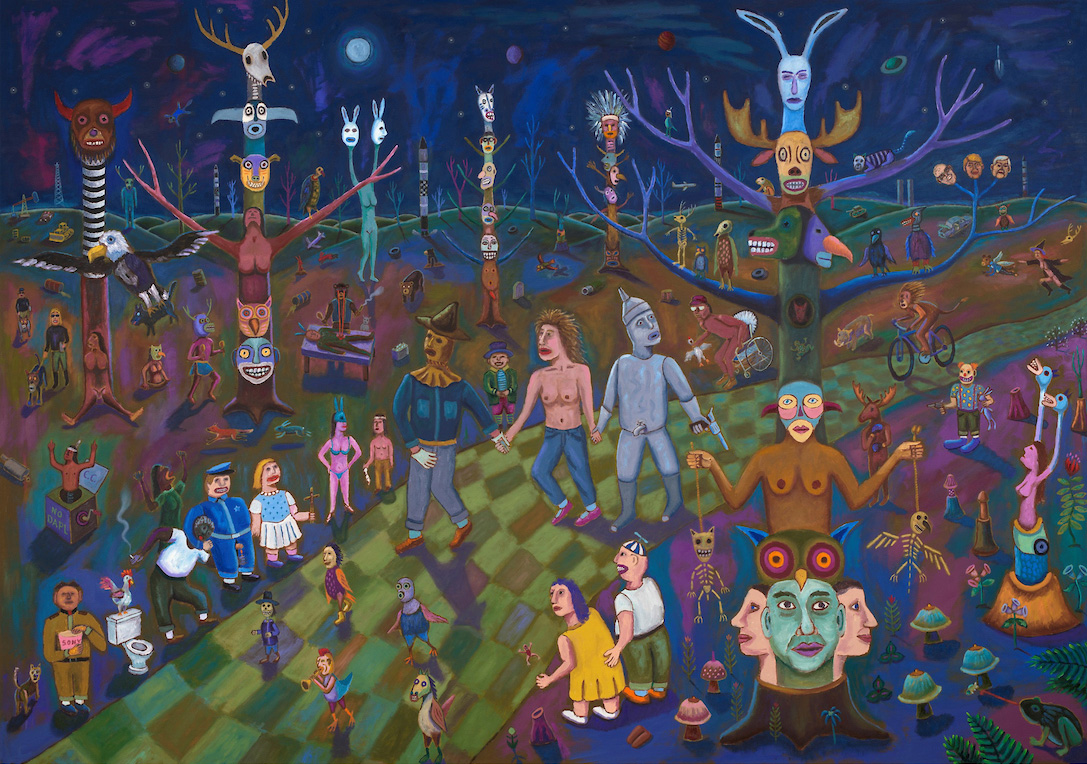 "Jim's work is a contemporary form of truth telling," says Lori Lea Pourier, president/CEO of First Peoples Fund and a member of the Distinguished Artist Award selection committee. "He looks at really hard subjects like Wounded Knee and Standing Rock, but often with a very humorous style, and colors that draw you in and relieve the tension. I see him as a modern day warrior documentarian, capturing and saving stories for the next 100 years in a contemporary voice."
Born in 1955 on the Lac Courte Oreilles Reservation in Hayward, Wisconsin, Denomie moved to Minneapolis as a young boy after his parents' divorce—a rupture caused in part by the stress of forced government relocation programs during the 1960s. Recognized early as a gifted young artist and encouraged by a mother who kept buying him art supplies, Denomie dropped out of high school after a guidance counselor told him there was no future in art. For two decades, Denomie made his living in the construction trades before entering the University of Minnesota and enrolling in a required studio arts course. There, he rediscovered his artistic vision while renewing connections to his Native culture.
"I met other Native people at the University of Minnesota who were hungry to go back and learn about our language and our ceremonies and our way of seeing," says Denomie, who began exhibiting his paintings soon after graduating with a bachelor of fine arts in 1995. "For a long time, I had resentment toward that counselor for not supporting my dreams, and for giving up art for 20 years. I don't know if it made me a better artist, but now I think I had to take the path I was on to get to where I am today."
Denomie's work is included in the collections of the Minneapolis Institute of Art, Walker Art Center, and Weisman Art Museum in Minneapolis; Minnesota Museum of American Art in Saint Paul; Denver Art Museum; Heard Museum in Phoenix; and Eiteljorg Museum in Indianapolis, among many others. His work is also on display in the McKnight Foundation lobby. He has won numerous awards including artist fellowships from the Bush Foundation (2008) and the McKnight Foundation (2012, 2018); the National Artist Fellowship, Native Arts & Cultures Foundation, Vancouver, Washington (2018); and an Artist Initiative grant from the Minnesota State Arts Board (2018). In 2015 he was awarded a Painters and Sculptors grant from the Joan Mitchell Foundation, and in 2017 he completed an artist-in-residence program at the Joan Mitchell Center in New Orleans.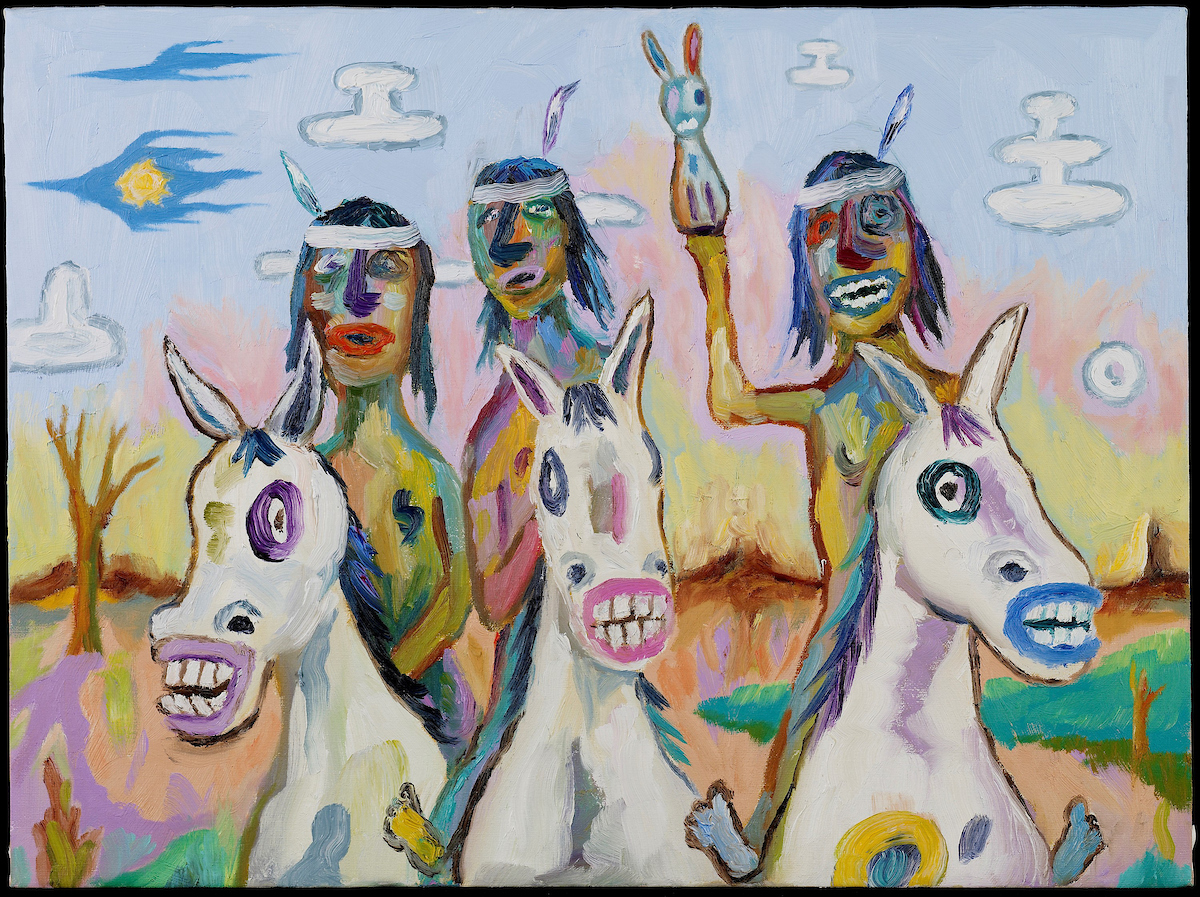 His work has been shown extensively in the United States, including exhibitions in Chicago, Los Angeles, New York City, and Seattle. In the coming year, his work will be on exhibit in New Zealand and included in the 21st Contemporary Art Biennial Sesc_Videobrasil | Imagined Communities event in São Paulo, Brazil.
Denomie, age 64, lives in Franconia with his wife, Diane Wilson, a fellow artist and author of the memoir Spirit Car: Journey to a Dakota Past.
Denomie was selected by a panel of community members with broad perspective and knowledge about the region's diverse arts and cultural landscape. The panel included Lori Lea Pourier, president/CEO, First Peoples Fund; Sandra Agustin, choreographer and arts consultant; Eleanor Savage, program director, Jerome Foundation; Rohan Preston, performing arts critic, Star Tribune; and Brian Frink, artist and chair, Department of Art, Minnesota State University, Mankato.
ABOUT THE McKNIGHT DISTINGUISHED ARTIST AWARD
The Distinguished Artist Award recognizes artists who have chosen to make their lives and careers in Minnesota, thereby making our state a more culturally rich place. Although they had the talent and the opportunity to pursue their work elsewhere, these artists chose to stay–and by staying, they have made a difference. They have founded and strengthened arts organizations, inspired younger artists, and attracted audiences and patrons. Best of all, they have made wonderful, thought-provoking art. The goal of McKnight's arts funding is to support working artists who create and contribute to vibrant communities. The Foundation's Arts program is founded on the belief that Minnesota thrives when its artists thrive. The Distinguished Artist Award goes to one Minnesota artist each year.
ABOUT THE McKNIGHT FOUNDATION
The McKnight Foundation, a Minnesota-based family foundation, is committed to advancing a more just, creative, and abundant future where people and planet thrive. Program interests include regional economic and community development, Minnesota's arts and artists, education equity, youth engagement, Midwest climate and energy, Mississippi River water quality, neuroscience research, international crop research, and rural livelihoods. Founded in 1953 and independently endowed by William and Maude McKnight, the Foundation has assets of approximately $2.3 billion and grants about $90 million a year.
MEDIA CONTACT
Kathy Graves, kathy@parenteaugraves.com