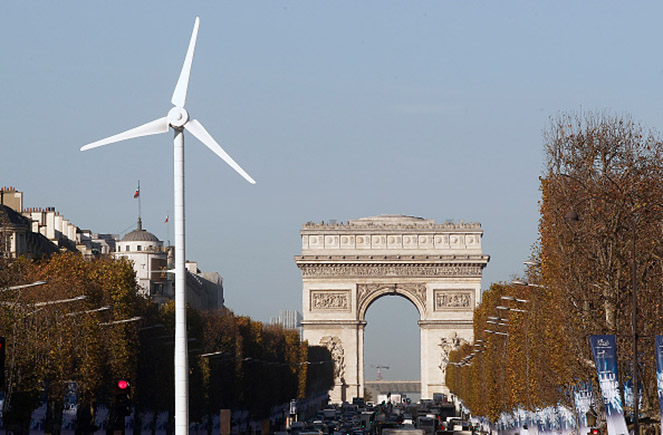 This week, all eyes are on Paris as world leaders gather at the UN climate summit to tackle the greatest challenge of our generation. McKnight president Kate Wolford will be part of the historic event, joining a delegation of investors working to build low-carbon investment opportunities.
While a strong international agreement is absolutely essential, we must see Paris as a throughway and not the destination. The magnitude of the crisis requires bold and sustained leadership at every level and in every sector. Today, we release a new brief called The Road Through Paris: Building a Low-Carbon Economy with Investing and Philanthropy, where we share the tenets of McKnight's climate investing and grantmaking programs and offer examples of steps we've taken to decarbonize, reinvest, and help markets evolve. In addition, the report outlines a four-point framework we've developed that goes beyond impact investing and leverages our entire endowment to accelerate a low-carbon future.
The McKnight Foundation is committed to helping the Midwest lead the transition to a low-carbon economy and has long supported organizations working to build socially, economically, and environmentally sustainable communities. Since 1992, McKnight has made $140 million in grants to organizations advancing a low-carbon future and, more recently has activated our $2.2 billion endowment, committing 10% of the endowment to investments in strategies that align more closely with our mission.
Since 2013, the Foundation has taken the following actions, among others:
Built and seeded the US$100 million Carbon Efficiency Strategy with Mellon Capital Management. The fund reduces our exposure to inefficient producers of greenhouse gases within each sector and excludes coal producers. At its one-year anniversary, it has outperformed the Russell 3000 Index while reducing the fund's carbon intensity (greenhouse gas emissions per dollar of sales) by a material 53%.1
Deployed US$45 million into additional investments that are helping to advance a clean energy future and build resilient communities. Investments include public and private equity funds, direct investments into small companies, and low-interest loans.
Removing coal producers and companies with coal reserves from a US$200 million fixed-income portfolio.
Our investment approach compliments our grantmaking. Our Midwest Climate & Energy program aims to foster and support Midwest climate and energy leadership, making the region a national and international leader in addressing climate change by achieving greenhouse emission reductions. In 2014, we made $15 million in grants that aim to build a clean and resilient energy sector. The program helps community leaders develop, cultivate, and advance replicable local solutions that deliver real economic, social, and environmental benefits. With significant support to groups such as The Rural Renewable Energy Alliance, the Great Plains Institute, and the Bipartisan Policy Center, we support strategic policy reform and infrastructure that help replicate, adapt, and scale solutions, contributing to a virtuous cycle of transformation.
We hope you'll find the climate brief to be a useful resource and share it widely. No matter what happens in Paris, we must look further into the horizon and consider deploying the many powerful tools funders have to address climate change.