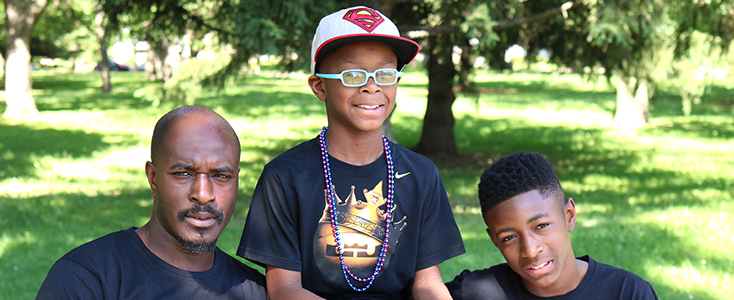 While we understand the need for families to have housing stability, we started asking ourselves a pivotal question several years ago: how do we affect change that transforms systems so that children and families can create their own solutions to problems? This led to a greater understanding of housing as a platform for change agents: people able to experience stability in housing and employment through meeting basic needs who are then able to lead into new visions of what better communities look like.
Six years ago, Charles and his sons moved into an UrbanHomeworks house. His housing and additional connections have catalyzed his work and passions as a change agent and leader both at Urban Homeworks and in the larger community. Charles has started two nonprofits committed to empowering men and boys to rise up like him. He leads outreach campaigns for families, giving away backpacks for school and turkeys for the holidays. He describes himself as a father for all children in his neighborhood (just a few blocks away from the Urban Homeworks office), because he wants his boys to surround themselves with other children who also feel safe, happy, and creative. In 2017, he launched his Stop Youth Violence Campaign, gaining sponsors and support from us as well as churches and businesses within the Northside Community where he lives. By having a place to call home, he has been able to realize his role in the community as a change agent.
"I work to be a father for more than just my own kids. My children will have to associate with people out in the world, and I want it to be positive." —CHARLES
Charles accomplishments make clear the power of community, the power of hope and the power of good neighbors. Through reclaiming, redeeming and returning all types of housing to the people who need it most, we are able to build neighborhoods where hope, dignity and change are ignited everyday.