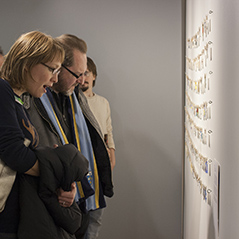 Plains Art Museum is committed to providing a hub for creative life in the border communities of Fargo, ND, and Moorhead, MN, by offering meaningful experiences in our galleries, studios, and programs. They feature contemporary art exhibitions, classes, lectures, studios, collaborations, workshops, special events, and performances. The museum showcases working regional artists, from those who are emerging to those with careers spanning decades. Hundreds of artists are featured in exhibitions here each year, and two recent shows illustrate our scope.
The exhibition Red River Reciprocity: Contemporary Ceramics in Minnesota and North Dakota brought together more than 75 artists from the two states. The Museum partnered with Minneapolis-based Northern Clay Center (NCC) to present the innovative work of leading ceramists from all over the region who are pushing the boundaries of this exceptionally versatile medium. The partnership with NCC also provided inspiration to our organization as we recently established the Robert Kurkowski Ceramics Wing. During the run of the exhibition, the Museum offered several gallery walk and studio talks featuring ceramic artists from area colleges who shared insights and reactions to works in the show, followed by demonstrations of pottery techniques in our ceramics studio.
Young artists are vitally important to infuse fresh ideas into the public sphere. With My Generation, Let's Take It Over: Emerging Artists of Fargo-Moorhead, the museum presented a new group of eight young regional artists who work in a wide spectrum of media. Many of the various works centered on how we relate to technology and also to one another, and included installation and participatory art to engage and challenge the audience. By giving these and other emerging artists a platform for their creative voices, the museum helps introduce and encourage new talent as they launch their careers.