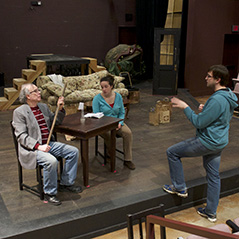 The Commonweal Theatre Company is a nonprofit, professional theater company dedicated to delighting and challenging audiences in its region, and enriching the common good through actor-based storytelling. Run by a collective of artist-administrators, the Commonweal is committed to the values of artistic excellence, education, balance, community, sustainability, and diversity while producing high-quality work in Greater Minnesota.
Aligned with McKnight's goal to support an environment in which artists are valued leaders in our community, actor-based storytelling has at its heart the engagement of the audience's creativity as an active co-creator in the experience of sharing the story — employing the actor as the primary instrument of communicating the story's intent. As such, it relies on techniques such as multirole casting, blind casting, suggestive (rather than realistic) scenic elements, and heightened use of sound and lights for mood creation, elemental plot conveyance, and overall effect. The audience is empowered to relate both emotionally and intellectually to the story at hand, making for a communal theater experience that resonates for artists and audience.
Founded in 1989, the Commonweal Theatre is now in its 23rd season and has produced more than 100 plays. From its origins as a summertime initiative, the Commonweal now produces five mainstage productions, a student matinee series, an apprentice company production, and several special events throughout the calendar year. The company moved into a state-of-the-art facility in 2007 and since that time has expanded its audience-enhancement offerings, achieved new honors of national and international recognition for artistic excellence, and increased overall attendance by more than 30%. With operating support from McKnight and other private foundations, public money, and individual donors, the Commonweal Theatre Company continues to serve as a cultural and educational asset to the region.