The Dayton's Bluff Community Council is dedicated to fostering citizen participation and promoting neighborhood assets for all. Formed in 1971, the organization's mission is to be a valuable community resource for organizing and supporting collaborative action by its stakeholders to improve the quality of life in the Dayton's Bluff neighborhood. They do this by hosting a variety of events for the community.
Make it Happen on E 7th Street
The Council's Night Out on East 7th Street has become a cherished event that community members look forward to each summer. On this day, Dayton's Bluff families walk the East 7th Street business district, meeting neighbors, engaging with local business owners, and enjoying music, food and activities. This event highlights the wealth of products, services, and resources in the Dayton's Bluff neighborhood, encouraging residents to shop local and businesses to support the community. It's also an opportunity for parents to sign up their children for sports programs, local entrepreneurs to find new customers, and community volunteers of all ages work together demonstrating their commitment to Dayton's Bluff and to each other.
Art on the Blocks
Youth painted an old cement wall at Margaret Park as a part of the Art on the Blocks program. Participants from 180 Degrees, Battle Creek Middle School, Seventh Day Adventist Church, and the Dayton's Bluff neighborhood worked during the summer on youth directed murals throughout the East Side. Through this program, youth expressed their ideas through art and became demonstrated stakeholders in the maintenance of Margaret Park and advancement of quality of life in our community.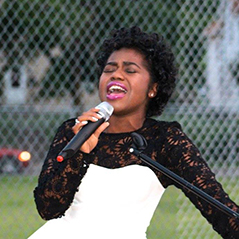 New Moon Celebration
In 2014, the Dayton's Bluff Community Council's East Side Enterprise Center opened its doors to the community to enjoy a multicultural celebration of the harvest season. Community members flocked to their "Big Free Library," a partnership of the Community Council, Metropolitan State and St. Paul Public Libraries. Youth read and selected free books to take home with their families. Attendees enjoyed Filipino/Asian fusion food from a vendor planning to open a restaurant on the East Side, and organizations engaged attendees in order to forge the community relationships that promote inclusiveness and cooperation.