When Fairmont Estates, a manufactured home community in southern Minnesota, was suddenly put on the market after 25 years of ownership by a Wisconsin-based investor, residents of the 94-site community knew they needed to act quickly if they wanted a role in the future of the association. As several prospective investors immediately submitted their offers, the Northcountry Cooperative Foundation staff met with residents to discuss their options.
Nourthcountry Cooperative Foundation (NCF) is a nonprofit organization that provides education, technical assistance, services, and programs to cooperative organizations. They seek to work with people to build co-op organizations that are enduring, serving generation after generation of member-owners.
Through the following month, community members met with NCF to learn more about their options. They considered the possibility that another investor could purchase the property, increase lots rents to an unaffordable level, or worse — the land could be redeveloped and they would need to relocate. They liked the idea of having a say in how their community was run and the group unanimously agreed that it was in their best interest to explore resident ownership.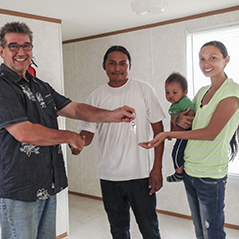 At the first membership meeting, 25 of the 94 households joined the Cooperative and the members decided to name themselves Five Lakes Cooperative after the five local lakes for which the area is known. The members elected an interim Board of Directors who volunteered their time and met weekly for nearly four months to achieve their shared goal. Membership reached 48 households or 52% of the occupied households at time of purchase.
On December 30, 2014, Five Lakes Cooperative purchased Fairmont Estates. Transaction-related development costs totaled close to $1.8 million.
The Cooperative kicked off its first year of resident ownership with a training event sponsored by NCF, designed to build upon the Five Lakes Cooperative Board's leadership skills in governance, financial management, legal and regulatory compliance, and operations.