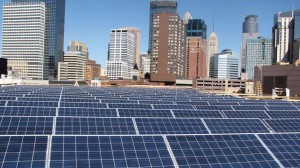 Even as the high human, economic, environmental, and planetary costs of climate change come into sharper focus, global greenhouse gas emissions continue to rise, tightening the timeframe for a transition to a low-carbon future. Climate change exacerbates growing pressures on life-sustaining resources, including freshwater, soil, and biodiversity.  We all have a stake in efforts to mitigate the emissions that contribute to climate change and to increase adaptive capacity to cope with its effects.
The McKnight Foundation addresses mitigation and adaptation alongside other goals in multiple program areas, including our Collaborative Crop Research, Mississippi River, and Region & Communities programs. In 2013, our board of directors established a Midwest Climate & Energy program to help reposition a major emitting region as a leader in cultivating a new, clean, and resilient energy system. Important new pathways are emerging across the Midwest through market transformation, public policy, and community action, from small towns to major cities. We see philanthropy as a critical player in this transition, accelerating progress by breaking down the barriers which slow the growth of the clean energy economy and lock our communities into unsustainable development paths.
McKnight's Midwest Climate & Energy program aims to address climate change and enhance community adaptive capacity to respond to its adverse impacts. It works in close partnership with the Foundation's other grantmaking and impact investing programs to advance climate and clean energy goals not as disparate tactics but as a coordinated, organization-wide strategy. We take an integrated approach, driving change through multiple points of leverage, including direct grantmaking, re-granting, investments, and convenings, using credible influence to engage the public and our peers in the philanthropic community.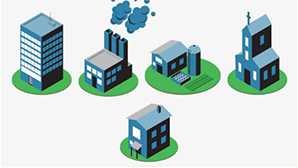 An example of this type of cross-program and cross-sector collaboration is our exploration of Property Assessed Clean Energy (PACE) financing. When enabled through legislation, PACE can help property owners finance energy efficiency and renewable energy improvements, which they can pay back through an assessment on the property's tax bill. The McKnight Foundation's due diligence for a planned investment in a fund purchasing PACE bonds revealed that bonds from the Midwest were less competitive than bonds from other regions of the country. Together, staff from McKnight's Impact Investing, Region & Communities, and Midwest Climate & Energy programs, with the help of grantees and partners in the field, found that there were multiple reasons PACE adoption has been slower in the region, including availability of other competitive financing options and bank practices which limit the usefulness of PACE if the property is sold. We are now working to bring together investors and advocates to improve efforts to drive PACE adoption in the Midwest, with a more nuanced understanding of barriers in the market.
By bringing the expertise, perspectives, and relationships of the Foundation's staff, grantees, and other partners to bear on this issue, we seek to to take advantage of emerging opportunities across sectors, embrace successes and failures as learning opportunities to share with the field, and increase the impact of our limited resources on this consequential and urgent issue.