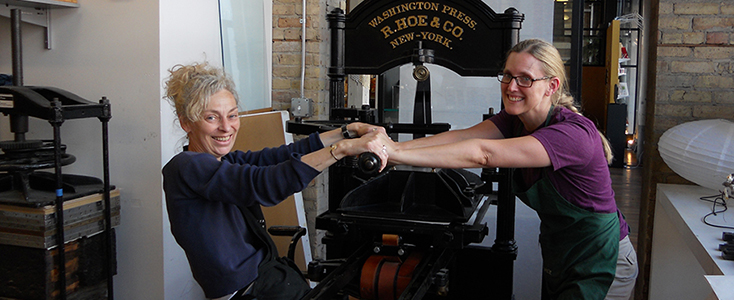 Minnesota Center for Book Arts is the largest and most comprehensive center of its kind in the world. Dedicated to leading the advancement of the book as an evolving art form, MCBA engages artists of all ages and backgrounds with the book arts, which encompass bookbinding, papermaking, printing, design, and typography. Now in its 30th year, MCBA welcomes over 70,000 artists, students, and visitors annually. McKnight's Arts program provides MCBA with general operating support for their work in building capacity and systems for artists. The impact of this investment can be directly seen in unprecedented community access to MCBA's artist studios.
"If it weren't for the space and support of the Co-op, I would not be thriving as an artist." —LAURA BROWN
Supported by skilled volunteer studio monitors, MCBA's Open Studio Program offers the public low-cost access to its printing, binding, and papermaking studios. "Artists come to Open Studios to experiment, to learn about what is available here, and to interact with other artists," studio monitor Sally Power notes. "Most artists wouldn't be able to afford the investment of a personal book arts studio. MCBA is unique in offering this kind of accessibility." Through MCBA's active Artist Cooperative, members receive access to equipment, share technical expertise, promote and consign work, and collaborate on book arts projects. Former Co-op Member Laura Brown commented, "Building my artistic career while at MCBA was truly life-changing. If it weren't for the space and support of the Co-op, I would not be thriving as an artist."
MCBA's Artist-in-Residence Program provides selected artists with dedicated space and funding to produce new work. Former artist-in-residence Julia Gualtieri commented, "I valued the opportunity to have a substantial amount of time to focus on one project. I revisited mediums (papermaking, typesetting, bookbinding) that I had not worked in for years. This project was the most labor intensive piece I have created—it would not have been possible without the support of a residency." MCBA ensures that a valuable cultural and artistic asset—the book—remains an integral part of the broader world of contemporary art, and one that thrives in communities across Minnesota.