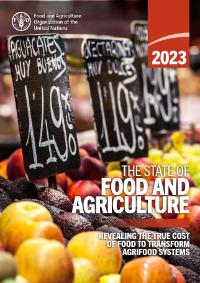 Overwhelming evidence shows that we are at a critical juncture as a global community. The worsening effects of climate change have already begun to threaten our food systems, placing disproportionate stress on our world's most vulnerable populations. To address this pivotal moment, the Food and Agriculture Organization (FAO) of the United Nations has dedicated its annual report, released this month, to examining the hidden costs of our current agrifood system.
"The State of Food and Agriculture 2023: Revealing the true cost of food to transform agrifood systems" found that our current agrifood systems impose huge hidden costs on our health, the environment, and society, equivalent to at least $10 trillion a year. This represents almost 10 percent of global GDP. The report uncovers huge opportunities to transform agriculture and food systems for the better, realizing benefits for people and planet, and setting us on a more sustainable, resilient, and inclusive course for the future.
The FAO report is a first-of-its-kind effort to implement true cost accounting (TCA) to disaggregate costs at a national level for 154 countries. TCA is an approach to systemically and analytically determine the true costs and benefits of food systems. "True costs" are often negative but overlooked outcomes of current industrial food production and distribution such as pollution, exploitation of human capital, and harmful emissions. The McKnight Foundation was an early partner in the development of the TCA methodology, which reflects the Foundation's values of applying a holistic lens to challenges to identify solutions that achieve equitable outcomes for all.
We at the Global Collaborative for Resilient Food Systems (CRFS), a program of the McKnight Foundation, have dedicated our work to these values for the last thirty years. We have seen firsthand with our researcher and farmer partners on the ground the immense hidden costs when narrow metrics such as crop yield or profit are considered alone. Findings like these prove why systematic and holistic research methods are critical to identifying the opportunities and challenges that will allow us to enact impact on a global scale. A more widespread utilization of TCA is one key to unlocking solutions that address hidden costs while preserving the benefits of our current food systems.
CRFS has recently expanded the scope of our vision and strategy to intertwine our efforts at the local level with a commitment to impacting global policies, funding flows, and research norms and agendas–in partnership with key organizations like the FAO. This allows us to cultivate resilient food systems globally by bridging farmer-centered agroecological research, action, and influence, grounded in the ten countries across Africa and South America where we have local networks and communities of pracitce.
FAO will continue their commitment to TCA utilization by dedicating their 2024 report to showing detailed solutions for the path forward, and we could not be more fully in support of their attention on these important topics. This is a time to be solutions oriented and work together, for as this year's State of Food and Agriculture report says: "The choices we make now, the priorities we set, and the solutions we implement will determine the trajectory of our shared future."