Paramount Center for the Arts is a community arts facility that provides opportunities for artistic production, creative exploration, arts education, and the enjoyment of arts and entertainment. Located in the historic, renovated Paramount Theatre in downtown St. Cloud, Paramount lends its stage to numerous community groups, as well as professional touring musicians and theatrical groups.
With support from McKnight, Paramount was able to open an auxiliary exhibition space called the Gallery Saint Germain. This new gallery features Minnesota artists who demonstrate a high level of professional achievement. The Gallery Saint Germain has shown a variety of exhibitions since opening, including a Minnesota artist's exploration of the art of tea in East Asia, and a juried selection of pottery from a variety of Minnesota potters.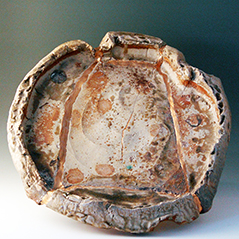 Craig Edwards' The Art of Tea explored the knowledge that Craig Edwards acquired in travels to East Asia to study the art of tea. He studied pottery that is utilized in formal tea ceremonies as well as pottery that are featured in more casual settings. His goal was to create a better understanding of the sublime art form. Over the past 42 years Craig has demonstrated his mastery of the wheel with his beautiful ceramic vessels that he wood fires in his New London Kiln.
Captivating Clay was a statewide-juried exhibition of ceramic art. Artists from across Minnesota submitted their ceramic pieces including both pottery and sculpture. Northern Clay Center's Executive Director Sarah Millfelt juried the competition. This exhibition featured 18 exceptional ceramic artists ranging from emerging to established master potters and represented a delightful range of work. The diversity of the work created an exceptional experience for the artists as well as the many visitors to the Gallery Saint Germain.