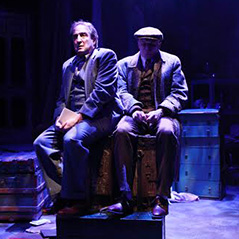 Yellow Tree Theatre's production of The Woman in Black exhibited stunning artistry. Directed by Twin Cities theater veteran Jon Cranney (former artistic director of Children's Theater Company), and featuring Twin Cities actors JC Cutler and Nathaniel Fuller, who have been staples at the Guthrie and other top-notch venues for decades, The Woman in Black brought high quality professional theater to the northwest suburban community.
The Woman in Black is just one example of how Yellow Tree Theatre supports working artists by providing them with professional, challenging opportunities. Their production received rave reviews from the Minneapolis Star Tribune. The publication wrote, "Cranney shows off his decades of experience with a smart, surefire production." It also praised the "bravura performances!" and "high quality storytelling." The production was featured in Minnesota Monthly, and in Star Tribune's Top 5 Things to See this Week. The Woman in Black sold at over ninety percent capacity, demonstrating the community's commitment to Yellow Tree Theatre and excitement at having high quality performance in Osseo, Minnesota.
Yellow Tree Theatre, a McKnight Arts program grantee, was founded in 2008 by artists and husband/wife team Jason Peterson and Jessica Lind Peterson in response to a need for the arts in the Osseo and Maple Grove area. Yellow Tree was born with the goal of creating a welcoming artistic venue, with live theater as its backbone, which would also serve as a vibrant artistic hub for the community. Their artists are hugely important to them, and they seek to cultivate a theater company where arts professionals are creatively challenged, artistically inspired, and financially supported.