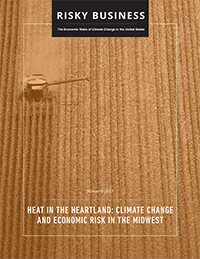 Last week in Minneapolis, hundreds of people gathered at the Economic Club of Minnesota, which provides a non-partisan platform for business, government, and public policy leaders to present ideas on how Minnesota can better compete in the global economy. The packed house came together for the national release of Heat in the Heartland: Climate Change & Economic Risk in the Midwest, a new report funded in part by The McKnight Foundation.
With the report's analysis as their backdrop, well-known captains of industry Greg Page (executive chair of Cargill) and Henry Paulson (former Goldman Sachs exec and former U.S. Treasury Secretary) underscored the dramatic risks facing Midwest businesses in a changing climate. According to the research, regional outcomes will likely include shifting agricultural patterns, lost productivity, and rising crime. The report is based on open-source data that allows interested readers to go very local, exploring implications for specific cities such as Minneapolis/Saint Paul.
At one point, Page reminded the audience that solutions would be found in thousands of "micro-decisions" made by individuals and institutions, which got me thinking. While visionary policy solutions and widespread business mobilization are essential in our shift to a low-carbon future, seemingly minor institutional investor actions also have opportunities to snowball.
Founded over a decade ago, a global initiative called the CDP asked companies to report annually on greenhouse gas performance and climate strategies by answering a series of standardized questions. It was a good idea, and a small group of like-minded institutional investors made a formal commitment that data on climate performance and strategy would feed their investment decisionmaking, giving the CDP a broad and attentive audience and real purpose. Supporting the CDP was — and still is — a relatively easy action for institutional investors. You just add your name and assets to the mix. No fees. No commitments. No big deal.
But add up "micro-actions" like this, and watch out…
By the end of 2014, the CDP was supported by over 822 signatories who represent more than $95 trillion in assets. (That's trillion with a "T".)
And when that many investors speak, companies listen. Today, over 5,000 publicly traded companies respond to CDP's information-gathering on climate change, energy, water, and forestry. And when data reaches critical mass it allows investors to act — developing products that shift and sort corporations and direct dollars. Of direct relevance to McKnight, CDP data forms the basis of Mellon Capital's Carbon Efficiency Strategy which overweights and underweights companies in the Russell 3000 based upon greenhouse gas emissions and the climate-readiness of company management across sectors. This strategy reduces McKnight's emissions profile in a $100 million investment by over 50%, relative to a more typical index exposure. Notable how the micro-actions of a number of investors enabled Mellon Capital to take a "macro-action."
Thanks to Greg Page, I was reminded of the relative power of micro-actions by foundations, endowments, and institutional investors. Since data on climate performance and strategy does inform McKnight's decision-making, we wholeheartedly endorse CDP. And if you represent an institutional investor in search of micro-actions that add up over time, the CDP is an initiative worth considering.