Today marks the one-year anniversary of Mr. George Floyd's murder and the global racial justice uprisings that began in Minneapolis and St. Paul. In the days that followed May 25, 2020—in the midst of a pandemic that had slowed the pace of our lives—humanity bore witness to the raw and real last minutes of this man's life. In doing so, we saw clearly the excessive force and racism that George Floyd—like Philando Castile, Jamar Clark, and Daunte Wright, and so many more—encountered every day.
What happened to George Floyd is not an anomaly. The circumstances he faced in the South tell us much about racial injustice in America and led him to search for better job and housing prospects in Minnesota, a state that held great promise for a fresh start. When he arrived, we as a state did not live up to our ideals and failed to create the enabling conditions that would allow him to meet his aspirations. Instead, he encountered the modern systemic racism that is embedded in all of this country's institutions—in housing, education, employment, health care, and law enforcement, that ultimately led to his death.
McKnight is made up of people who live in, work in, and care for this community. We, too, personally experienced the pain, trauma, and tension of George Floyd's death, and the racial reckoning that ensued. We carried the agony and burden that his death was yet one more death, added to countless others, that proves our country has a hierarchy of human value. The life and memory of this compelling and multidimensional man, father, brother, son, and friend has influenced—and continues to inspire—our commitment to creating the equitable Minnesota that he and everyone deserve.
In anticipation of this anniversary, our staff has taken time to reflect on their personal intersections to events of this past year, which we will continue to share over the next several weeks.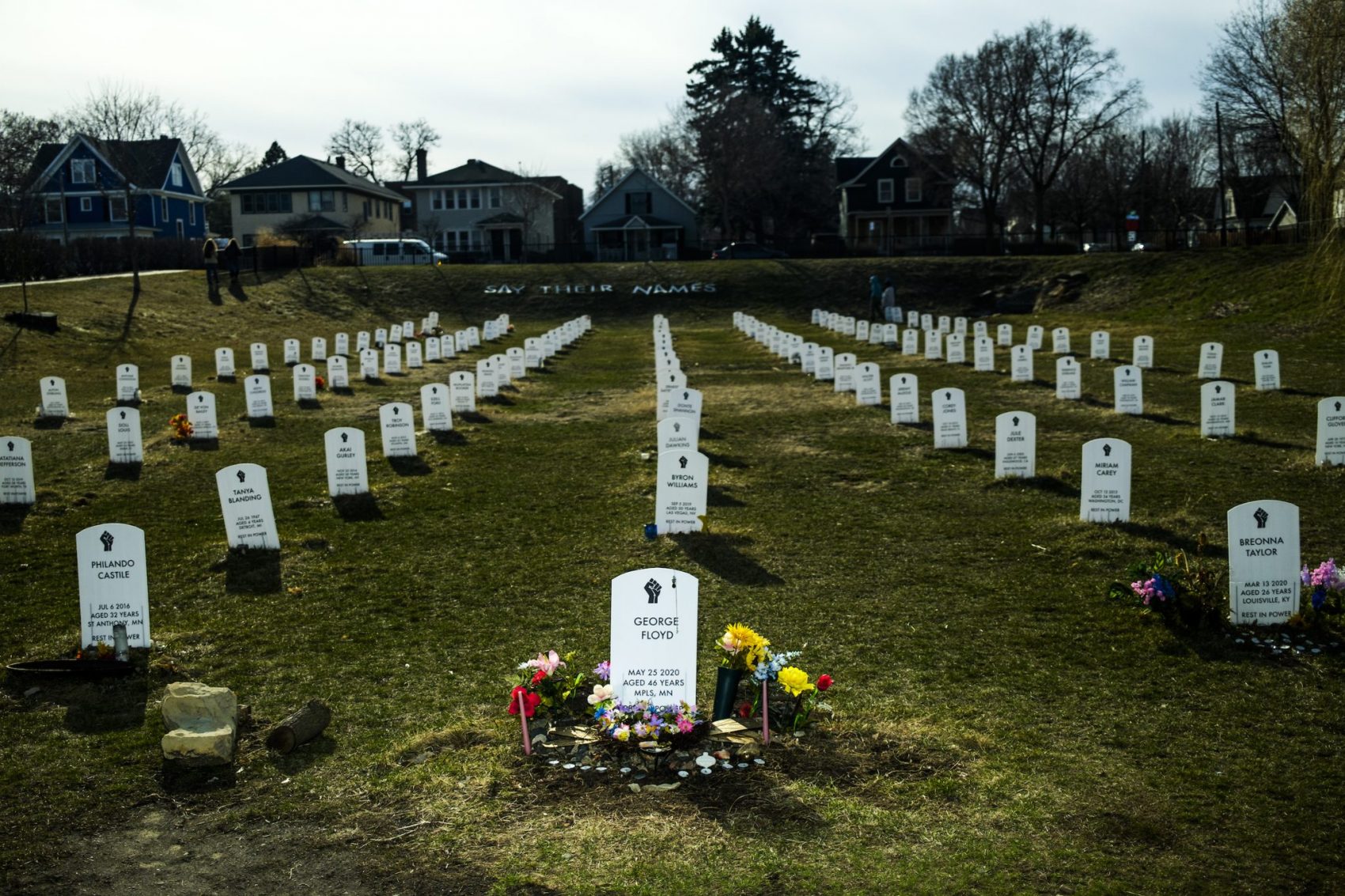 A view of the George Floyd headstone in the Say Their Names cemetery in Minneapolis in March 2021. Photo credit: Stephen Maturen / Stringer
We have held how the Foundation might honor the memories of George, Philando, Jamar, Daunte, and more, and transform pain into purpose. The question remains: How can we elevate opportunities for racial healing and justice in our community and point toward our vision for a more equitable Minnesota?
Announcing $1 Million in Grants Inspired by George Floyd's Life
In honor of this anniversary, the Foundation will award unsolicited $100,000 grants to ten organizations that make Minnesota a more welcoming, supportive, and inclusive place. Each week, we will announce a new recipient for this award that connects to our vision of a more equitable Minnesota, the type of place that would have sparked and enabled the life of George Floyd, not extinguished it. These one-time, trust-based grants recognize groups beyond our current grantees and affirm the work they are doing toward healing and systemic justice.
The first grant is to the Cultural Wellness Center, a multifaceted African American nonprofit organization centered on the idea that when culture and community knowledge are studied and valued, they are powerful tools for health, memory healing, community building, and economic development. Founded in 1996, the Center works with individuals, entrepreneurs, community groups, healthcare systems, and government agencies to help overcome challenges by better understanding their culture, their practices, and themselves. Many come to the Center when they are in a crisis and need guidance, support, and a process to heal and move beyond perceived limitations. We recognize the Center's work as critical to creating sustainable health and wellness in the community, and in helping many African American leaders across Minneapolis find their bearings and discover culturally based solutions to real-world problems.
"The McKnight Foundation's generous gift and recognition of our work is a testament to the resiliency and enduring soul of the African American," said Elder Atum Azzahir, executive director and founder of the Cultural Wellness Center. "For 25 years, we've been tapping into the wisdom of our elders and our cultural teachings to heal ourselves and build a stronger community. As challenging as this past year has been since Brother Floyd's murder, the support shown by leading institutions like McKnight gives me hope. Only together can we dismantle systemic racism."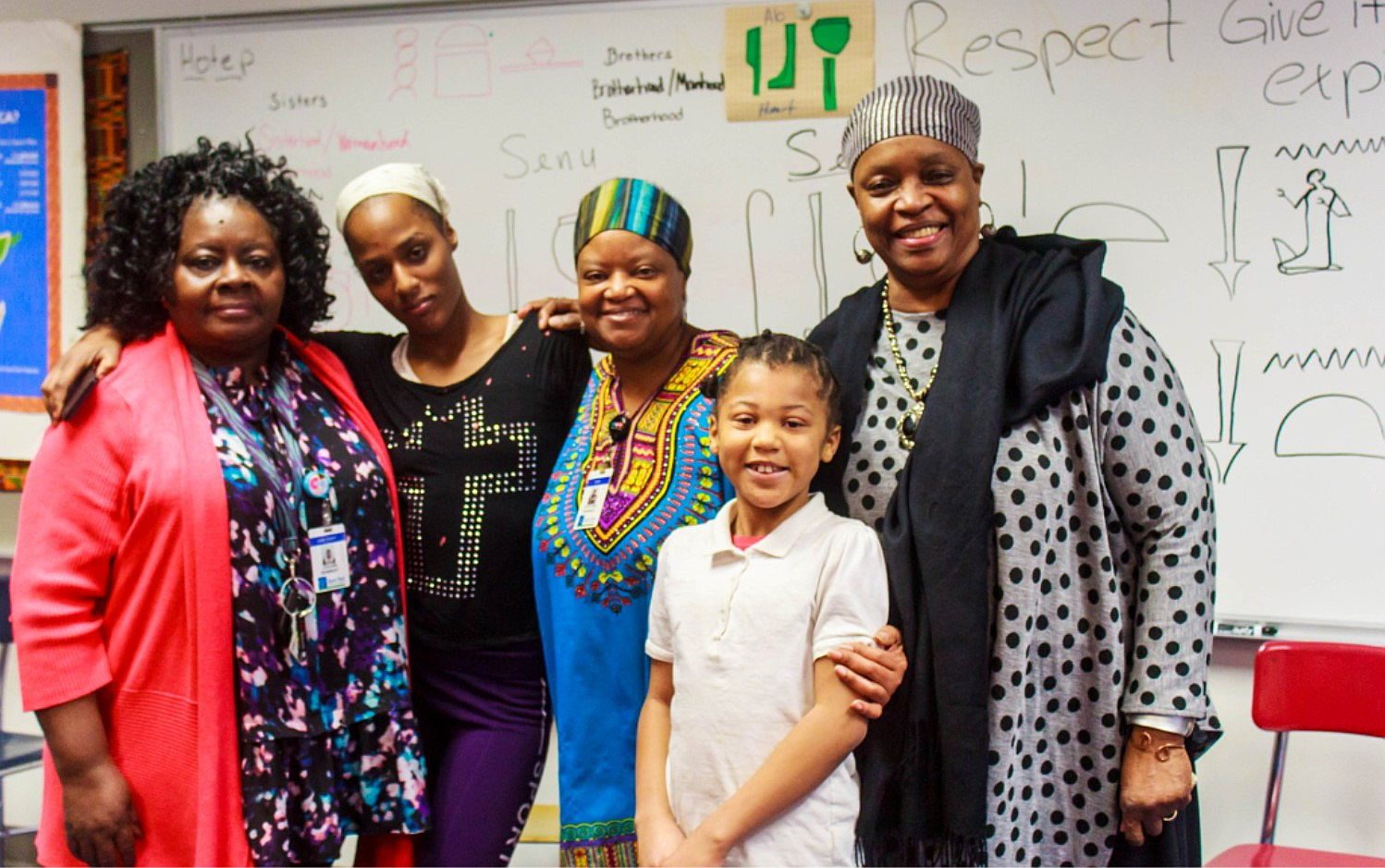 Atum Azzahir (right) is a community elder and founder of the Cultural Wellness Center. She teaches about her own survival of post-traumatic slave syndrome and is a dedicated cultural wellness community care giver. Photo credit: Cultural Wellness Center
Moving Forward
Those of us who work in institutions with wealth and privilege must use that power to rewrite the rules—to transform the systems that have historically blocked people, particularly people of color—from opportunities to thrive. We acknowledge that we too have unwittingly contributed to these systems. Every system is human created, which means we each have the capacity to change the systems that no longer work and eradicate those that never did.
"Every system is human created, which means we each have the capacity to change the systems that no longer work and eradicate those that never did."—TONYA ALLEN, PRESIDENT
As a philanthropic organization, we aspire to use every form of capital—grants, investment, leadership, human, intellectual, and social—to center the power, voices, and needs of the community, and to enlist the support of all those who have the heart and the will for change. We celebrate and encourage the work of organizations on the ground that are making Minnesota more equitable and inclusive. We see them doing their work in culturally relevant ways, and helping individuals, families, and whole communities acknowledge their trauma, bridge their pain, and move into a space of healing and beauty.
We see equity as mission-critical to advancing a more just, creative, and abundant future for all, and remain committed to challenging and overcoming the systemic racism that has claimed George Floyd's life and too many others. Throughout this past month, we've highlighted a few of the ways that our philanthropic investments support this vision. This includes the $12.6 million Cultural Treasures Initiative, which recognizes diverse forms of artistic excellence; the $5 million Community Asset Transition Fund, which seeks to rebuild more inclusively; and a new collaboration to make electric car-sharing available in underserved hubs.  McKnight will soon release a new Equity in Action report documenting our progress on embedding diversity, equity, and inclusion goals across the enterprise. We will report back frequently on what we're learning and the progress we're making, and we challenge others to do the same as a form of mutual accountability.
As we mark this anniversary, our hope is that we will see more signs of a future that will break from our painful past. We invite you to join us in doing your part to advance this vision for the Minnesota we all deserve.