As expressed in our Strategic Framework, equity is one of McKnight's core values. We see advancing diversity, equity, and inclusion across our program areas as central to building a Minnesota that works for everyone. One critical way that we live this value is by supporting arts and cultural organizations led by people of color and Indigenous people.
Indigenous art and artists help preserve traditional ways of life and languages, reinforce cultural identities, and perpetuate traditional spiritual values. However, according to the research report Reclaiming Native Truth, invisibility and toxic misconceptions about Native and Indigenous peoples continue to perpetuate bias and funding disparities for Native and Indigenous peoples, organizations, and communities.
An understanding of this research and reality spurred McKnight's arts team to broaden relationships with artists and arts organizations from communities that had been missing from McKnight's portfolio and to become familiar with a wider range of arts organizations led by Indigenous people and serving Indigenous artists in their communities.
Some of these efforts are reflected in McKnight's fourth-quarter 2019 grantmaking, with the board awarding $240,000 to arts organizations led by Indigenous people. Overall in the fourth quarter, McKnight awarded 179 grants totaling $29.9 million. The full list of approved grants is available in our grants database.
Last quarter, McKnight awarded a two-year $70,000 grant to Dakota Wicohan to preserve and revitalize Dakota as a living language, and through it, transmit Dakota ways of life to future generations.
Dakota Wicohan provides opportunities to share, teach, and learn traditional yet endangered Dakota art forms, including tanning hides, beading, quilling, quilting, horse regalia, parfleche, and floral beading. All instruction is by apprenticeship, as intergenerational learning and teaching have always been the Dakota way.
In addition, Dakota Wicohan provides ongoing support for more accomplished artists in their chosen media. This support comes in many forms, from insurance to workspace to supplies to stipends for travel, all intended to provide whatever is necessary for Indigenous art to survive and artists to thrive.
We see advancing diversity, equity, and inclusion across our program areas as central to building a Minnesota that works for everyone. One critical way we live this value is by supporting arts and cultural organizations led by Indigenous people.
McKnight also awarded a two-year $30,000 grant to Healing Place Collaborative, an Indigenous artist–led group focused on repairing relationships between people, water, and land. Participants in the collaborative share an interest in the Mississippi River as a place of healing and a place in need of healing and are engaged in healing on some level—individual, cultural, communal, or environmental.
Healing Place Collaborative has regular gatherings that provide a rare chance for people who wouldn't typically be in the same room together to consider their work as part of a larger community. It provides a space where people can bring diverse approaches to discussing and addressing shared problems.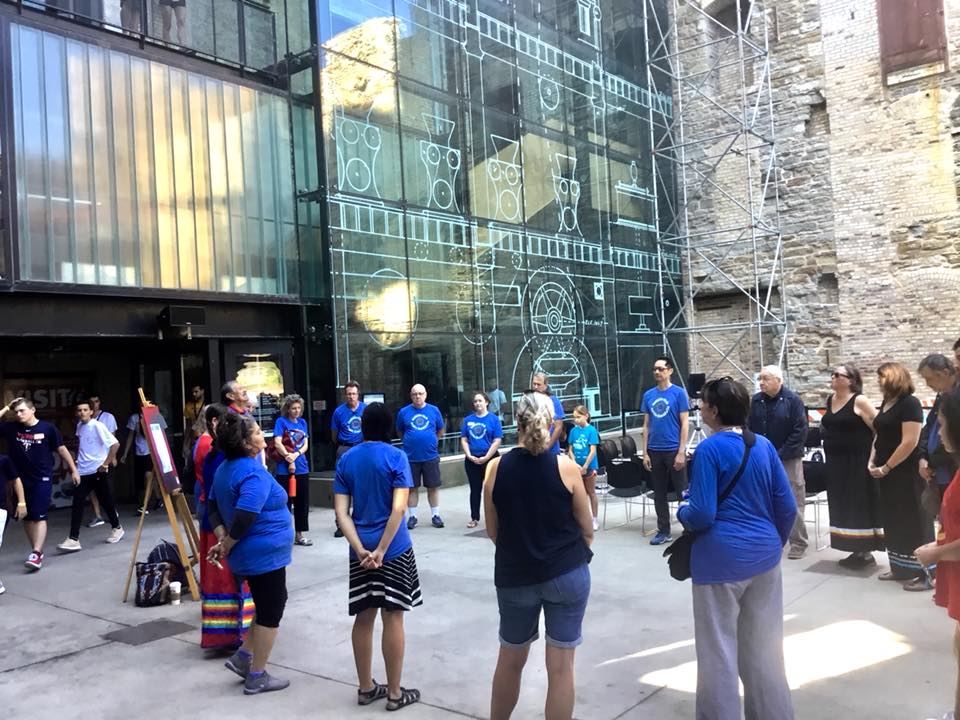 The Healing Place Collaborative hosted a festival along the Minneapolis Riverfront to explore the connections between indigenous understanding of place, the environment, water, language, the arts, and the Mississippi River. Image credit: Healing Place Collaborative
The Collaborative grounds its approach in the Dakota concept of "bdote," a Dakota word meaning the confluence of waters (the Mississippi and the Minnesota rivers) but also confluence in a larger sense. The collaborative encourages a confluence of interests among people who recognize that the river is important to creating a healthy community, and that a community-wide effort is needed to heal the river.
"Organizations that support diverse communities of working artists like these are crucial to the success of our strategies," says Debby Landesman, McKnight Foundation board chair and interim president. "Minnesota is a more vibrant place because of the contributions of these Indigenous arts organizations."
Board and Staff Transitions
We are pleased to welcome Luther Ragin, Jr., to our board of directors. He is the retired president and CEO of the Global Impact Investing Network. Luther also serves on McKnight's investment and mission investment committees. We also welcome longtime board and family member Meghan Binger Brown as she returns from her sabbatical. In addition, we thank David Crosby for his more than eight years of dedicated board service. While he has stepped off the board, he continues to serve on the investment committee.
In addition, we have several staff transitions to share. As previously announced, Nichol Higdon has joined us as vice president of finance and operations. We look forward to welcoming new staff soon to the communications and arts teams.
As we sunset our Mississippi River program, we said farewell to program officer Julia Olmstead. Program director Mark Muller will stay with the Foundation through February. We thank them both for their dedication to the water quality and resilience of the Mississippi River. River grantees may still contact Sarah "Sam" Marquardt with any questions.
Finally, we wish Midwest Climate & Energy program administrator Tim Murphy well as he heads overseas for his final semester of graduate school.