The McKnight Foundation is pleased to announce the selection of Marcie Rendon for its 2020 Distinguished Artist Award—a $50,000 award created to honor a Minnesota artist who has made significant contributions to the state's cultural life. Rendon, an enrolled member of the White Earth Nation, is a writer whose poems, plays, children's books, and novels explore the resilience and brilliance of Native peoples.
"Marcie brings a strong and necessary voice to so many genres," said Pamela Wheelock, McKnight's interim president. "She has created a tremendous body of work, including poetry, plays, lyrics, and award-winning crime novels, all while raising up other Native voices in our community. Her commitment to making art in community embodies what a distinguished artist means to Minnesota and to McKnight."
Rendon is the first Native American woman to receive the Distinguished Artist Award, first given in 1996.
A gifted storyteller and prolific writer, Rendon is the author of the award-winning Cash Blackbear mystery series, set in Minnesota's Red River Valley. The first novel in the series, Murder on the Red River, earned the 2018 Pinckley Prize for Debut Novel, and the second, Girl Gone Missing, was nominated for the Mystery Writers of America–G. P. Putnam's Son's Sue Grafton Memorial Award. Rendon, who is at work on her third novel in the series, is also the author of four nonfiction children's books, including Powwow Summer (Minnesota Historical Society Press, 2013).
Rendon's plays include Sweet Revenge, chosen for the Oklahoma Indigenous Theatre Company's 2020 New Native American Play Festival. She has also curated and produced a variety of Native-focused performances at the History Theatre, the Minnesota Fringe Festival, and Patrick's Cabaret. She is the founder of Raving Native Theater, a platform that brings voice and visibility to other Native American artists and performers.
"We are more resilient than we are traumatized," said Rendon. "Art keeps us thriving, not just surviving. I try to make room for other Native artists. Every time someone steps forward, it makes room for others to step forward."
Rendon's poem "What's an Indian Woman to Do?" will appear in the upcoming Norton Anthology of Native Nations Poetry titled When the Light of the World Was Subdued, Our Songs Came Through. Rendon's poem "Resilience" is also included in US Poet Laureate Joy Harjo's digital project "Living Nations, Living Words: A Map of First Peoples Poetry," which will join the permanent collection of the American Folklife Center at the Library of Congress.
Rendon's awards include a 2020 Ensemble/Playwright Collaboration Grant from the Network of Ensemble Theaters and the Playwrights' Center, and a 2020 Covid-19 artist grant from the Tiwahe Foundation for demonstrating resilience during the pandemic. Rendon was named a 2018 50 Over 50 honoree by AARP Minnesota and Pollen Midwest and received Loft's 2017 Spoken Word Immersion Fellowship with poet Diego Vazquez.
"Marcie has moved fluidly as an artist, poet, and playwright, with a common thread of working in her community as an essential contributor to our cultural ecosystem," said Sandy Agustin, a member of the Distinguished Artist Award selection committee. "Whether she is writing about boarding schools, incarceration, or the epidemic of missing and murdered Indigenous women, she is nurturing Native voices and amplifying communities that are too often unheard, especially Native women."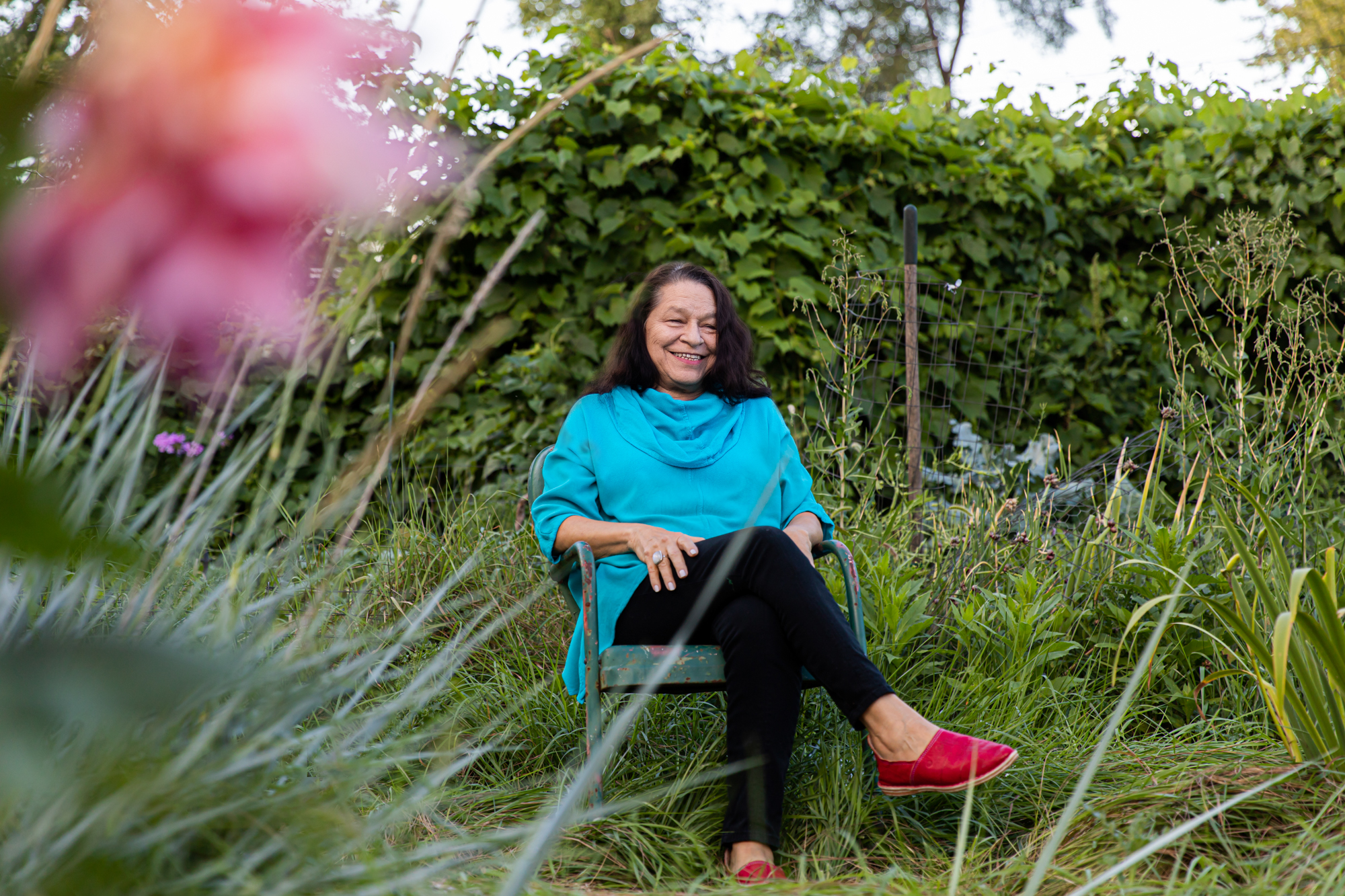 Photo Cedit: Jaida Grey Eagle
Born in northern Minnesota in 1952, Rendon was a voracious reader, creative writer, and poet from an early age. While studying criminal justice at Moorhead State College in the early 1970s, she was part of a group of Native student activists who successfully demanded the launch of the university's first American Indian studies department.
After moving to the Phillips neighborhood of Minneapolis in the late 1970s, she worked as a counselor and therapist, while raising her three daughters. In 1991 she saw a performance by Margo Kane, a Cree-Saulteaux artist, that inspired Rendon to share her own poetry and writing with a wider audience.
Rendon soon began reading her poetry at public venues, including Intermedia Arts and Patrick's Cabaret, and founded Raving Native Theater.
Rendon lives in the Standish neighborhood of Minneapolis with her family, including two granddaughters and a great-granddaughter. She is currently collaborating with artist Heather Friedli on an upcoming installation at the Weisman Art Museum about the high rates of incarceration among Native women.
ABOUT THE McKNIGHT DISTINGUISHED ARTIST AWARD
The Distinguished Artist Award recognizes artists who have chosen to make their lives and careers in Minnesota, thereby making our state a more culturally rich place. Although they had the talent and the opportunity to pursue their work elsewhere, these artists chose to stay—and by staying, they have made a difference. They have founded and strengthened arts organizations, inspired younger artists, and attracted audiences and patrons. Best of all, they have made wonderful, thought-provoking art. The goal of McKnight's arts funding is to support working artists who create and contribute to vibrant communities. The Foundation's Arts program is founded on the belief that Minnesota thrives when its artists thrive. The Distinguished Artist Award goes to one Minnesota artist each year.
ABOUT THE McKNIGHT FOUNDATION
The McKnight Foundation, a Minnesota-based family foundation, advances a more just, creative, and abundant future where people and planet thrive. Established in 1953, the McKnight Foundation is deeply committed to advancing climate solutions in the Midwest; building an equitable and inclusive Minnesota; and supporting the arts in Minnesota, neuroscience, and international crop research.