"Real change takes organized people and organized money. Abundant communities create belonging. We need to organize the people and the infrastructure to help do that," says Abdulahi Farah, a lead organizer with ISAIAH Minnesota, a grantee partner of our Vibrant & Equitable Communities program.
That infrastructure, he continues, requires intentional bridging across differences and targeted investments in power-building organizations that focus on relational organizing and advocacy to advance an inclusive, equitable future for all Minnesotans—especially those who have historically been excluded from our state's rich social fabric and economic prosperity.
This spring, McKnight's Vibrant & Equitable Communities (Communities) team traveled to St. Cloud with our Board of Directors to better understand how we can support the work of building shared prosperity for all Minnesotans.
"Real change takes organized people and organized money. Abundant communities create belonging. We need to organize the people and the infrastructure to help do that."–ABDULAHI FARAH, LEAD ORGANIZER WITH ISAIAH MINNESOTA'S MUSLIM COALITION

We were honored to share space, break bread, and have courageous conversations with St. Cloud community leaders, including Abdulahi, at the Multicultural Mall, a new multi-use community-owned facility that serves and celebrates Central Minnesota's African immigrant community. The mall, which is actively being transformed from a former gym to a one-stop destination, will house an event center, restaurant, coffee shop, salon, two dozen small retail spaces, professional services, and more. It's part of a growing vision of what the next iteration of cultural malls could and should look like in the region.
Like many communities across Minnesota, St. Cloud has changed dramatically in recent decades. With about 70,000 residents, it is the largest population center in Central Minnesota and is surrounded by small towns and rural areas. The city's population of people of color has more than doubled in the last decade. In 2020, people of color comprised about 32 percent of St. Cloud's population—up from 17 percent in 2010.
While St. Cloud has its own unique culture, its demographics reflect changes happening throughout Greater Minnesota. Demographic shifts in our largest regional population centers parallel those in St. Cloud. This growth is largely made up of immigrants and refugees. The commonly held image of Greater Minnesota is that it is homogenous and mostly white, and that's far from reality. Duluth, Rochester, Mankato, and Moorhead all saw their populations of people of color either double or triple over the past twenty years. Smaller regional hubs across the state are also becoming more diverse. For example, in Southern and Southwest Minnesota, Worthington's population is now made up of approximately two-thirds people of color—the second-highest ratio in the state after more than doubling since 2000. Willmar's population has also doubled in that time, with people of color accounting for about forty percent of the population—roughly the same makeup as Minneapolis. In Austin and Faribault, the number of residents of color has more than tripled since 2000.
In many of these places, populations of people of color are responsible for stemming and reversing trends of population decline, making communities more vibrant and bolstering local economies with new business and more jobs. In addition to the opportunities presented by Greater Minnesota's demographic shifts, there are challenges related to community and economic inclusion. Since Minnesota's populations of people of color are significantly younger than the white population, these trends will likely continue for the foreseeable future.
Photos: Community Conversations in St. Cloud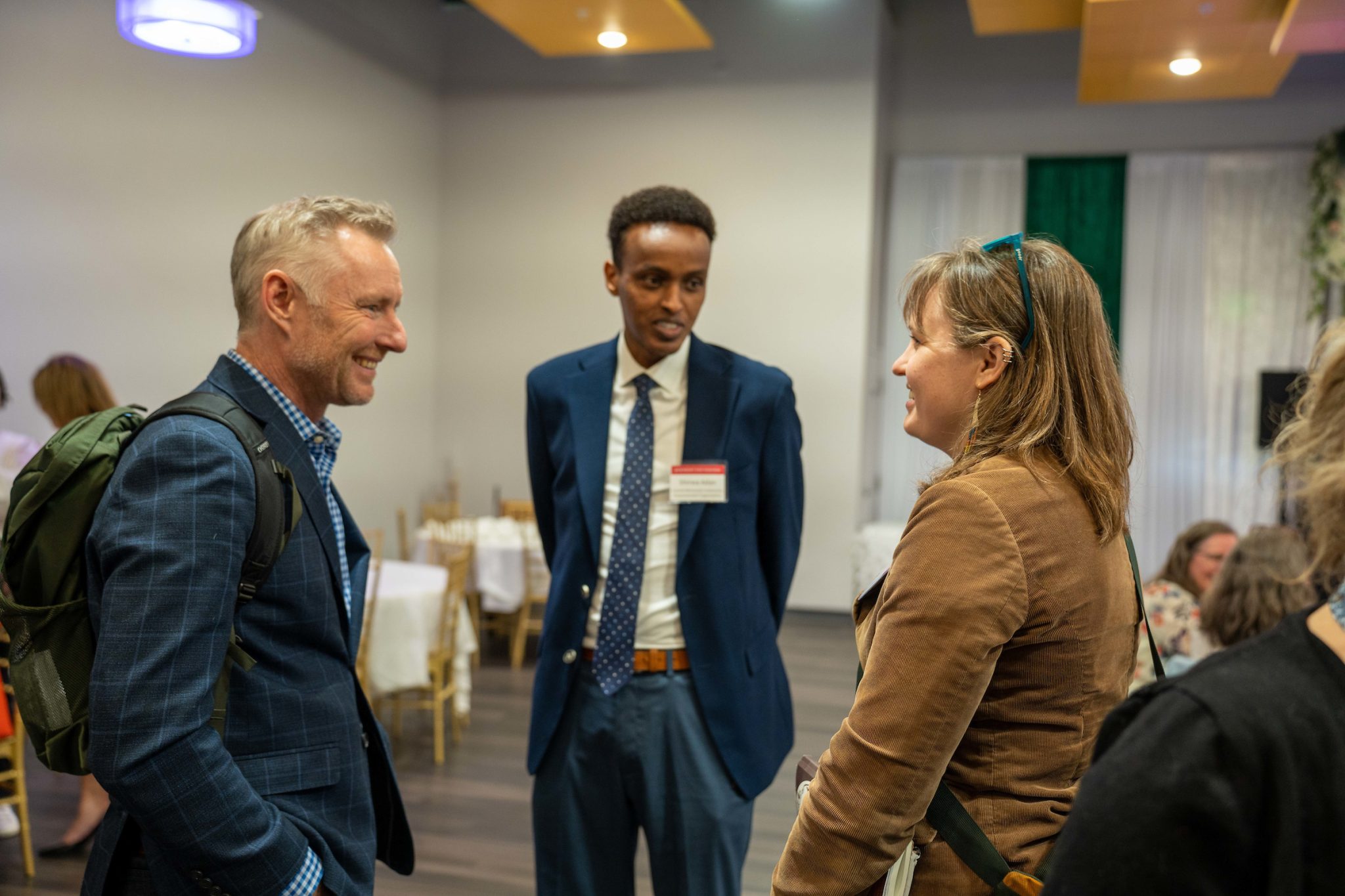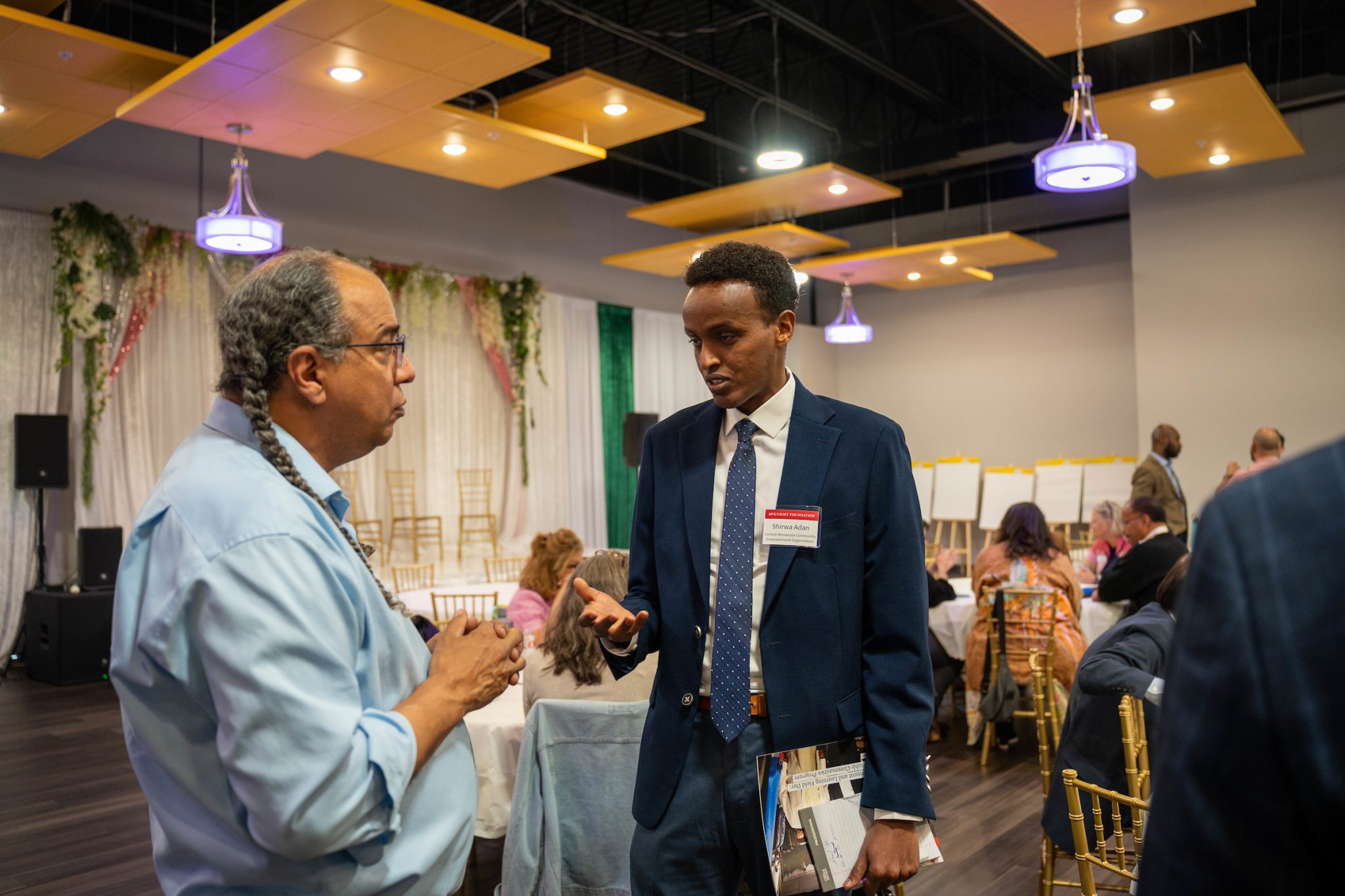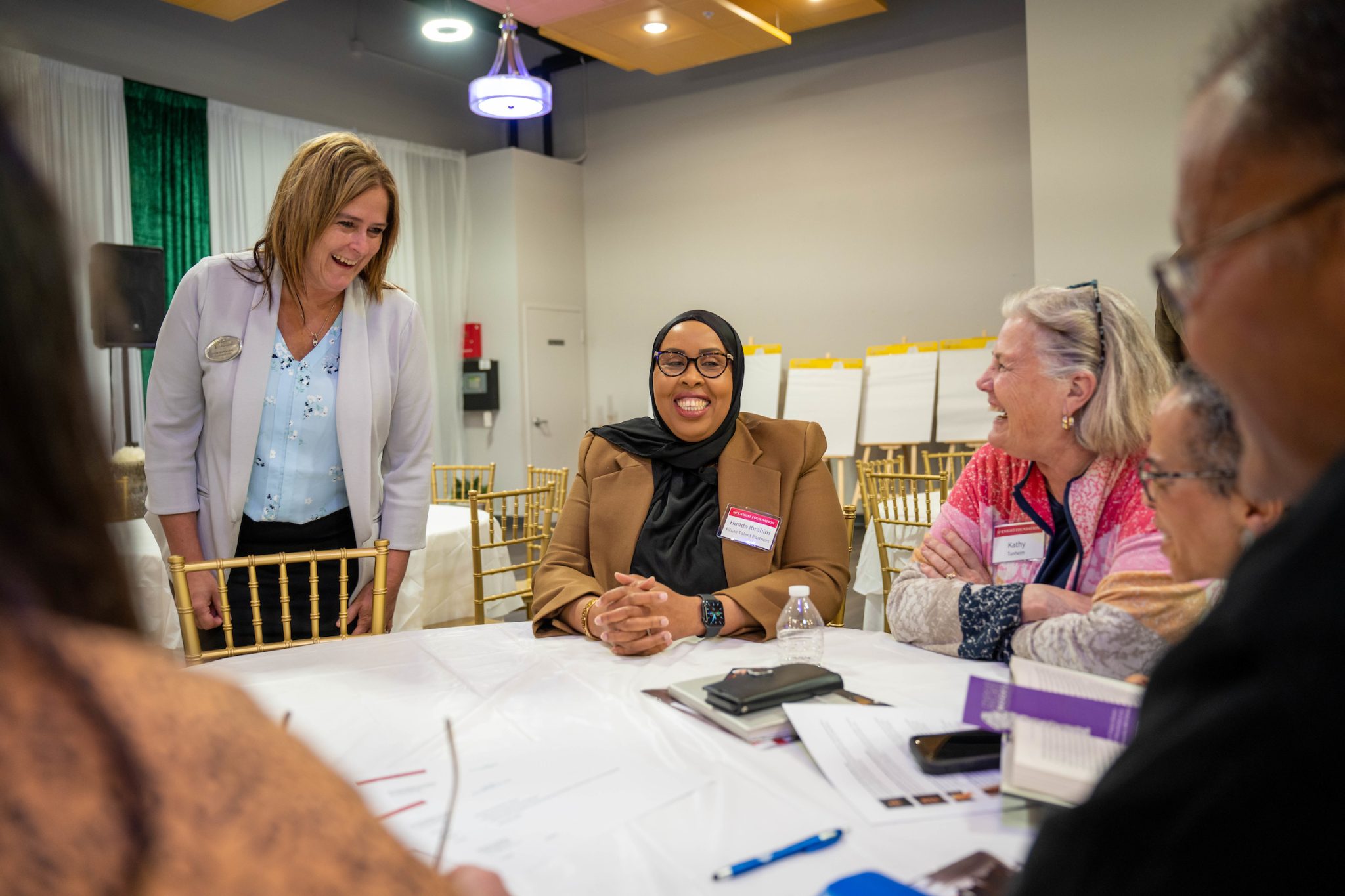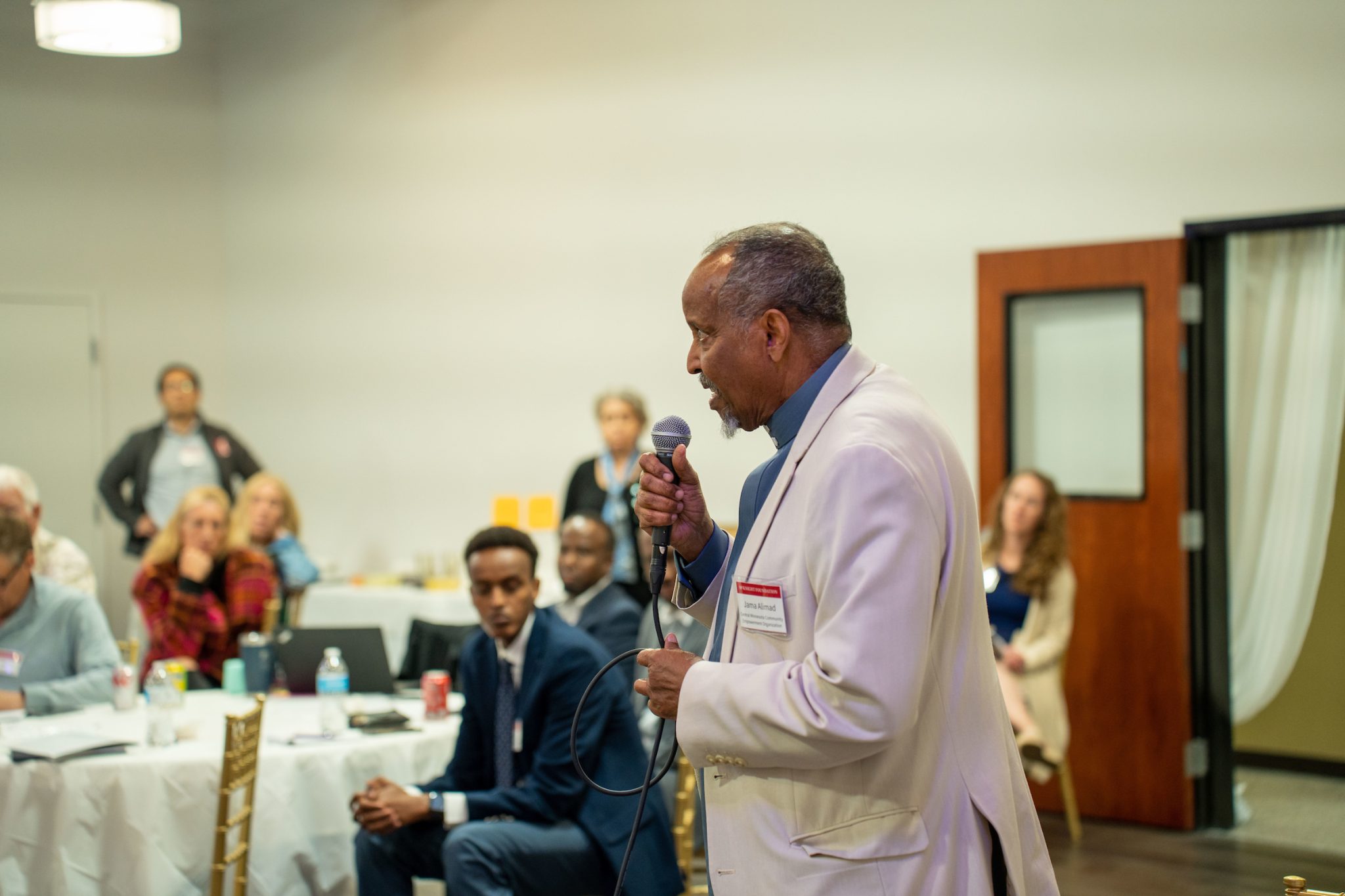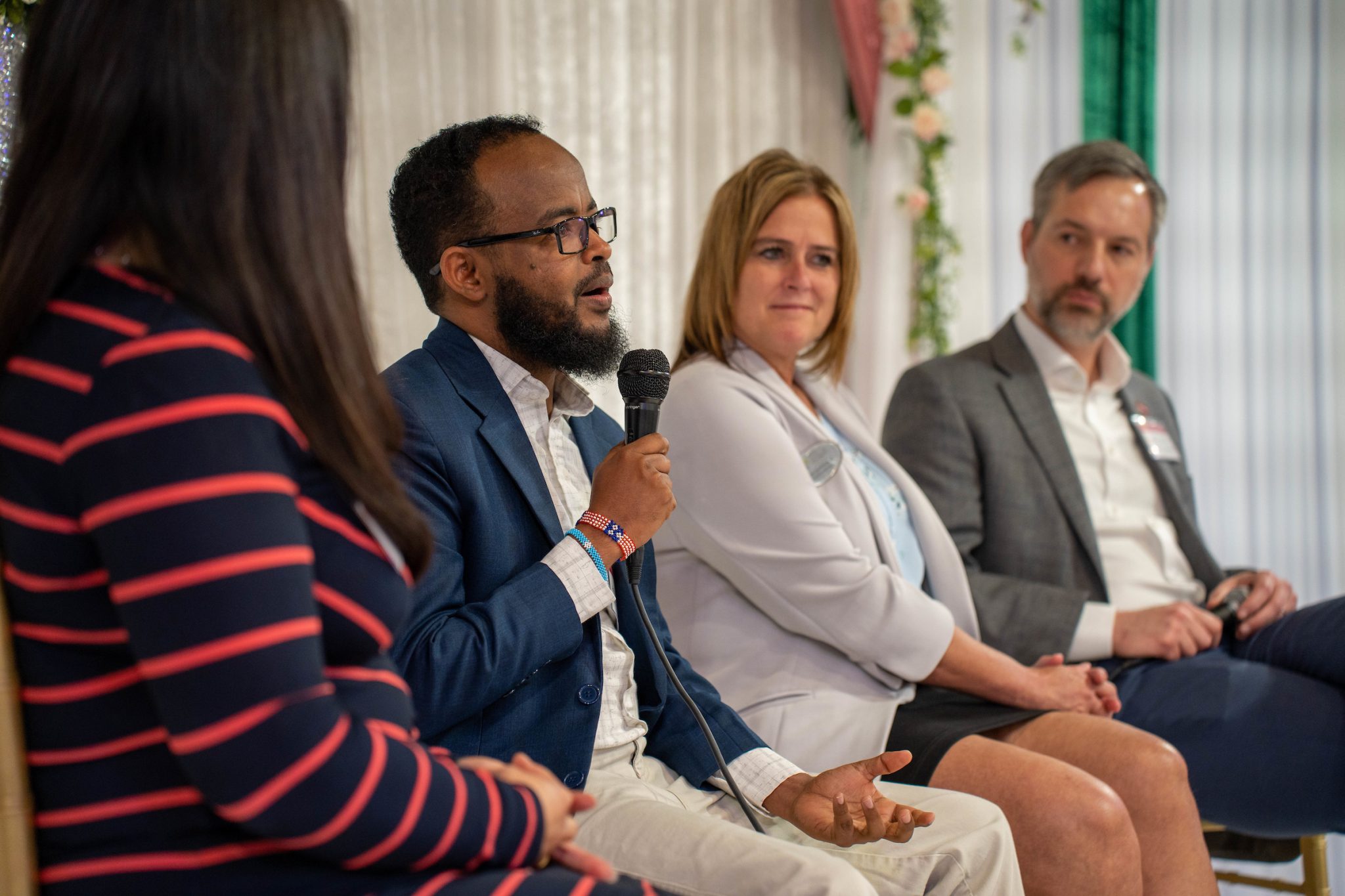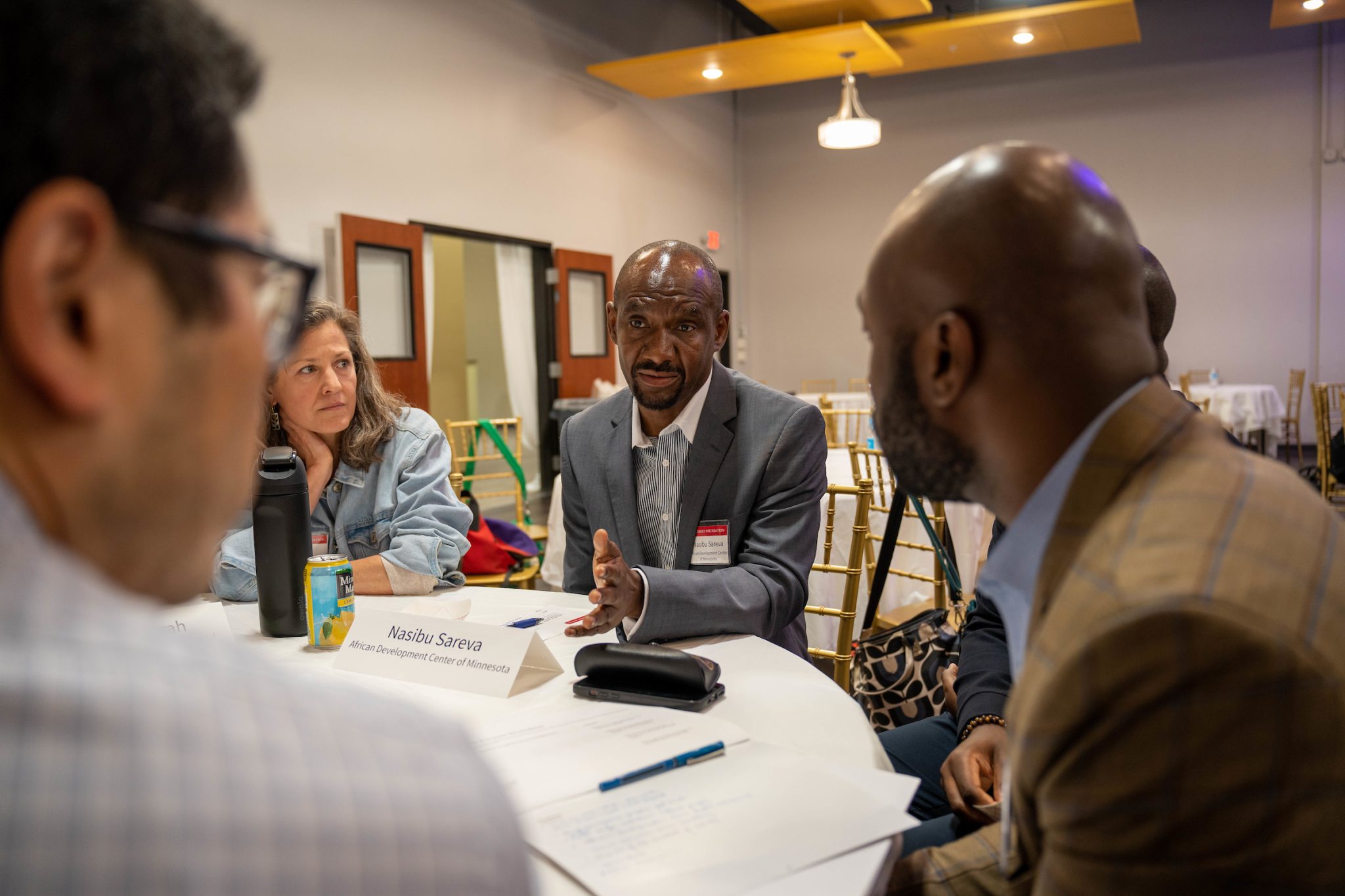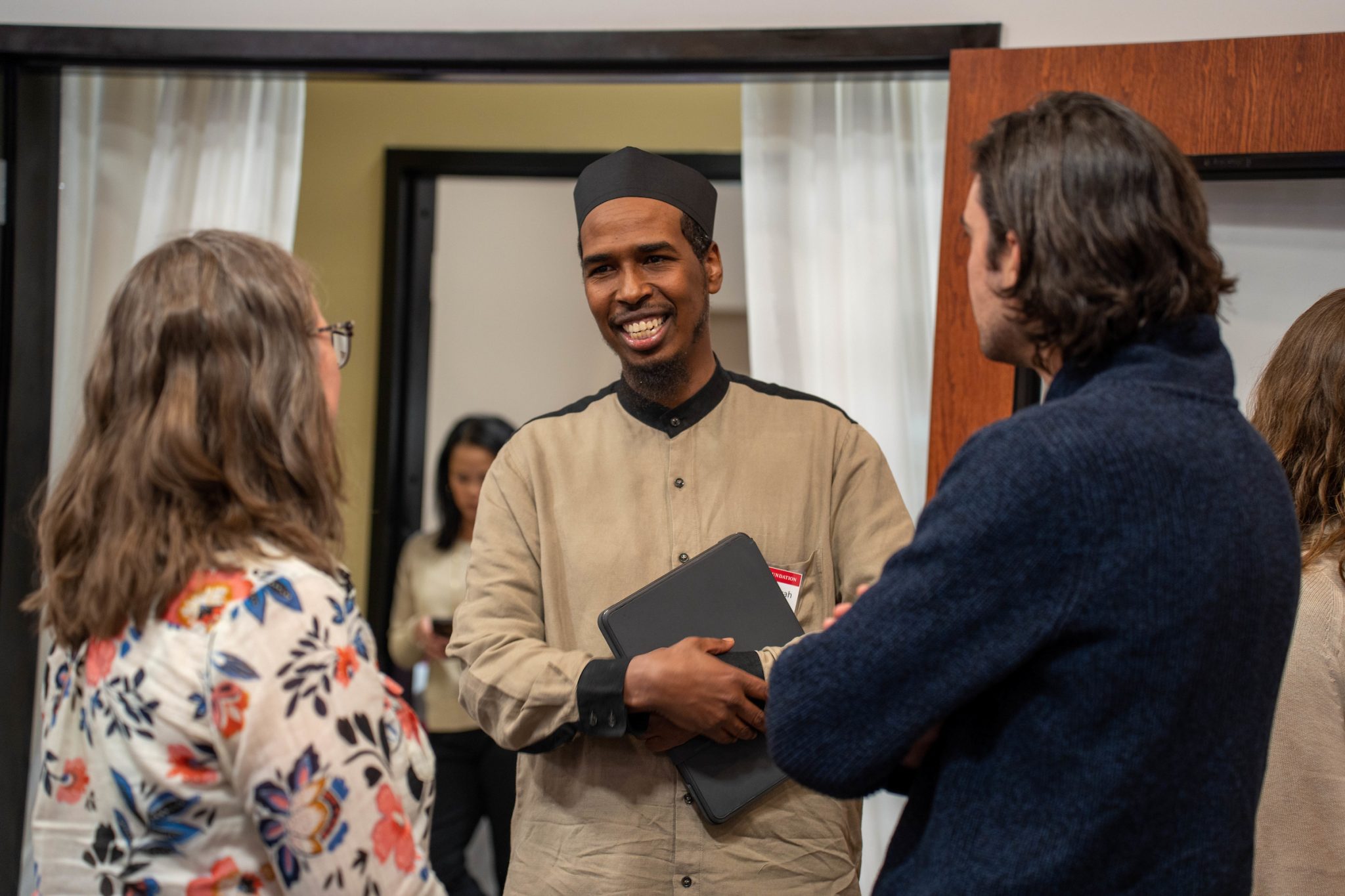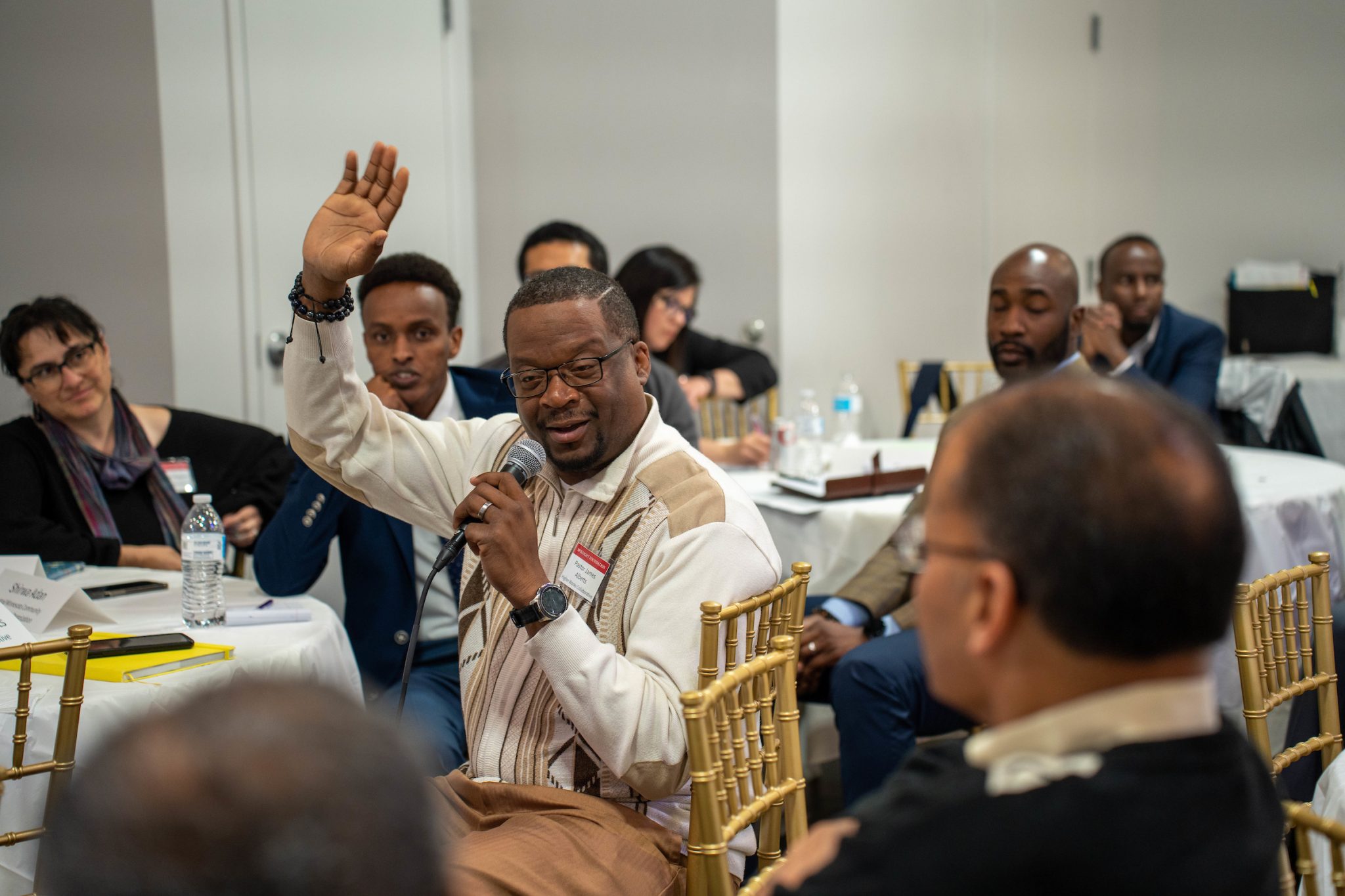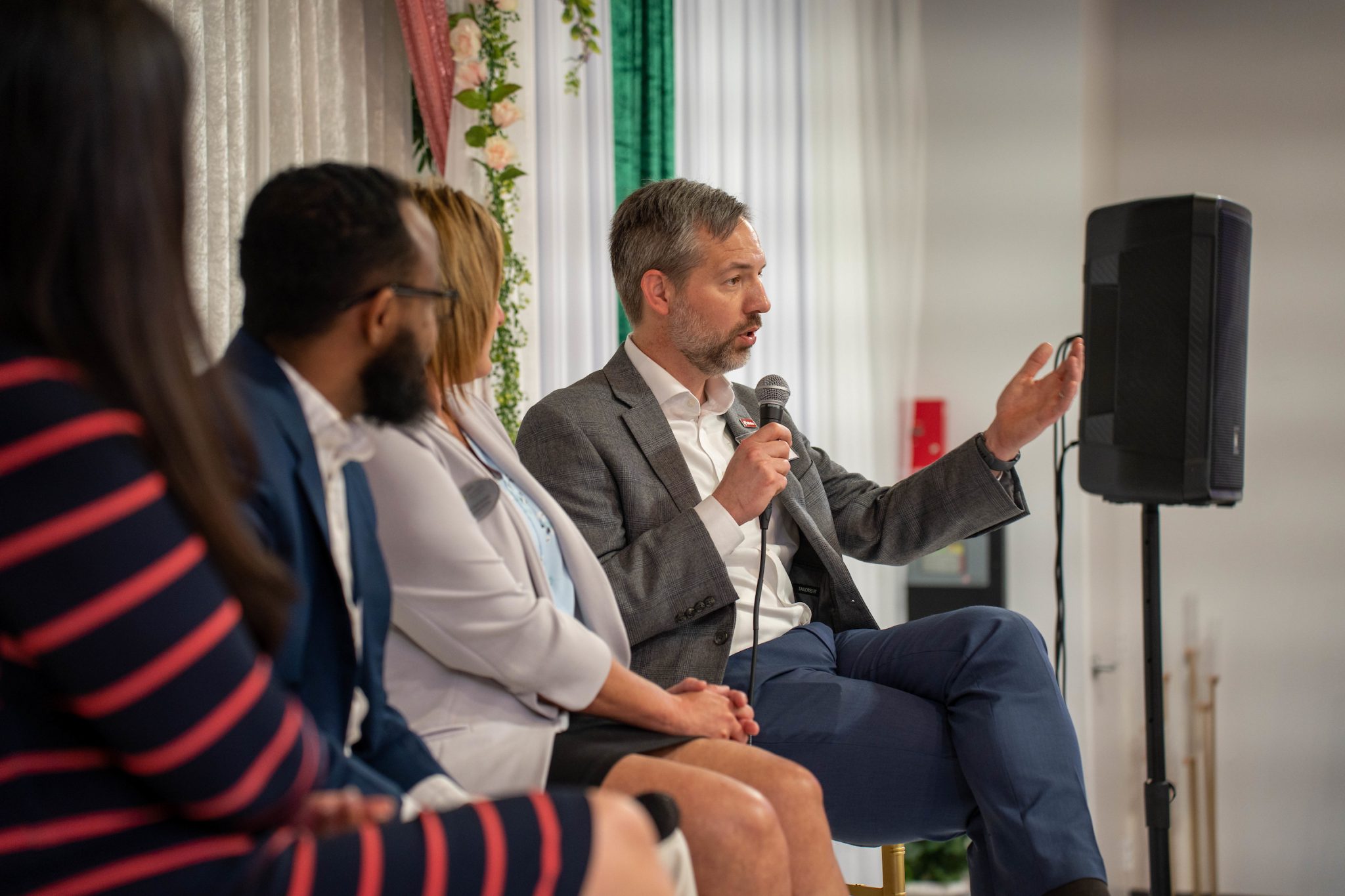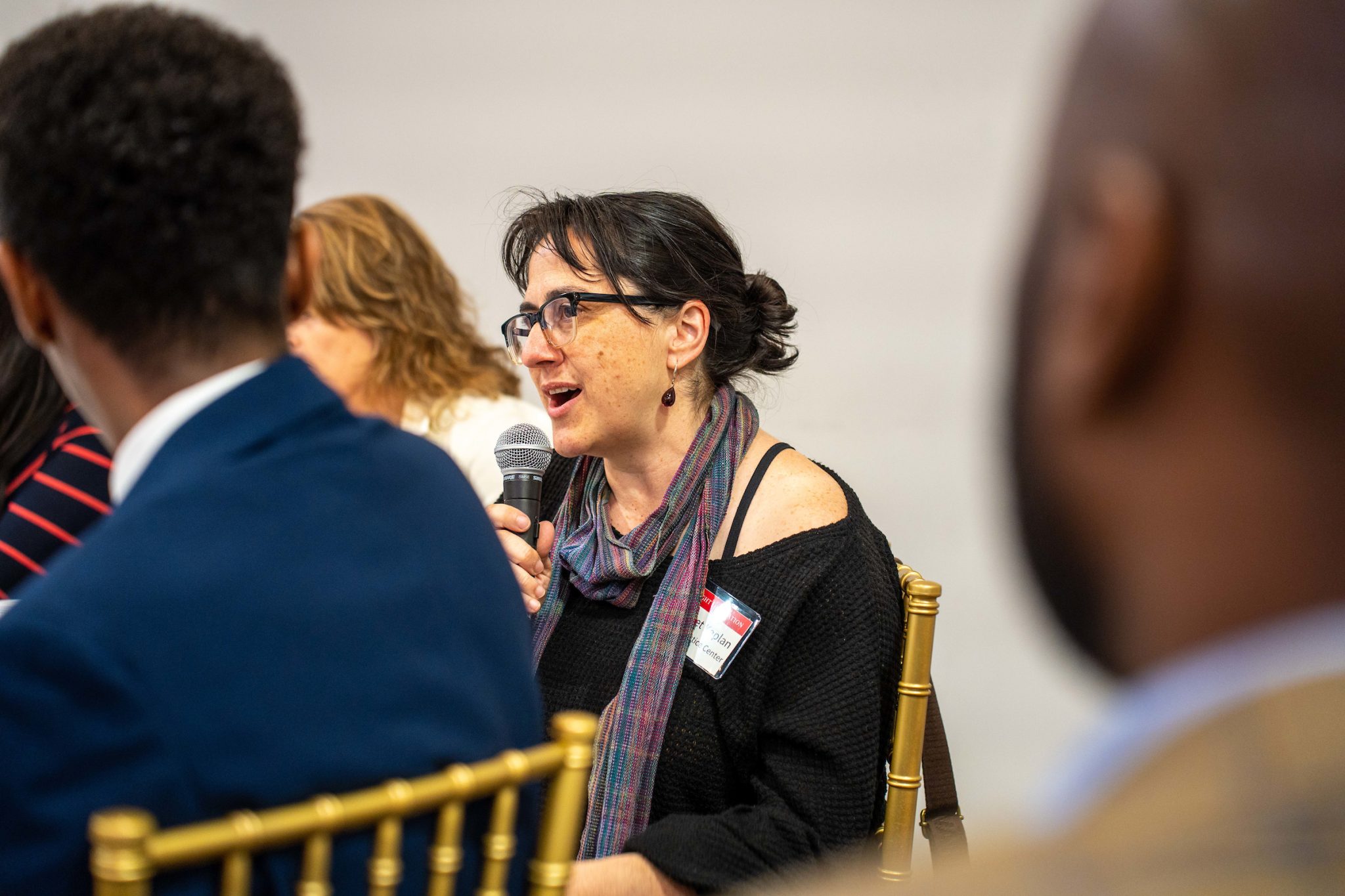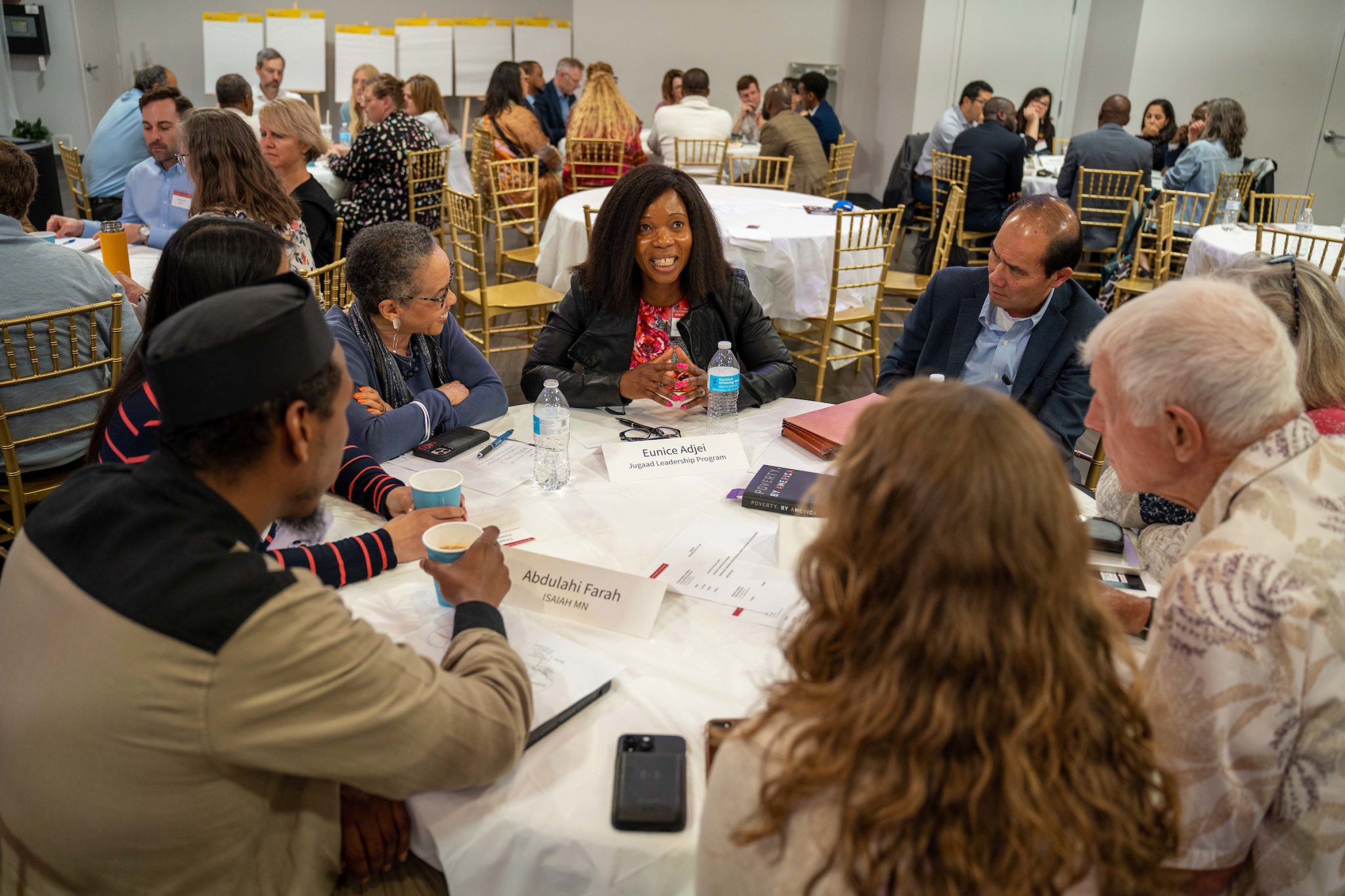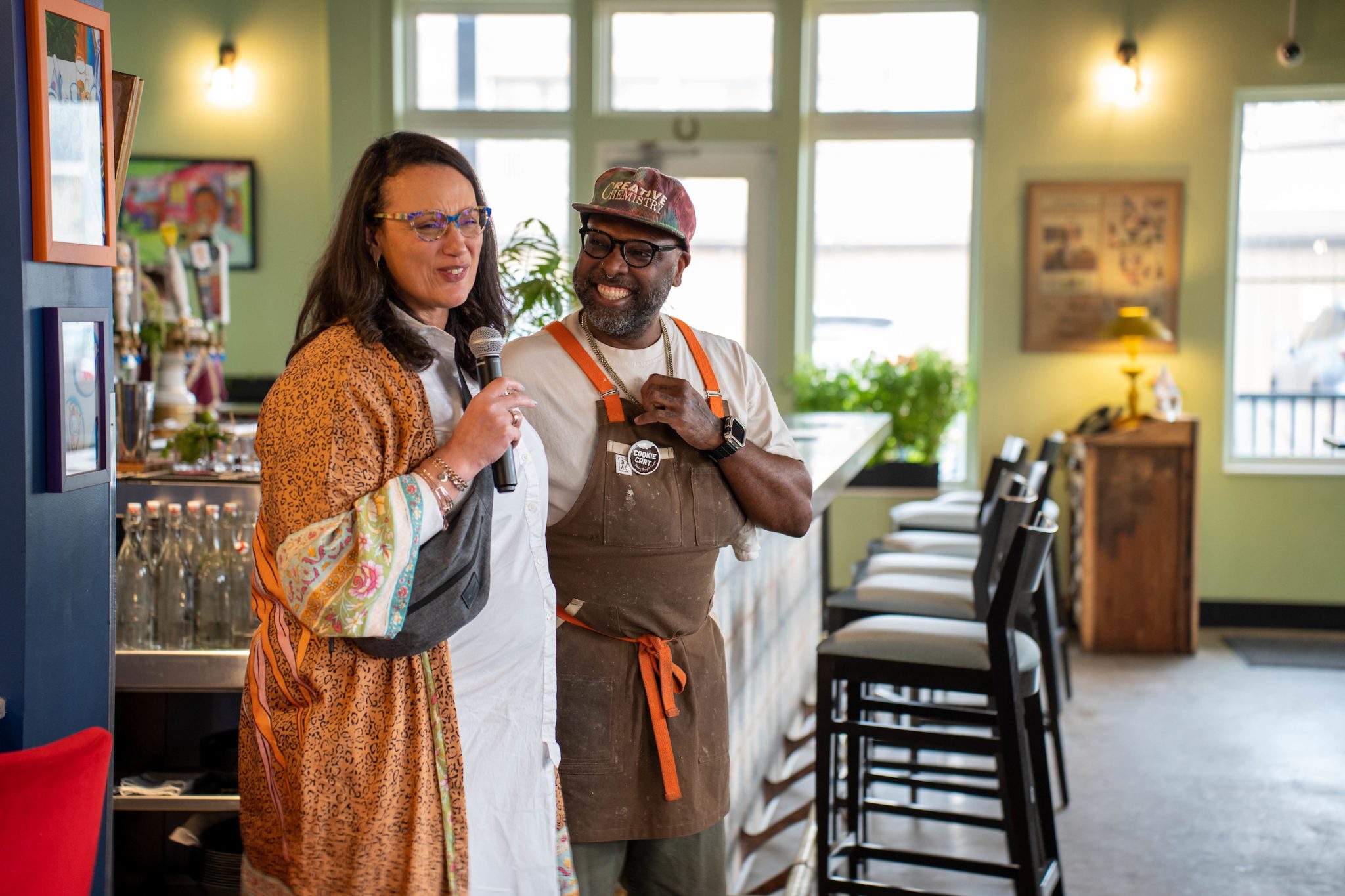 Proximity Is About People and Connection
Many leaders are working to navigate these changes and strengthen the fabric of their communities. Hudda Ibrahim, founder and CEO of diversity and equity consulting firm Filsan Talent Partners, immigrated from Somalia to St. Cloud in 2007 and has been working to make the city safer, more inclusive, and more equitable for every resident. When she saw that a lack of understanding was causing division among neighbors, she launched 'Dine and Dialogue', a monthly event that brings together community members from all backgrounds to learn about each other's cultures. Using shared meals as a bridge across differences, Hudda's work is part of a collective movement to build a more inclusive St. Cloud. "Equity work is hard. It requires us to engage in diverse discussions with different people, while recognizing our shared values. If we don't come together, build relationships, lift up and invest in people, we won't be able to collectively benefit from all of the abundance Minnesota has to offer," Hudda shared.
Watch a video featuring Hudda Ibrahim, How a Somali Refugee Is Creating Community in Minnesota.
Proximity is about people—building trust, learning with and from each other, and being accountable to those we aim to serve. Together with our board of directors, the Vibrant & Equitable Communities program staff were grateful for this opportunity to be in community and learn from courageous leaders who graciously shared their aspirations, the barriers they face, and how we as a Foundation can best use our resources to break those barriers down. Opportunities like these help us grow our practice of responsive, equitable, and community-centered philanthropy.
We appreciate the community partners that joined us in St. Cloud, including African Development Center of Minnesota, Central Minnesota Community Empowerment Organization, Central Minnesota Community Foundation, Filsan Talent Partners, Housing Justice Center, Initiative Foundation, ISAIAH Minnesota, Jugaad Leadership Program, Krewe, Morgan Family Foundation, and Project Optimist.
"By deepening our proximity—nearness in space, time, and relationship—to our work, our partners, and our issues, we enrich our solution sets and approaches. Proximity strengthens our ability to listen, learn, hear different views, and honor diverse lived experiences."–TONYA ALLEN, PRESIDENT
Economic Equity Through Four Strategic Pathways
To achieve our goal, we focus on economic equity, a powerful force multiplier that improves everyone's quality of life and creates vibrant communities. When we invest deeply in our most under-resourced and marginalized communities, everyone benefits from better public health outcomes, stronger communities, and economic growth.
The Communities program has been working to understand how we can best support organizations tackling some of the most important elements for building strong communities across Minnesota. We see these organizations as agents of change and look for alignment with our core values and commitment to transforming harmful systems. Since we launched three years ago, we have identified 185 organizations to support and engage with through dialogue, responsive grantmaking, and emergent learning tables. We have listened to and learned from each of them. We've sought to hone our program strategies to improve impact and get us closer to shared prosperity from Minneapolis to Mankato, and from Rochester to Roseau.
Through this work, and in response to Minnesota's evolving socio-economic landscape, we understand that we must look and act holistically, addressing the interrelated factors of income generation, housing, economic mobility and opportunity, and the wider democratic process. This requires us to go beyond traditional grantmaking by adopting a systems-change approach and deploying a broader range of resources, such as capacity and influence, in addition to capital support for nonprofits.
We've worked to strengthen the Communities program's strategic approach to reflect the increasingly complex and interconnected realities of communities across our state, and how best to deploy our resources to affect systems change and maximize impact. We have gained clarity in our work, grown our team, and honed our strategies as we seek to build a vibrant future for all Minnesotans. In addition to streamlining our grantmaking process to improve accessibility, we identified four key systems-change strategies as having the most potential for driving maximum impact toward our goal:
Accelerate Economic Mobility
Build Community Wealth
Cultivate a Fair and Just Housing System
Strengthen Democratic Participation
Over the coming months, my colleagues will share more details about each of these strategies and examples of how they are showing up in our grantmaking and partnerships across the state.
Our Commitment to Continual Learning
The Communities program works at the intersection of people and place, looking for where we can make the biggest impact.
We are excited about our refined approach to changemaking and the potential impact—and we know that we can't do this work alone. Partnering with people and organizations who can inform, inspire, challenge, and push us forward through collaborative solutions is foundational as we seek to advance a better future for all Minnesotans.
In April, we adopted a new accountability framework, developed in partnership with Brookings Metro. The new tool—an innovative approach to a traditional data index—will allow us to make more strategic decisions about our programming and develop a richer impact analysis.
"Partnering and being in community with people who can inform, inspire, challenge, and push us forward through collaborative solutions is foundational as we seek to advance a better future for all Minnesotans."–DAVID NICHOLSON, VIBRANT & EQUITABLE COMMUNITIES PROGRAM DIRECTOR
The framework adds a dynamic quantitative lens to our analysis. It complements community-centered qualitative data informed by real people, places, and experiences—such as our 2022 visit to Selma and Montgomery, Alabama, our program advisory panels, and the recent convening in St. Cloud. By taking a holistic approach to that includes both qualitative and quantitative data, we can make more deeply informed decisions about our strategies.
We are excited about the opportunities ahead, at a time when many across the country are looking at Minnesota for how it is leading. We look forward to continued partnership on these priorities and, more importantly, to the future it will create for communities across this state. We will regularly share our progress and the work and impact of the ecosystem of partners who are shaping this work collaboratively.