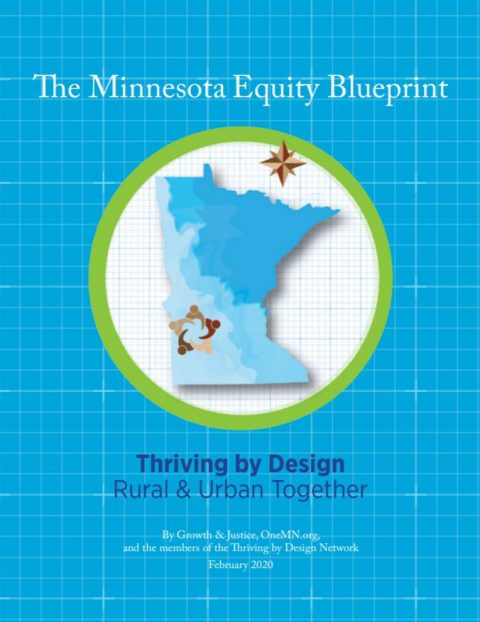 The Minnesota Equity Blueprint is a comprehensive, non-partisan, long-term plan for shared prosperity in a healthier environment. The Blueprint is designed to reflect the interconnectedness of our state's people and regions, as well as interconnectedness between the disparities, challenges, and solutions that shape our future.
The "open source" document was co-facilitated by Growth & Justice and OneMN.org and created with the members of the Thriving by Design Network — Rural & Urban Together (TBDN). Over the course of 18 months, TBDN collected ideas, challenges, solutions, and action examples from over 300 Minnesotans at more than a dozen gatherings around the state, including two statewide gatherings. The process also included input from many professionals working in the public, private-and non-profit sectors. The Growth & Justice research team analyzed more than 700 recommendations obtained through this multi-stage work and distilled them into 141 recommendations, ranging from general strategies to specific policies.
The Blueprint has been designed not just for the Legislature or governmental decision-makers, but as a resource for individual and local community action. Story boxes throughout the document chronicle regional best practices and inspiring efforts to build a more equitable and inclusive economy.