Food systems are intricately linked to climate change and equity. Healthy, sustainable food systems help mitigate climate change; climate change affects our ability to support healthy food systems; and healthy food systems improve food security, diets, and livelihoods. We need healthy land, air, water, and food for people and planet to thrive.
In its first-quarter 2020 grantmaking, the McKnight Foundation awarded 17 grants in the amount of $20.4 million. (See our grants database for a full list of approved grants.) Of that sum, $300,000 for 36 months will support the National Agricultural Research Organisation (NARO) of Uganda, one of McKnight's International program partners.
NARO guides all agricultural research activities in Uganda, with a mission to generate and disseminate appropriate, safe, and cost-effective technologies. Its work focuses on developing and promoting technologies and innovations that transform agriculture—enhancing sustainable agricultural productivity, sustained competitiveness, economic growth, and food security, and ultimately, eradicating poverty.
"We are proud of our partners and their progress in creating equitable and ecological solutions for farmers and food systems globally," said McKnight board chair Debby Landesman. "They are innovating in ways that improve technical and social systems in farming communities, and that raise these communities' potential to mitigate climate change while building resilience."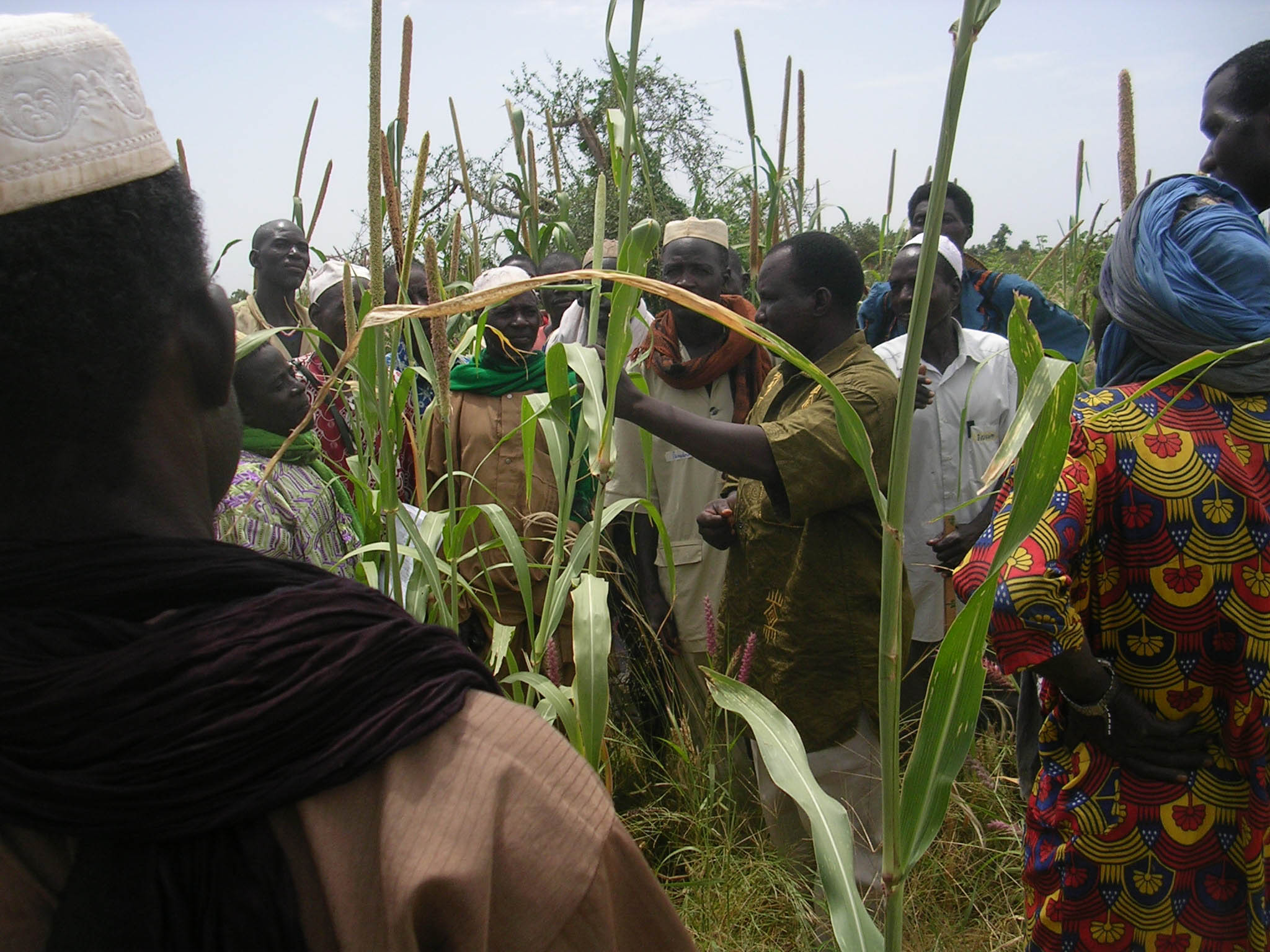 Farmers are trained on pearl millet phenology, the study of the plant life cycle and how it is influenced by seasonal variations in climate and habitat.
McKnight made this grant through its Collaborative Crop Research Program (CCRP), which works to ensure a world where all have access to nutritious food that is sustainably produced by local people. The program supports agroecological systems research in 10 countries in Africa and South America, where poverty and food insecurity have created "hunger hot spots." Agriculture has been among the first sectors to feel the effects of global environmental change, with smallholder farmers among the hardest hit. The crop research program helps address urgent climate issues by funding research on agroecological solutions by, with, and for smallholder farmers.
"Our aim is ultimately about supporting food systems that enable local farmers to feed their families and communities in a way that benefits them all socially, economically, and environmentally."—JANE MALAND CADY, PhD, INTERNATIONAL PROGRAM DIRECTOR
CCRP addresses change in two interrelated ways. First, the program promotes a highly participatory, collaborative approach to crop research—relying on local farmers, who have been tending their land like centuries of farmers before them, to share different forms of knowledge and cultural needs. The research focuses on agroecological intensification practices—those that improve the performance of agriculture systems by integrating ecological principles into farm management.
Second, the program shares information and influences the skills and methods of farmers, research institutes, and others to mitigate and adapt to climate change, while leaving in place the skills and capacities to create ecological solutions. With these two approaches, CCRP prioritizes a holistic view of agriculture, rather than one focused solely on increasing yields. Productivity remains important, yet only when aligned with sustainable solutions and equitable cultures in communities.
Creating Tools That Feed Families and Benefit Climate and Communities
In Uganda and other countries, small-scale farmers are often thwarted in their efforts to implement agroecological intensification practices simply because they lack access to resources, such as certain research and technologies. Farmers need efficient and locally appropriate postharvest handling practices to cool, clean, sort, store, and pack their produce—and postharvest inefficiencies can lead to big losses.
"We are proud of our partners and their progress in creating equitable and ecological solutions for farmers and food systems globally."—DEBBY LANDESMAN, McKNIGHT BOARD CHAIR
With McKnight's grant, NARO will rely on a farmer-led research network to identify and scale locally appropriate and relevant technology options for small-scale farmers. Researchers will test these technologies and adapt them to local conditions, incorporating Indigenous knowledge and local innovation. By reducing postharvest losses and developing nutritious food mixtures, the project will potentially improve local diets and develop livelihood opportunities for farmers and local fabricators.
Local people and organizations remain the heart of this place-based approach. By training students, farmers, fabricators, local leaders, and more, this project strengthens the capacity of rural farming communities to continue to use these postharvest technologies, now and in the future.
Agroecological research projects such as this one give farming communities the tools they need to feed their families and enhance their livelihoods, while preserving their land, air, and water for the long term. Because farmers participate and take ownership of the research process, they are able to call on both global and local knowledge and collaborate in ways that create more equitable communities.
CCRP will continue to make these connections between our food systems, climate, and equitable communities across the globe. As Jane Maland Cady, PhD, International program director, has said: "Our aim is ultimately about supporting food systems that enable local farmers to feed their families and communities in a way that benefits them all socially, economically, and environmentally."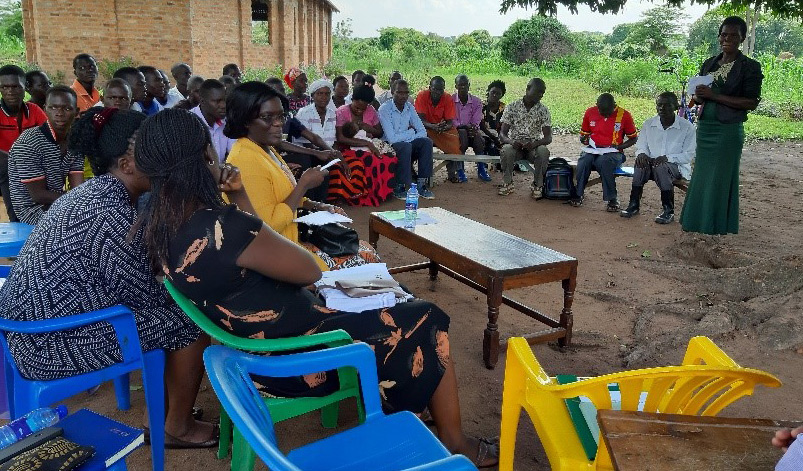 Regional meetings give teams an opportunity to share knowledge and information and adapt for their own local conditions.
Photo Credit: Florence Kiyimba, NARO
Our Growing and Changing Teams
At McKnight, this is a time of dynamic change. As we make shifts toward new leadership, programs, and a refined internal structure, we want to keep our valued partners informed of the exceptional teams we're building. What follows is a summary of staff updates from our first quarter of 2020, some of which we've shared before.
We are excited to announce we have engaged the search firm Korn Ferry to conduct the search for our next president. We plan to release the position profile in the coming weeks. Please send any questions to McKnightSearch@KornFerry.com.
In our program teams, McKnight will welcome DeAnna Cummings as our new Arts program director starting June 1. Cummings comes to McKnight from Juxtaposition Arts, a north Minneapolis organization she cofounded and led for 25 years, serving more than 6,000 youth and 10,000 community members. She also served as a program officer on the Metropolitan Regional Arts Council and was a senior administrator for the Council on Black Minnesotans (now called Council for Minnesotans of African Heritage).
In February, we welcomed Phoebe Larson as our new communications manager. Previously, Larson served as communications director for Saint Paul Public Library, where she led communications strategy for several key initiatives—including the elimination of library late fines, a policy change that invited 42,000 people with previously blocked cards back to the library.
We've also shifted several staff roles and job titles. In our evolving V&EC program, Erin Imon Gavin has been named director of program integration and program officer; Sarah Hernandez, program officer; and Eric Muschler

, program officer

. Latosha Cox is the program team administrator, who will support both the Arts and the V&EC programs, and Renee Richie is now program and grants associate for V&EC. 

In other team news, Dorothy Wickens was promoted to grants and information manager. Jan Peterson (Other Grantmaking), Sarah "Sam" Marquardt (Midwest Climate & Energy), and Walter Abrego (International) are now program and grants associates.
As previously announced, Lee Sheehy, Region & Communities program director, will step down from his role at the end of July, and Kristen Marx left her role as Arts program administrator at the end of February. Additionally, Jody Speer, director of information technology, will leave the Foundation in mid-April to pursue a new opportunity. In her five years at McKnight, Speer made immense contributions to upgrading our technology systems so that we can be better equipped to advance our mission. We wish them well.