The following article was originally published by Keecha Harris and Associates, Inc., on August 18, 2019. It is reprinted here with full permission. The Racial Equity Truth Tellers Series is a collection of stories, curated by Keecha Harris and Associates, Inc., centered on the racial equity journeys of InDEEP program participants and other influencers in philanthropy.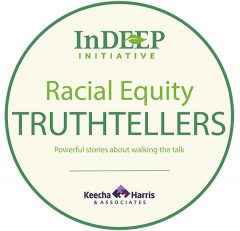 Mark Muller, Mississippi River Program director for the McKnight Foundation, has always believed in the 'sacredness of all life.' But more and more, he realizes that the way 'all life' is treated is not equal, and he has a desire to do something about that.
"I guess my racial equity journey was initially rooted in a faith-based perspective," he said. "That spurred the germination that has become my passion for racial equity issues. A second component has been life experience and seeing how disparities play out in so many aspects of society."
Through his own experiences and specific equity-focused trainings like the Inclusion, Diversity, and Equity in Environmental Philanthropy (InDEEP) Initiative, Muller has come to recognize not only the structural racism that exists in American society, but also his own unconscious biases.
Now he believes it's part of his job to do something about those things.
How a racial equity lens germinates and grows
One of the key personal components of race and equity Muller has grappled with is his privilege as a white man — the inherent power and influence he wields, particularly as a decision maker at a philanthropic organization.
"White people like me often don't recognize that we are immersed in  a white-dominant culture, and we can't see the water that we swim in," he said. "We can mistakenly assume that a certain way of doing things is the only right way, and my white-dominant culture, schooling, and work experience all reinforce that there is only one right way."
Muller said as he has worked with more black, brown and Indigenous populations, he has come to realize that the rules prescribed by white-dominant culture don't always align with the needs of people in underserved communities.
"I've come to appreciate that there are many ways of accomplishing the same goal. We collectively lose out on a wealth of creativity and ingenuity if everyone is forced to adopt the practices of one dominant culture. All of us have a responsibility to avoid the mentality of 'that's how we do things here', but to explore and encourage different approaches and different cultural practices," he said.
Muller emphasized that his lived experience — namely interacting and working with people who are different from him — helped him reach this realization and become more accepting of difference.
These realizations are also making a difference in his work. For example, Muller and the entire McKnight Foundation are placing more consideration on organizational leadership in grantmaking.
"We don't have a hard and fast rule about the number of organizations led by people of color in our portfolio, but we're now collecting the data and considering strategies for encouraging diversity in leadership," he said.
Muller also said he's begun to recognize and address existing unconscious biases specifically in the programmatic work along the Mississippi River.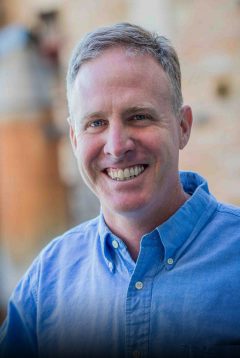 "There is a great diversity of people that live along the Mississippi River, but we have tended to take on the challenges that are most attractive to the more organized constituencies such as the trout fishing community or the birdwatchers,  and these organizations tend to be wealthier and whiter," Muller said. "That has come at the expense of environmental justice organizations that have not been well funded and have not been well represented in policy making processes.
"We're actively trying to better understand the priorities of those organizations, fund more of them, and build more bridges between environmental justice and mainstream environmental organizations."
As a whole, the McKnight Foundation is moving away from race-neutral approaches and toward equitable changes in every aspect of its work — from grantmaking to internal processes like hiring vendors and procurement.
"One of the things that McKnight has done well is developing opportunities for all staff to be involved in advancing equity," Muller said. "For example, several staff not involved in grantmaking are focused on the foundation's procurement practices. McKnight has since developed a diverse portfolio of local food vendors that prioritizes businesses owned by people of color and women."
Developing and building a diversity of relationships is key to this process. He has made a conscious effort to broaden the group of people with whom he is building those relationships.
"One approach that I have taken is to take more meetings, and sometimes have the majority of a week's meetings, with people of color," Muller said. "I have to make a conscious decision to get out of the old boys' guard of the environmental world."
A sector in desperate need of a shift
Muller said the environmental sector as a whole must make a shift toward equitable and inclusive practices if it wants to continue to thrive in the future.
"If we don't change, and as the baby boomer membership of these organizations continues to age, these organizations face the risk of becoming less relevant.," Muller said. "The environmental sector absolutely needs to have a better grasp on diversity, equity, and inclusion, not only because it's the right thing to do, but for its own sake of remaining viable and having a strong voice in the future."
Quantifying the diversity of grantees is a good first step, Muller said, but the sector must go further; it needs to take into account that organizational priorities are often developed through the lens of white-dominant culture. Environmental justice advocates, on the other hand, often observe issues more from a justice lens than an environmental lens.
That's where Muller sees training and development initiatives like InDEEP playing a role. He said he has particularly valued InDEEP's Embedding Equity Community of Practice (EECoP).
"I find such value in having a cohort of people to share our experiences and our commitment to addressing these issues. I appreciate that we're all in this together."
Through his personal experiences and training, Muller has come to appreciate the power he has and his responsibility to use it to advance equity.
"I recognize that I am incredibly privileged to enjoy a position where nonprofit leaders listen to what I say. I want to take advantage of this position in philanthropy to advance equity in the environmental movement. I try to do this whenever I can, and the work with InDEEP has helped me do that more effectively."